Wing foiling first emerged in a rudimentary form in Hawaii in the 80s. But the fringe sport, where riders use boards equipped with a hydrofoil that allow them to basically fly above the water on the foil with the help of an inflatable, hand-held sail called a wing, has only recently taken off on lakes around Spokane and North Idaho.
"Winging is kind of a collaboration between wind surfing, kite boarding, and paddleboarding," explains avid Coeur d'Alene wing foil devotee Joe Threadgill. "Cool thing about winging is it feels like you're floating, and you get this 3D feeling because when you're on the board you get some speed and you float on up out of the water. It's this really trippy feeling like surfing, kiting, and wind surfing all at the same time."
Threadgill, who only started wing foiling last summer, says that it's the perfect sport for our lakes during the windy fall, winter, and spring seasons. "I stared figuring it out this winter," says Threadgill, who paid frequent winter visits to Sprague Lake along I-90 west of Spokane. "It's always an exciting time to learn because it's so frigging cold, but the up side is that you have the whole lake to yourself."
When Threadgill started winging there was no one else doing it locally he says. "Now there are a few guys up in Sandpoint and about five coming out of Spokane and three or four of us out in Coeur d'Alene and probably a few more we haven't connected with yet."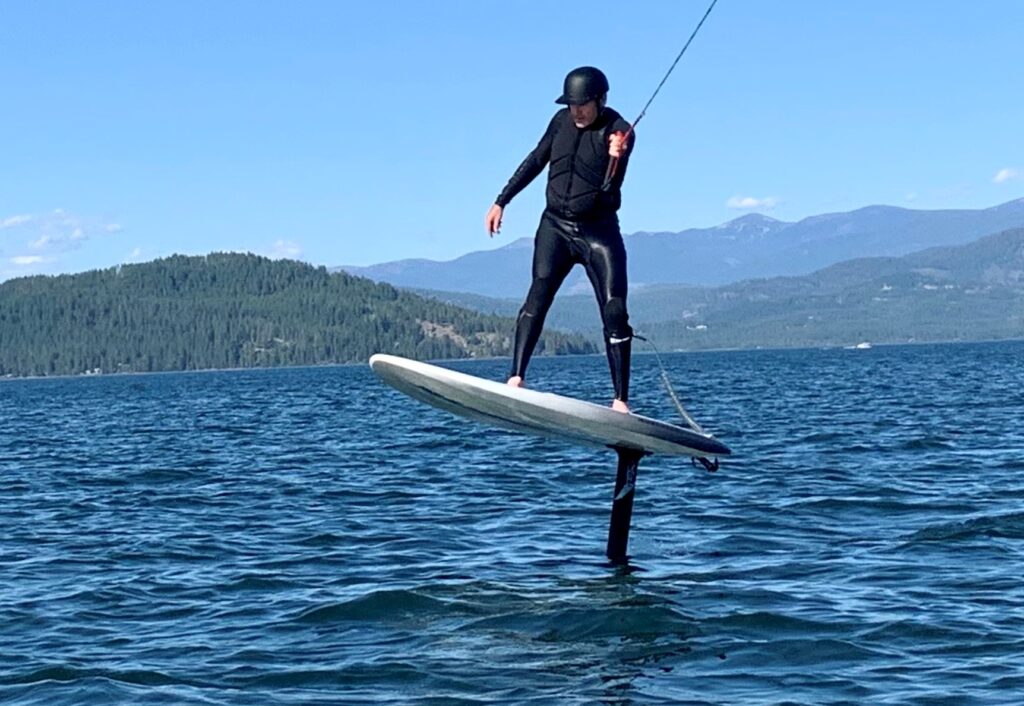 Wing foiling is a challenging sport to master because it requires good balance on and control of a board, which a surfing or paddleboarding background can help with, along with proper handling of the wing that generates the speed needed for the hydrofoil to lift the rider up off of the surface of the water.
Then there's the balance and foil control and ongoing wing management to keep up speed for it to all work. The payoff, say those who have taken it up, is a hard-to-describe sense of flight that leaves many foiling fanatics so singularly focused on the sport that the intense devotion to winging is known as 'foil brain,' says recent wing foil convert Alan Shepherd of Spokane.
If you're looking to give wing foiling a try, the best bet is to befriend someone who is learning locally and talk them into showing you the ropes. Another way to work on your foil riding skills during the relatively windless Inland Northwest summers is to get pulled behind a boat or use a SUP paddle to try to catch boat wake waves.
You can also sign up for wing foil lessons in the epicenter of wind sports, the Columbia Gorge, at Bigwinds.com.
Learn more about lake destinations and recreation in the 2021 Inland Northwest Lake Guide.