The relatively recent explosion in snowshoe use has been incredible to watch. I feel like an old curmudgeon relating the stories of my early snowshoe years. In those days, I could go to Mount Spokane State Park and Nordic ski for a couple hours, then switch to the snowshoe trails and still have first tracks. I had a favorite loop route that was indeed uphill both ways since there was also a long downhill in the middle. In the years that followed, snowshoe technology improved and the cost of an entry-level pair of snowshoes has decreased to the point where nearly everyone can afford a pair. It's one of several ways to become an active winter sports tourist this season in the Inland Northwest.
Snowshoeing has the lowest barrier to enter a winter sport and is incredibly easy to learn. It can be done on almost any local trail, but, of course, the best place to go is somewhere in the mountains where the snow is deep and consistent throughout the season. Meanwhile, Nordic skiing has also grown in popularity. To find the best snow conditions for these popular winter sports, most will ultimately need to purchase a SnoPark permit in Washington or a Park & Ski permit in Idaho.
 The SnoPark permit can be a contentious issue to someone who is new to winter sports, trying to navigate the complicated world of different passes for different places in different seasons. I think one of the most important things to understand about SnoPark permits is that it is a dedicated source of funding for snow removal at recreational access points, and, without it, the trails would definitely still exist but users would have no place to park their vehicle in order to access them. Many trailheads in mountainous areas are simply not accessible from the first major snowfall event through the spring melt-off, and it's expensive to keep parking lots plowed. So, every year I gladly buy my permit for guaranteed plowing and then make a goal of using it as many times as possible.
If I count "getting my money's worth" out of my SnoPark permit in terms of cost of permit divided by number of winter visits during the SnoPark season, I think I can safely estimate my $50 annual permit works out to approximately $3 per visit at Mount Spokane alone. However, as a winter sports tourist, I also find it important to explore as many additional SnoParks as possible each winter. Washington has 40 dedicated non-motorized SnoParks and another 80 that are shared use with snowmobiles. Oregon has 100 SnoPark lots, and Idaho has 17 Park & Ski sites (along with numerous snowmobile staging areas).
Each site is a little different in terms of which activities are allowed, so do some research before setting out. Some areas cater to Nordic skiing as the sole use. Some areas have Nordic skiing plus a separate area for snowshoe or fat bike, whereas other areas allow both uses off to the side of the Nordic set tracks. There are often strict rules regarding dogs at SnoPark areas, ranging from dogs not allowed at all, to dogs only allowed on certain trails or hours of the day for skijor only, to dogs allowed to run off-leash. The snowmobile lots tend to allow everything, but, since they are primarily for motorized use, they require the non-motorized user to pay much closer attention to their surroundings.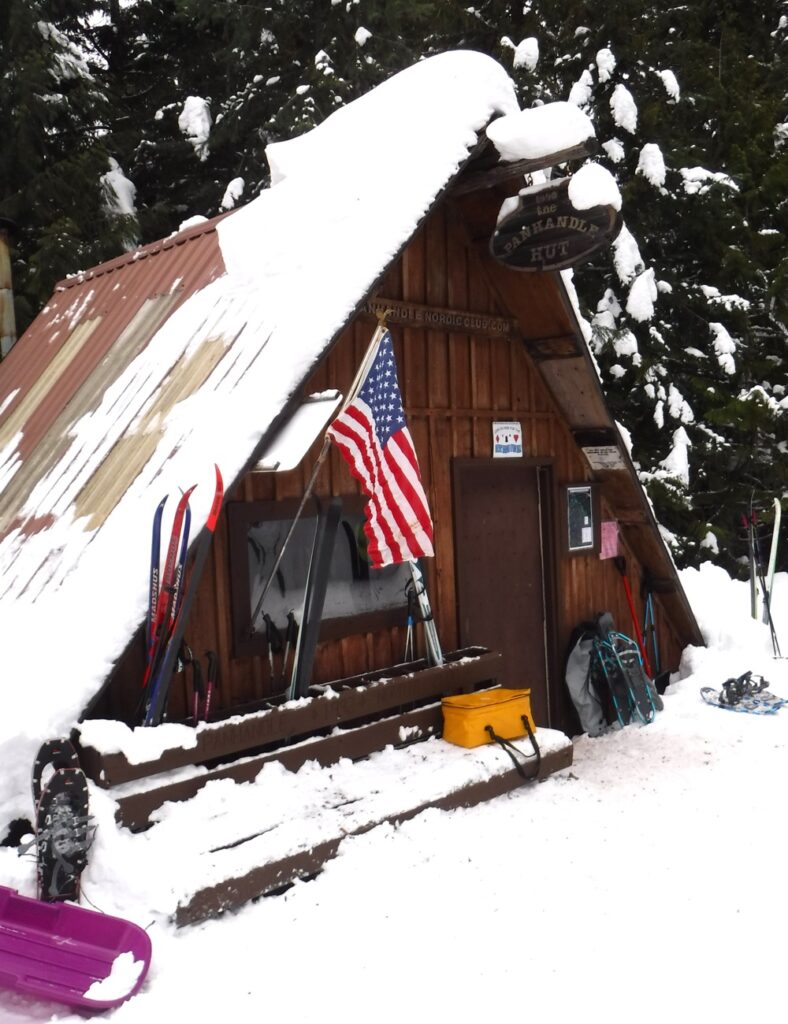 I am still working my way through the long list of SnoParks I would like to explore, but here are several of my favorites:
WASHINGTON
Flowery Trail (Motorized): 40 miles of groomed snowmobile trails next to 49 Degrees North ski area. I like to alpine ski until my quads burn, then switch to Nordic or snowshoe for a little extra aerobic activity. 49 Nordic also has trails for a separate fee.
Frater Lake (Non-motorized): 16 kilometers of groomed, mixed-use trails on Highway 20 between Colville and Tiger. Day-use only with a nice warming hut on the trail system.
Geophysical (Non-motorized): 11 kilometers of groomed, mixed-use trails northwest of Newport, and periodic grooming for fat bike. The trail system is adjacent to Indian Creek Community Forest, which is open to skiing and snowshoeing.
Sherman Pass (Non-motorized): Access on both sides of Highway 20 for non-groomed trails and backcountry skiing along the Kettle Crest National Recreation Trail. Columbia Mountain is a popular destination on the north side, and Sherman Peak is a popular snowshoe and backcountry ski area on the south side of the Pass. This is the main winter access point for Snow Peak Cabin if you can win the recreation.gov lottery and reserve a night! Winter camping is also allowed. Areas of avalanche danger exist in this area, so play it safe and be avalanche-aware.
Deer Creek Nordic (Non-motorized): 9 kilometers of dog-friendly groomed trails located at the northern end of the Kettle Crest National Recreation Trail. This area is great for winter backpacking and has excellent off-piste routes for telemark and Altai Hok tours in addition to snowshoeing.
Highlands (Motorized and Non-motorized): 35 kilometers of groomed Nordic trails northeast of Tonasket. A portion of the ski trails are dog-friendly, and there are separate snowshoe trails. There is a small warming hut on the west side trails.
South Summit (Motorized and Non-motorized): 46 kilometers of mixed-use groomed trails, some of which are dog-friendly. This area is near Loup Loup Ski Bowl on Highway 20 west of Okanogan.
Lake Easton, Cabin Creek, Crystal Springs, Gold Creek/Hyak (Non-motorized): A series of SnoParks along I-90 west of Ellensburg. These have saved my sanity on several road trips west, sometimes breaking up the long drive and on two occasions keeping me happy while waiting out a freeway closure at the pass! Some dog-friendly and snowshoe-friendly trails.
Lake Wenatchee SnoPark (Non-motorized): Both Nordic ski and snowshoe trails, with campsites available (fee) at nearby Lake Wenatchee State Park.
Touchet Corral (Motorized): 56 miles of groomed snowmobile trails near Bluewood Ski Area near Dayton. This area is great for winter backpacking.
Cloverland (Motorized): 47 miles of groomed snowmobile trails. This area is great for winter backpacking and is the main access point for the Wenatchee Guard Station, a rentable cabin.
IDAHO
Chipmunk Rapids (Non-motorized): A Park & Ski location near Priest Lake with 10 miles of mixed-use trails. Bonus: it's dog-friendly.
Fourth of July Pass (Non-motorized): 7.8 miles of Nordic trails and a separate area for snowshoeing just off I-90 east of Coeur d'Alene. There is a nice warming cabin near the parking lot.