Snow Making, Yurts, Killer Deals, New Terrain, & On-Mountain Living
Every year, you can expect news about improvements, expansions and creative innovations to come out of resorts around the greater Inland Pacific Northwest. Here are some of the highlights for the coming season.
49 Degrees North Mountain Resort
Big changes are in the works at 49, the first phase of which unfolds this season. For starters, new snow-making capacity will be unleashed leading up to opening day that will provide better and longer coverage at the base area and beginner slopes. Also this season, 49 is adding two new runs and putting up two hospitality yurts in Sunrise Basin that will serve hot beverages and snacks, a first step towards a much more dramatic development plan for the Sunrise Basin that will turn 49 into a full-on, year-round resort with on-mountain living. The Sunrise Basin development could eventually include up to 2,000 homes, condos and multi-family ski-in/ski-out units, as well as a new base lodge and lift. Infrastructure work started this summer, and the first homes could be up for sale as early as next year. Other ski area improvements on deck include an additional 30 acres of snowmaking capacity on three major runs by the 2016-17 season, and, down the road over the next several years, these exciting developments: a new high-speed detachable quad chairlift to replace Klondike (Chair 1); new day lodge facilities in the Sunrise Basin and mid-mountain on Silver Ridge; and a new Nelson Creek chairlift that will serve added terrain and home owners in Sunrise Basin. The plan also puts the proposed Nelson Creek lift and the new Klondike Quad at the center of summer activities, which will include a zip line, downhill mountain bike trails and a mountain bike park.
Silver Mountain Resort
The big news at Silver this season, which is an especially big deal if you're a season pass holder and/or weekday skier, is the start of seven-days-a-week operations for the 2015/2016 season. Silver also ramped up the brush cutting this past summer to improve the early season/thin snowpack conditions. Mogul's on the Mountain will also be sporting a recent remodel.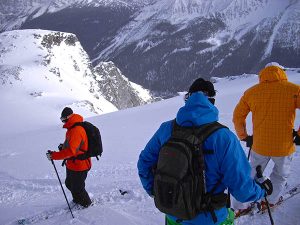 Lookout Pass Ski & Recreation Area
Historically, Lookout Pass has received about 400" of snow a year, says Phil Edholm, Lookout's President and CEO. "And looking at the last big El Nino, 1997-1998, we actually had an above average snow season.  That, plus the New Farmer's Almanac prediction for December through February snow, leads us to think it will be a better snow year than last," he says. Edholm has another reason to be optimistic: Phase One of Lookout's long-range expansion plan, which includes two chairlifts on Eagle Peak – a mountain immediately west of the existing ski area with a potential to add up to 700 acres with 14 new ski runs plus glades with a 1,400′ vertical drop – has been accepted by the U.S. Forest Service. Additional planning and environmental studies are currently under way.
Mt. Spokane Ski & Snowboard Park
Thanks to $1.5 million in state funding, the Main Lodge got a new roof and flooring throughout the main level, and Lodge 1 has undergone a complete overhaul.  A new Guest Services building, to be located near the Ski Patrol Building, is also in the works and should be completed by 2017. Mt. Spokane State Park and Nordic Area also received funding for significant improvements, including design of a new Nordic Center. On the expansion front, following the ruling last fall allowing Mt. Spokane to move forward with the installation of a new chairlift and runs on the backside of the mountain, the ski area has been working with Spokane County and the Washington State Parks Commission on a path forward through the permitting process. As of late September 2015, Mt. Spokane reports that pre-construction activities are currently under way, although there is still a pending Save Mt. Spokane Coalition lawsuit challenging the classification of the expansion area as "recreation." According to the Coalition, the challenge states that the recreation classification is in violation of State Park's own policy of protecting rare natural areas like the proposed expansion area.
Schweitzer Mountain Resort
This past summer, Schweitzer began construction on a new 13,000 square foot, three-story summit lodge, that, once it's completed in the fall of 2016, will offer a sweet new place for enjoying a meal and a beverage on the top of the mountain. The resort also has a major Internet infrastructure improvement project in the works that will make powder day "work theatre" from the lifts more believable and social media pow shot posting faster than ever. The Real Estate market at Schweitzer also continues to blossom, with new on-mountain living construction that's part of the MountainSide development moving forward.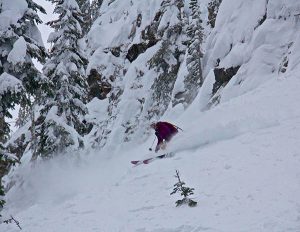 Whitewater Ski Resort
The news coming out of WH2O this season is that even without any major new development to report, it's still pretty frickin rad. 40 years ago, Nelson, B.C. locals came together to kickstart their own local ski resort, building the lodge that still stands there today. Over the past four decades, instead of funneling funds into the development of a manufactured experience, the resort has kept true to its roots and focused on keeping that community charm. The result is a resort that boasts some of the region's best conditions each year in a laid-back, quality-oriented atmosphere (there is no cell service or wifi, for instance, but you can enjoy way better food than you can get at many popular Spokane area restaurants). Whitewater also announced this summer that it is now part of the Powder Alliance, joining Schweitzer and several other Northwest resorts, including Stevens Pass, Silver Star, and Timberline, in this season pass perc program that offers skiers and riders who have a pass at another partner resort up to three free lift tickets (excluding Saturdays) at other partner resorts too.
Whitefish Mountain Resort
On the heels of last year's addition of the Flower Point chairlift, which added several hundred acres of intermediate, groomable runs and expert tree skiing, Whitefish Mountain Resort also launched a major remodel of The Summit House, a popular gathering place that will provide more seating and better, 360-degree views from the mountain's 6,817-foot summit. As the only mountaintop restaurant in the state of Montana, the Summit House is known for its panoramic views of Glacier National Park and the Flathead Valley. Plan a trip to check it out.
RED Mountain Resort
RED has grown quite a bit in recent years, and after investing over $1.5 million in a new snowmaking system last season, it is now expanding snowmaking infrastructure yet again to the top of Red Mountain. Part of the resort's ongoing evolution also includes a shift towards four-season operations with a "Get Lost Adventure Centre" that will launch mid-November and start providing guests with customizable outdoor recreation adventure opportunities, from snowshoeing, fat biking and backcountry skiing in the winter to hiking and mountain biking come summer. It's simple. Visit the Get Lost crew and tell them what kind of Kootenay adventure you want to have and, as they promise, they will design a recreation package "that fits your budget, avoids your pet peeves, and gives you a deeper insight into why we all live in the Kootenays in the first place."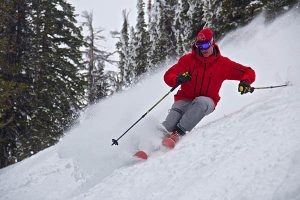 Tamarack Resort
South of McCall on Cascade Lake in Central Idaho, Tamarack Resort has been undergoing a series of major improvements over the past year after coming under new ownership. This season it is also ponying up attention-grabbing deals like their $99 college season pass. That's right. Skiing seven days a week from mid-December through late March with a valid college ID for $99! For college students in Spokane, Coeur d'Alene, Moscow and Pullman, there is really no good reason to pass up a deal like this that makes weekend and Christmas break ski trips crazy affordable. The College season pass sale ends November 16. //