Some think that installing solar panels on your home only makes sense if you live in Nevada or the sunny southwest. Not true. Spokane's solar potential is enough to pay for itself, according to Jeremy Patterson of Voltric Electric, a locally owned and operated business that provides electrical contracting services and installs solar panels.
If solar system makes you think of planets, shift your thinking. Here are the basics: a typical solar setup involves an energy grid type system. Solar panels produce DC power, inverters change the power to AC, and then that power is pumped back into the energy grid. As the system does its job, your meter actually moves backward; your energy bill drops and eventually you stop paying the utility company and they start reimbursing you for the extra energy you produce.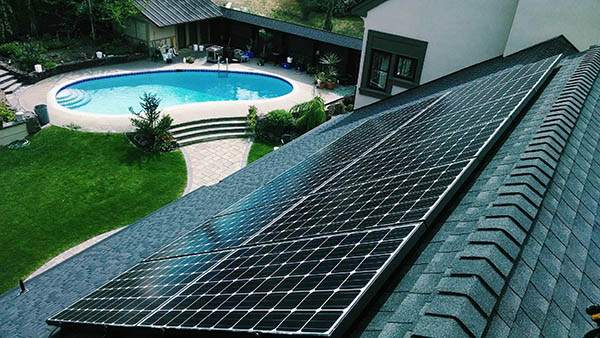 Clean energy and a reduced energy bill make sense, and monetary incentives for solar installation in Washington State are enticing. While you're thinking green, also think local because Washington-made panels offer even more of an incentive.
The US Department of Energy suggests the following steps if you are thinking of installing solar:
Investigate your home's energy efficiency. The point is to reduce costs and go green. That often starts by evaluating where energy is lost in your home currently and tightening those gaps.
Assess your solar potential. Try checking out Google Project Sunroof. The website uses Google maps to give you an idea of how much sunlight your house gets and how much you are likely to save over a 20-year period. It is pretty specific, taking into account the trees surrounding your house and the day-to-day weather patterns.
Check out financing options. As far as cost, Patterson says that a lot of people will finance through a credit union. There are larger companies who follow the state incentives, and they often offer a solar lease or power-purchase agreement (PPA), neither of which require any upfront payment, but you also do not own the panels, nor do you get the tax incentive. Patterson added that most people in Spokane seem to pay upfront or get a loan from a bank.
Estimate your solar electricity needs. Gather information about your home and electricity use over a full year. Avista has a few tools to help with this on their website under "Saving Tools."
Obtain bids and site assessments from contractors. The North American Board of Certified Energy Practitioners (NABCEP) provides a free searchable database of US and Canadian companies who specialize in home-based solar. Patterson recommends a free site inspection from a NABCEP-certified installer who will evaluate shading, pick the best location, and walk you through the process. In addition to rooftop solar, ground mounts are also very common. Keep in mind the biggest installers don't always have the best price, or offer the best product, and that top of the line equipment does not always result in higher savings.
Understand the available incentives. As per Washington law RCW 82.16.165, a production incentive from the state is paid per kilowatt hour to those who install solar. Payments last for 8 years, or until payments add up to 50% of the total system cost including sales tax, whichever occurs first. Avista does participate in this program in Washington, and further details are listed on their website.
In addition to the state incentive, there is also a federal tax incentive known as the Investment Tax Credit (ITC), which allows you to deduct 30% of the installation cost from your federal taxes. The ITC applies to both residential and commercial systems, and there is no cap on its value, but the rate phases out over time and will reduce to 26% in 2020.
This really is a great time to take advantage of incentives, potentially increase the value of your home, and save on energy bills by installing solar. //
Crystal Atamian is a science editor and gardening enthusiast who would love to tell people she owns her own solar system. She wrote about whitewater rafting with kids in the May issue of Out There.
[Feature photo: Installing solar arrays on the ground is one alternative to placing them on your roof. // Courtesy of Voltric Electric.]