Take a weekend to "re-boot" your life on a road trip through western Montana and the towns of Hot Springs and Arlee, both on the Flathead Indian Reservation. Discover art, nature, and hot springs across glorious landscapes and different cultures and enjoy some serious, world-class soaks. Hot Springs and Arlee are accessible from Montana State Route 200, following the Flathead River Valley, about 30 miles north of, and roughly parallel to, I-90.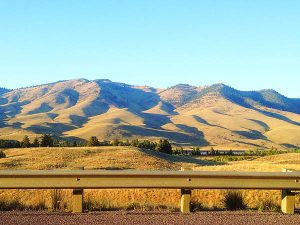 Hot Springs, Montana
First stop: the friendly, time-warped little town of Hot Springs, Montana. Off the beaten path, Hot Springs boasts world-class, mineral-rich waters on a par with Europe's famous Baden-Baden. "Limp in, leap out," is the town's motto. Symes Resort hostess Trudy Berge says the "magic" is the concentration and variety of minerals in the water. "People who come here like to go back in time," she explains, "and then they get blissed out." Symes Resort is an informal, rambling and quirky 1930s mission-style resort with outdoor pools, private tubs, shops, a dining room, and a lot going on. Rooms range from $55 to $145 a night. Access to outdoor pools, from 95 to 107 degrees Fahrenheit, is $7 for non-guests.
Alamedas Resort, two blocks away, is a little quieter and has thoughtful 1940s charm, with access to Symes outdoor pools for $5. The host provides good morning coffee and a fresh baked treat on the sun porch. On my last visit, I stayed at Camas Big Medicine Hot Springs, on the northeast corner of town, and rented a tiny cabin for $25 that came with my own outdoor tub. There is also a group pool for $8 a day. After removing the startled spider from the private tub, I soaked and watched the fading twilight, with the entire sky, wide valley, distant mountains, tall grasses, song birds and "whuffing" deer around me.
Main Street Hot Springs offers art galleries, shops, the vibrant Camas Organic Market and Bakery, interesting storefronts, and Fergie's, a well-stocked Montana bar.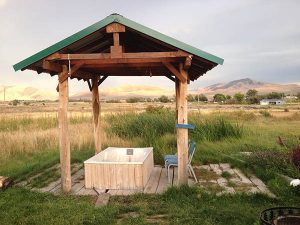 Arlee, Montana
Arlee is a tiny town that packs a lot in; like the Hangin Art Gallery and coffee shop and the nation's oldest Pow Wow and Rodeo on July 4. From Hot Springs, drive south on Highway 28, then take Highway 382 to connect back to Highway 200 – drive east and turn south on Highway 93, following the Jocko River 10 miles to Arlee.
As you cross the Camas Prairie on Highway 382, be aware that those gentle hills are giant ripple marks! 40 feet high and a 1,000 feet long, they are the lake bottom tracks of the Great Missoula Floods. Be ready for a moment of whimsy, just south of the abandoned Indian School. I first went to Arlee to see Ewam, the Garden of One Thousand Buddhas, just north of town. Wander the unlikely array of a 1,000  identical shining white Buddha's, arrayed as a Dharma Wheel, with prayer banners flapping in the wind, and large statues of teachers, the Mother Goddess, and Buddhas, all amidst native and garden flowers and lavender and embraced by the Mission Mountain foothills.
Drive 15 miles north on Highway 93 to enjoy the historic Mission at St. Ignatius. Here, in the 1800s, the cook painted the Mission walls and ceilings with saints and deities. Another 20 miles north will take you to The Peoples Center Museum, in Pablo, which celebrates and displays Salish-Kootenai-Pend Oreille art, culture, history and traditions.
Need more adrenaline? Stop at the Ronan Sporting Goods Store and get a Confederated Salish-Kootenai Tribal Conservation Pass, a map of the Mission Mountains and a hefty can of bear spray and hike the Mission Mountains. (You can get just the pass at the Cenex station in St. Ignatius, or online too.) I missed Lower Mission Falls – but the more intrepid might find them, and even Upper Mission and Elizabeth Falls. Next time, I am going to approach the Missions more humbly, on well-marked Forest Service trails, from Seeley Lake, on the east side of the Mission Mountains.
If crawling through grizzly bear tunnels isn't for you, take a short detour north on Highway 212 to Moise and the National Bison Range. Take the two hour, 19-mile one-way loop through the rolling hills and up to a high viewpoint. The views of the Mission Mountains and surrounding landscape, dotted here and there with grazing buffalo, are well worth the trip. There are two opportunities to walk around near the very top. As you literally plunge from the highest hilltop down toward the Flathead Valley far below, you see a sign saying that THIS is the height of the water in Glacial Lake Missoula!
Take time to read the interpretive signs along Highway 93, especially at the Ravalli intersection. If you are short of time, you can always drive south on Highway 93 (take note of the many wild animal safe passageways over and under the highway) to I-90 and be in Spokane in about three hours.
If you can, spend another night in Hot Springs, and, if Highway 471 is open, drive home the back way through Thompson Falls and up and over Thompson Pass (there are several trailheads worth exploring at the pass) and down into Idaho to rejoin I-90 at Enaville. Maybe this journey is really the "Hot Springs – Arlee Spiral," because you return a little farther along than you left, and you are sure to make the loop again. //