If the idea of flying down the Spokane River gorge, dangling in a harness from a cable, ducking under the Monroe street bridge, and landing in Redband Park sounds appealing to you, then pay attention to this developing story.
Urban ziplines have become increasingly popular in recent years. Cities from Dubai to Montreal to Bellevue compete for the highest, zippiest, longest, most scenic, most urban, and whatever other bragging right they can think up. If it all works out, Spokane may end up having one more spectacular downtown feature to brag about other than the waterfalls.
Mark Richards, President of the non-profit Downtown Spokane Partnership, has been rallying for a zipline for years. His vision was originally to bring "more young people" to a downtown that seems designed more for an older, wealthier, more staid population.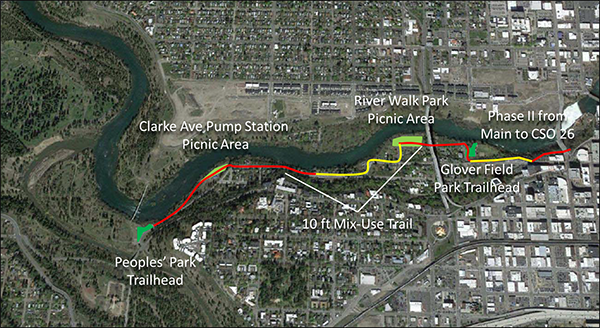 A closer study of other ziplines proves their enduring popularity among a wider age range than one might expect, luring in folks in their eighties. So the zipline could be an intense, multigenerational family outing serving approximately 100 riders per hour then releasing them into the heart of Spokane to explore the newly renovated Riverfront Park and area shops and restaurants.
According to Marlene Feist, communications director for the city, the idea originally was to have one stretch north to south across the entire river gorge, paralleling lower falls, or connecting Kendall Yards to Peaceful Valley, but that idea was squashed for liability concerns. The most current iteration promises a longer and possibly even more thrilling route, running from the as-yet-to-be-completed CSO plaza, ducking under the arches of Monroe Street Bridge, and ending down in Redband Park (the former Garry Field) in Peaceful Valley.
If this sounds a little crazy to you, it's no crazier than a small, unknown rail town in Eastern Washington hosting a World's Fair on an island in the middle of a raging river. In fact, the zipline idea conjures other aerial rides that once populated the Expo grounds, like the open air "red chair" gondolas that hovered above the fairgrounds, crossing over the waters by the opera house. It also brings to mind the current SkyRide, which is the sole cable ride to survive the fair's dismantling.
A zipline would be a different experience; it's more intimate, with the rush of wind on your face, the speed, and the fast vertical descent through a part-urban, part-wild landscape. It's a totally new way to see our riparian environment.
Richards, who has long studied the idea of a zipline alongside the falls of the Spokane river gorge thinks it will help bring new energy and new revenue downtown. And if things move forward, a private vendor will design, build, and operate the zipline. The whole process could get going once the new CSO plaza is completed sometime this fall, and may be operational as soon as 2020.