There's no shortage of options when it comes to planning out a summer full of adventure here in the Inland Northwest. With recommendations for families, casual adventurers, and those in search of more hardcore challenges to push their limits, there's a trip and a place in here for anyone who loves the outdoors. Visit someplace you've never been before, try something new, and make this the best summer you've had in years.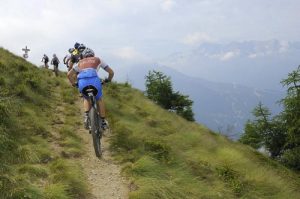 Methow Valley, WA (North Cascades):
Mountain Bike the Sun Mountain Trails
This 40 plus mile network of singletrack and double track can be accessed right from Winthrop via the Winthrop Trail or from the Chickadee Trailhead near Sun Mountain Lodge. There are trails for all level of riders from beginner (like the loop around Beaver Pond) to more advanced ones (like Pete's Dragon or Magpie), which makes the Sun Mountain Trail system great for groups of riders with mixed ability levels. Sun Mountain Lodge rents bikes and offers maps (sunmountainlodge.com) and Methow Cycle & Sport can also get you pointed in the right direction (methowcyclesport.com).
More Hardcore: bike the highest singletrack in Washington! The 25-mile-long Angel's Staircase is the Methow Valley's must-ride trail for serious mountain bikers. This challenging singletrack loop climbs up to 8,000 feet and includes a total of 5,000 feet of climbing and descending. Plan for a full day in mid-to-late August when the snow is gone. Trails.evergreenmtb.org/wiki/Trail:Angels_Staircase.
Explore the North Cascades Out of a Beautiful Lodge
North Cascades Basecamp is a European-style lodge and outdoor adventure and education mecca in the upper end of the Methow Valley near the small community of Mazama.  While NCB is a perfect location for launching hiking, biking, fishing, rock climbing, wildlife watching, and other adventures in the surrounding North Cascades, they also have a number of nature-based tours to help you explore the wildlife habitat and native trees, flowers, and plants. Northcascadesbasecamp.com.
Leavenworth, WA:
Get Up, Stand Up—SUP Leavenworth
"Stand up paddle boarding is taking off," says Kate Braunstein with Leavenworth Mountain Sports. The Wenatchee River offers a little bit of everything, from river running and wave surfing to flat-water paddling. Once the surf waves below town disappear with the peak spring snow melt (typically in mid-June), the action moves to the Icicle River or the dam-controlled, mellow paddling section of the Wenatchee for the rest of the summer. "A lot of different people can do it since there are both flat sections and rapids," Braunstein says. "I take my dog out on my board all the time." Leavenworth Mountain Sports rents boards, paddles, wetsuits and other gear, and they lead guided SUP tours down the Icicle River to the Wenatchee. See for yourself: http://vimeo.com/38782047. Leavenworthmtnsports.com.
Make Friends with Freund Canyon Mountain Bike Trail
Thanks to a recently built trail connector, you can pedal out of Leavenworth on your bike to the Freund Canyon Trail, grind uphill, scream downhill on fast singletrack, and be back in town for a beer in a couple hours. Evergreen Mountain Bike Alliance describes the trail this way: "The uphill is a moderate grind, and the downhill is a fast, brakeless, water bar (read: jump!) and berm-laden joyride." (trails.evergreenmtb.org/wiki/Trail:Freund Canyon). Stop by Das Rad Haus bike shop in Leavenworth for directions and trail conditions. Dasradhaus.com.
Wallowa County, Oregon:
Ride the Wallowa Lake Tram for a Hike at 8,000 Feet
Ever since the tram first started hauling passengers high up into the wild and rugged Wallowa Mountains in 1970, the Wallowa Lake Tramway has been one of northeast Oregon's most popular attractions. The 3,700 foot vertical ascent to the summit of Mt. Howard offers incredible views in every direction from the safety of a gondola car. There are several miles of hiking trails to explore up top, and the Summit Grill, which bills itself as the Northwest's highest restaurant, may just be the most scenic restaurant in the Northwest too. Enjoy a burger and a Terminal Gravity local craft brew on the summit before heading back down to the lake. Wallowalaketramway.com.
More Hardcore: hike up, tram down! Skip the ride up and hike up Mt. Howard instead. "On the spur of the moment a couple years ago, we hiked up 8,256 foot Mt. Howard from the bottom of the tram on a mix of bike trails and game trails that eventually turned into scrambling up gravel fields and finally punching through snow up at the top," says OTM Senior Writer Jon Jonckers. "Once we got up top we realized the tram was actually open. Needless to say, we rode the tram back down."
Catch the Wildflower Bloom on the Rim of Hells Canyon
It may be too hot and snake and poison ivy infested at the bottom of the canyon for most people, but the Hat Point Overlook high on the rim in northeast Oregon offers spectacular views of the canyon, the Snake River, the Seven Devils Wilderness and the Wallowa Mountains. Peak wildflower season, if you time it right, can be epic (shoot for mid-July). This day use area, which opens in July, is reached from a rough road out of the tiny town of Imnaha along the Imnaha River east of Joseph. There are several trails in the area for hiking, as well as an interpretive display and an active fire lookout tower that you can climb part way up for even better views. Google "Hat Point Overlook and Day Use Area" for more information, directions, and camping recommendations.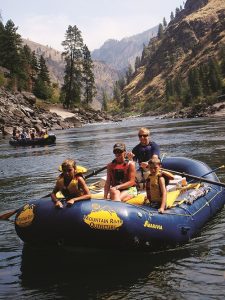 Riggins, Idaho:
Float the Salmon River
There's nothing like the exhilarating whitewater and blow drier-like summertime heat of the Salmon River that flows through the heart of Riggins to make you feel like your summer is complete. Find plenty of outfitters eager to get you and your friends and family out on the water through fun class III rapids in a raft or inflatable kayak at rigginsidaho.com. Many university outdoor programs and some outfitters rent rafting gear too if your boating skills are up to snuff enough for tackling the river on your own.
More Hardcore: SUP it! Looking to up the intensity a bit? Run the same stretch of river on a standup paddle board. "Most of our SUPs are longer and wider, so a lot of people are mastering standing up on them even through whitewater, but you can also drop to your knees through bigger rapids," says Mountain River Outfitters guide Heather Alkire.   Mountain River Outfitters offers NRS inflatable SUPs to clients on their raft trips, and they also rent a few boards if you want to go for it on your own. Idahoriver.com.
Backpack the Seven Devils Loop
This 28-mile loop hike around the tallest peaks and pristine lakes of the Seven Devils Mountains is a classic Idaho backpacking route for a reason: historic fire lookouts, soaring views into the deepest gorge in North America, wildflower explosions along high mountain trails, and clear alpine lakes and granite spires that look like they belong in the Lord of the Rings, or at least the North Cascades. The Seven Devils are wild and remote, and the trail too is rugged in places. Don't skip the side trips to several lakes along the loop, and don't forget your bug juice. Find trail info and alerts here.
More Hardcore: Hike it (or run it) in a day! Plan for a long day to finish this 28 mile loop in a single day. Bring plenty of water (and means to purify more), plus food, quality light footwear, all your emergency essentials, some moleskin, and a headlamp. Expect to climb over a number of downed trees to add to your workout.
Silver Valley, Idaho:
Ride a Zipline 2,000 feet Above the Silver Valley
The Silver Valley's first zip line course, Silver Streak Zipline Tours, opened in 2012, with a second course following in 2013.  The West Course has six zips, including heights over 300 feet. The East Course has four zips, including their longest zip "Big Daddy" which is 1,800 feet long and reaches speeds over 55 mph. The East Course also has two dual zip lines, which lets you ride beside a partner, and a "super hero" zip where you can ride face first. Tours take about 2-2.5 hours each, and you can do one or both courses.
"The vast majority of our customers say that we are better than zip courses they've done in Costa Rica or Hawaii," says owner Bonnie DeRoos. "Our courses are fast, high, and our guides are high energy with great personalities." Silver Streak Zipline Tours is also kid friendly for kids weighing at least 95 pounds. Plan ahead as many weekends sell out in advance. Reservations are required. Silverstreakziplinetours.com.
Bike the Trail of the Hiawatha
Touted as the "Crown Jewel of Rails to Trails," the Route of the Hiawatha, operated by Lookout Pass Ski and Recreation Area, has become a magnet of tourism attention from across the Northwest and beyond in recent years. Boasting tunnels, trestles, interpretive signs, and 15 miles of mellow, crushed gravel pedaling joy, the Hiawatha is the perfect summertime, fat-tire trip for families and other groups of cyclists looking for a highly scenic yet not too taxing ride along a historic rail line (with the shuttle service, it's all downhill). The trail takes most groups about two and a half hours to ride at a leisurely pace.  You can get your trail and shuttle tickets, rent bikes and bike lights, and get lunch at the café at the lodge at Lookout Pass (exit 0 at the Idaho/Montana state line). Helmets and bike lights are required. Ridethehiawatha.com.
More Hardcore: Run it! "The Forest Service requires you to run in a bike helmet, which probably deters more people from running the Hiawatha," says Spokane runner Jon Jonckers, who ran it with a friend in 2013. "People are generally cold riding through the Taft Tunnel, and if you're running it, it's totally frickin' cold because you're moving slower, and you're in there so much longer." Jonckers says he would definitely do it again and recommends having someone ride along with you to share the experience and help carry extra water and snacks. "It's all downhill and makes for a perfect, beautiful training for a fall marathon."
Bike New MTB Trails at Silver Mountain
The passionate crew of trail dreamers and builders at Silver Mountain Resort have been hard at work this past year implementing a plan that has been transforming the well-loved winter resort into a full-on summer bike park destination with gondola-served trails for everyone, from seasoned downhill riders to intermediate to beginner all-mountain and xc pedalers. On top of having 30 miles of trails, many offering 3,400 hundred feet of descent, last year they rebuilt trails like Log Jammin and Lower Hammer, adding a large machine-built jump line to the latter, and built new trails like Hot Mess (a technical, double black) and Happy Day, a six-mile beginner trail. For 2014, the Silver Mountain Bike Park is launching a total remodel, with new trail construction, trail doctoring, and signage improvements.  They also have a new fleet of Kona bikes for rent at Silver Mountain Sports at the mountain village, not to mention lodging, pubs, and a water park. More info: Silvermt.com.
Sandpoint, Idaho:
Backpack to Chimney Rock
When I think of Priest Lake, there's that iconic granite tower in my head. The same one that adorns t-shirts and coffee mugs along the lake and beckons Inland Northwest climbers. Chimney is even more impressive when you're standing at the base of it or looking over at it from a neighboring ridge or peak, and it makes a fantastic backpacking trip destination from either the Priest Lake or Sandpoint sides. Consult Rich Lander's "100 Hikes in the Inland Northwest" for hiking info.
More Hardcore: Hike in and Climb It! Make sure you have the skills, equipment, and beta to make it to the top and back down safely! Get a copy of Thaddeus Laird's "Climbers guide to North Idaho and the Cabinet Wilderness" and then start planning and preparing for an unforgettable climb.
Hike the Pend d'Oreille Bay Trail and Then Chill at City Beach
Almost entirely on private property, the largely flat trail runs for two miles along the waterfront of Lake Pend Oreille, linking Sandpoint, Ponderay and Kootenai. Stroll along the tree-shaded shoreline for an unforgettable start to a day at the beach. Follow Sandpoint Avenue from City Beach to the water treatment plant for access. If you read this in time, check out the trail while doing the Bay Trail Fun Run on June 8. Proceeds from this 5 or 10 k go towards extending this incredible public pathway. Pobtrail.org.
Whitefish, Montana:
Mountain Bike the Whitefish Trail
The Whitefish Trail hasn't received the attention that other regional MTB destinations have, but that's likely going to change. "It's the gold standard of Whitefish riding," says Craig Prapher with Great Northern Cycle & Ski in Whitefish. "The trail has been a 10 year project that now includes about 35-40 miles of machine built, flowy trails made for mountain biking." And this is just the beginning, as additional miles of trail are in the works. The trail system sits at around 3,000 feet and has moderate amounts of elevation gain, making it an excellent ride for intermediate riders. It's also snow-free early in the season. Get in touch with Great Northern Cycle & Ski for more info (Greatnortherncycles.com) or learn more here: Whitefishlegacy.org/recreation.
More Hardcore: Bike the black diamonds at Whitefish Mountain Resort! Get a lift ticket and ride black and double black gravity trails like Freebird and GNR at Whitefish Mountain Resort (they have miles of more forgiving intermediate and beginner trails at WMR too). Skiwhitefish.com/summer/mountain-biking.
Walk in the Trees (and learn about the local forest ecosystem)
Learn about the history and ecology of an old-growth Montana forest from experienced guides on this two and a half hour tour on an elevated boardwalk suspended 70 feet above the forest floor. Walk in the Treetops is one of only a few treetop canopy tours available in North America. Reservations are highly recommended as summer tours sell out quickly (406-862-2900).
Zip Down Whitefish Mountain Resort
Soar above the trees on Montana's longest zip line tour with mind blowing views on the edge of Glacier National Park. WMR has a total of 1.7 miles of zipline fun, including five or seven zip tours, with speeds that can reach 50 mph. Side-by-side zipping is available on all lines. Some rides go up to 300 feet off the ground, with the longest lines spanning 1,900 feet over the valley floor.
"We used the natural features of our terrain to build a 'zip line park' and the result is an experience that leaves an indelible impression on the minds of our guests," says Riley Polumbus, Public Relations Manager at Whitefish Mountain Resort. "Guests are blown away by the experience! Not only does each zip line surpass the exhilaration of the last, the views, terrain and personalities of our guides who comfort, encourage and joke throughout the tour just make it all more fun." Riders must be between 60 and 230 pounds.  Reservations are strongly recommended (call 406-862-2900). More info: Skiwhitefish.com/summer/zip-line-tours.
Rossland and Nelson, B.C.:
Bike the Kettle Valley Railway near Christina Lake and Rossland
The stretch of the Kettle Valley Railway (also known locally as the Columbia and Western Railway) between the Paulson Summit on Highway 3 west of Rossland and the Christina Lake area could be one of the most scenic rail trail rides in the world. No joke. According to Bob Dupee, owner of Wild Ways Adventure Sports and Tours in Christina Lake, representatives from the Rails-to-Trails Conservancy who toured this stretch of the trail last year wrote that it was "the best trail on earth." Keep in mind that these people have seen a lot of miles of rail trails all over the place.
If that's not enough of an endorsement, try this: big trestles, tunnels, amazing vistas, excellent crushed rock riding conditions, and a downhill 35 kilometer ride that offers another 10 k option of touring down to the class V rapids on the Kettle River in the Cascade Gorge. The trip ends at Christina Lake, which is the warmest lake in Canada and an awesome swimming, hiking, and camping destination in itself. Wild Ways Adventure Sports and Tours in the community of Christina Lake offers shuttles, bike rentals, and plenty of excellent information and advice: Wildways.com. You can also arrange your trip including shuttles out of Rossland: Tourismrossland.com.
More Hardcore: Ride Rossland's IMBA Epic Seven Summits Trail! This 23 mile epic ride, which was named Bike Magazine's Trail of the Year for 2007, gets its name from the seven mountain summits along the trail. That means you'll be biking over a lot of rock in between sections of smooth alpine singletrack. Estimates of the elevation gain vary, but it's around 4,000 feet. Definitely don't miss the Dewdney Trail downhill finish. Visit Revolution Cycles in Rossland (online or in the flesh) for trail updates, maps, bike rentals, and shuttle info: Revolutioncycles.ca.
SUP Kootenay Lake at Lakeside Park in Nelson
Like many other lake and river towns in the Pacific Northwest, Nelson has seen an explosion in stand up paddleboarding on Kootenay Lake over the past few years. No surprise. Kootenay Lake, which is really the slack water of the dammed Kootenay River, is a gorgeous, flat water paddling haven with easy beach access minutes from downtown Nelson. "Paddleboarding has taken off in town over the past two years," says Tiffany Deefy with ROAM, Nelson's basecamp for outdoor gear, rentals, and guided trips. Lakeside Park, which is about a five minute walk from downtown, is the most popular paddleboarding staging area and the location of SUP demo events every weekend this summer (call 1-866-900-ROAM for details). Deefy recommends a popular SUP trip that involves a half hour or so paddle south from Lakeside Park to First Nations pictographs along the shore. Visit ROAM for more info: Roamshop.com.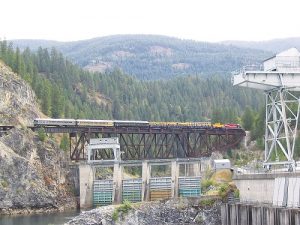 Northeast Washington:
Ride the Lion's Train along the Pend Oreille River
The North Pend Oreille County Lion's Club operates these increasingly popular train rides, which run from Ione north along the Pend Oreille River and down the river canyon ten miles to Metaline Falls. Along the way, look for eagles, osprey, deer, elk, moose, and other wildlife, and enjoy the views of massive Box Canyon Dam and a historic train trestle built in 1910. From there, the train crosses the river and climbs a bit before plunging into the first of two tunnels. The trip ends at Metaline Falls, a mining town just south of the Canadian border that is home to the historic Cutter Theater. Trips run on select weekends during the summer (July 26-27 during Down River Days in Ione and Aug 30-31 during and An Affair on Main Street in Metaline Falls). They frequently sell out well in advance, as do the extremely popular fall color train rides in October, so make your reservations early to get a seat on the train. Lionstrainrides.com.
Road bike around the Kettle Range and Drink Good Beer
"It's a really fun ride," says Lynn O'Connor, the Colville area's road biking go-to person these days, talking about the near century ride around the Kettle Range Mountains that can be started from Kettle Falls or Republic. She ticks off stats that may not sound like fun to some riders: two burly mountain passes (Sherman and Boulder), 96 miles, 7,600 feet of elevation gain, but Lynn is bubbling with excitement just talking about it. "The ride is definitely a challenge, but it's a really spectacular route," she says. "Traffic on Highway 395 and 20 can be a little squirrely, but Boulder Pass and the route from Curlew into Republic are sweet as pie." Check out Colvelo.org for cycling info for the Colville and Kettle Falls areas.
Less Hardcore (but still pretty bad ass): ride it as a weekend tour! Spreading the ride out over a weekend spreads the challenge around a bit and allows you to stay a night or two and check out the Republic Brewing Company in Republic (Republicbrew.com) and Northern Ales Brewery in Kettle Falls (Northernales.com).
OTM Tips for a Fool Proof Summer Adventure
Always pack your hiking shoes (on any kinds of summer trip).
Check the air pressure in your tires (car and/or bike).
Don't forget your tent stakes.
Pack a cooler full of your favorite food for the road.
Bring rain gear (and a tarp if you're camping).
Good music for the road is essential.
Keep a first aid kit in your car or pack.
Throw a good book in your travel bag.
Take plenty of maps (the road and trail kind).
Always bring extra beer (or your favorite spirit or soft drink).
Leave your cell phone in the glove box (or on airplane mode in your pocket to take photos but avoid unwanted work calls).
Read up on the places you're visiting, from guide books to local authors' nonfiction and novels.
You can never have too many headlamps (or flashlights).
Carry plenty of sunscreen (and use it).
Never forget a camp chair, even if you're only on a day trip. Nothing is worse than standing around your car after a long hike (other than standing around hot, tired, and thirsty without a cold beverage).