If you are looking for outdoor adventure, whitewater rafting will deliver. But an excellent way to add even more adventure is to spend three or more days floating a longer section of river while camping along the riverbank as you go. The Inland Northwest abounds with such opportunities, and if you are looking for an introduction to this activity, there are two rivers in Oregon that are perfect for entry level rafters—the Grande Ronde and the John Day.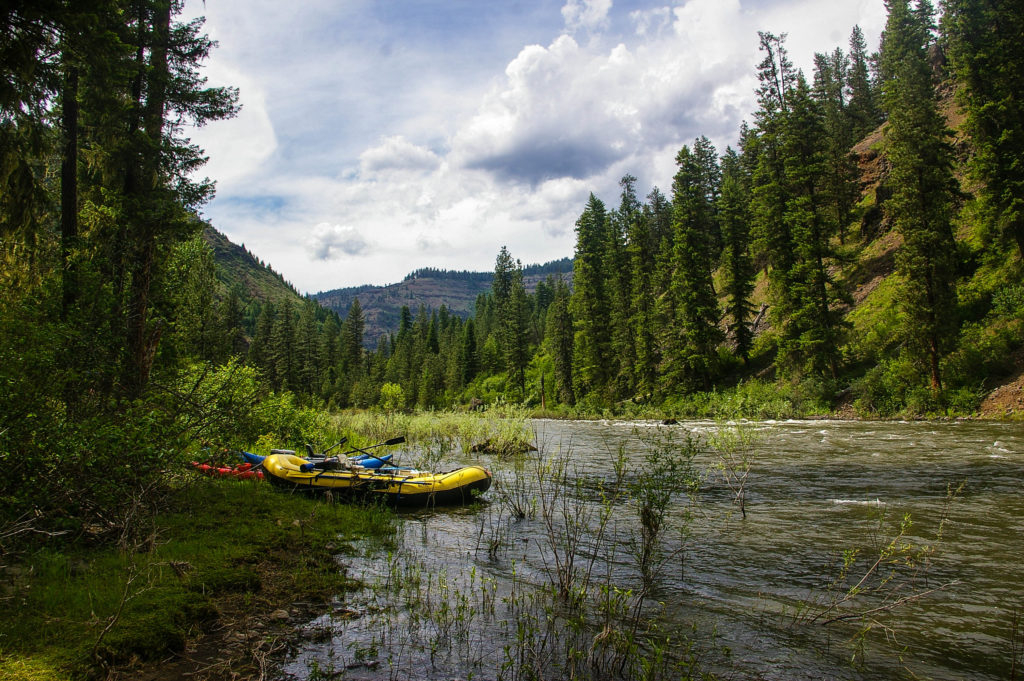 The Grande Ronde River
The Grande Ronde is located in the extreme northeast corner of Oregon, and actually flows into Washington before emptying into the Snake River a short ways upstream from Lewiston and Clarkston. The rafting section of the river is 38 miles long and very scenic, and at normal flows it can easily be floated in two to three days with enough time to drive home the last day. It has a few fun rapids that pose little danger, and it has wilderness-like qualities because most of it flows through an area with no roads. This means you are likely to see some wildlife as you float along. In fact the last time our family went, we saw bald eagles carrying fish and attacking a flock of Canada geese. We even glimpsed a mountain goat that was surprisingly close to the river. Watch out for rattlesnakes that can make an appearance on beaches and in camp.
The Grande Ronde flows through the Blue Mountains in an area of mixed conifers. The river canyon is fairly dry, and it has plenty of benches of Ponderosa pine that make great camp spots. The river has a few class II rapids and one class III called Red or House Rock, which is probably the shortest and most straightforward class III I've ever encountered. It's easy to spot due to the house-sized rock that narrows the channel and creates the rapid, and a quick scout will show you how to navigate it safely to the left of the boulder. At normal flows none of these rapids would flip a proper whitewater raft, but during spring run-off you will need expert skills to stay safe.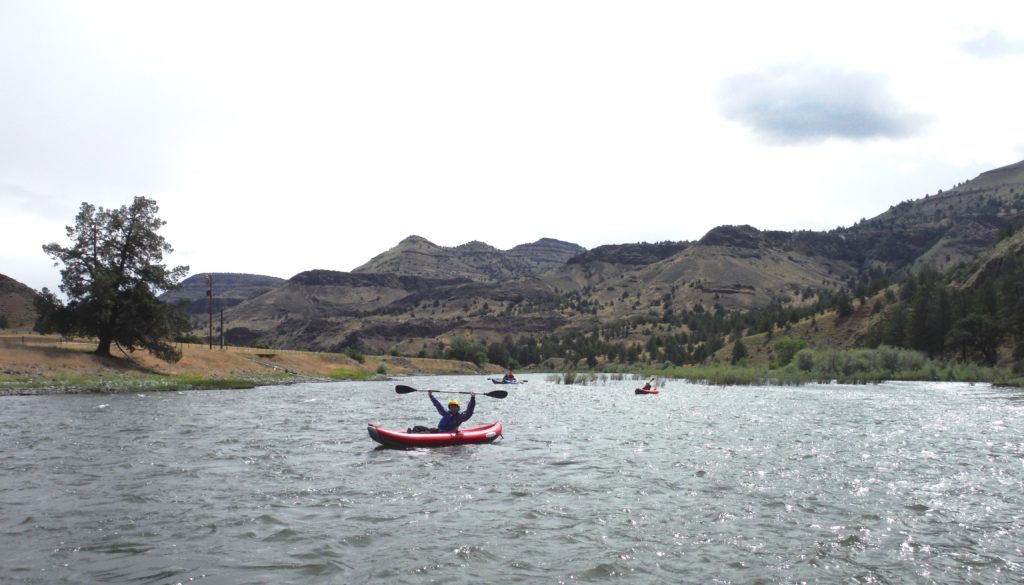 The John Day River
The John Day River is in north central Oregon, so it has more of a high desert landscape. The rafting section is below the mountains, so there is less of a gradient and fewer rapids. There are more put-in options on this river, so the length can vary from 35 to 48 miles. If you take out at the Clarno bridge, you will really never encounter a rapid that is more than a class II, so this is truly a beginner river. What you will experience, however, is plenty of rolling scenery and an incredible abundance of smallmouth bass.
If the Grande Ronde is more about scenery and remote camping, then the John Day is more about fishing. We are not expert bass fisherman, but we still caught a tremendous number of smallmouths on our first float down this river. The John Day does pass through some agricultural areas with quite a bit of private land—so finding camp spots can be a little trickier—but the BLM river map makes it quite clear where you can and can't stay with designated camp spots clearly marked.
Both of these rivers offer a great introduction to multi-day rafting with unique features. They are family friendly and ready made for memorable adventures. More information on both rivers can be found by searching the www.americanwhitewater.org site. Both rivers are administered by the Bureau of Land Management, which offers float guides for each river. Contact the Prineville, Ore., office of the BLM for the John Day, and the Baker, Ore., field office for the Grande Ronde.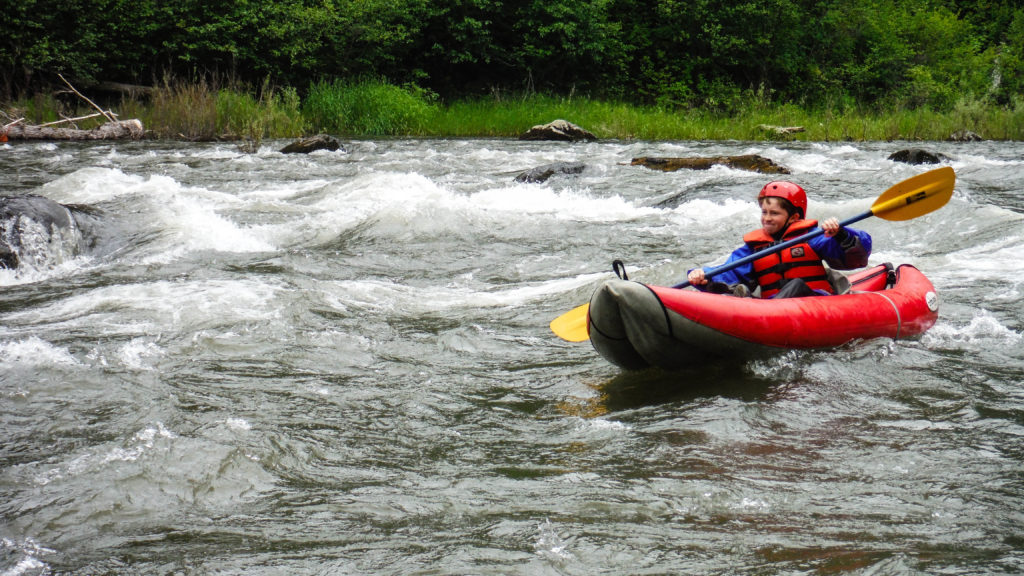 Planning Information
The Grande Ronde river trip actually begins on the Minam River at Minam State Park, which joins the main river 10 miles downstream. The takeout is 38 miles downstream from the start at the Powwatka bridge, located about 7 miles upstream of Troy, Ore. Car shuttles can be arranged through the Minam Store.
The typical John Day float trip starts at Service Creek and ends at the Clarno Bridge 48 miles downstream. You can also shave 13 miles off the trip by starting at the Twickenham boat launch. Car shuttles can be arranged with the Service Creek Stage Stop.
Recommended flows on both rivers are from 1,000 cfs to 6,000 cfs. Google search "USGS Grande Ronde at Troy" or "USGS John Day at Service Creek" for flow information. Above 6,000 feet is not recommended for beginning rafters. Both of these rivers run free of dams, so it is important to check flows as they will vary substantially depending on warm weather, which causes snow melt up high, and rain.
All river camping trips are strictly pack-in, pack-out when it comes to waste—including human waste. You will need a portable toilet that can withstand the rigors of a raft trip, a fire pan if you want a campfire, dry bags for clothing and camping gear, a dry box for cooking gear, and a cooler for food. All of these will be secured to the frame on the raft, and the required gear can be rented from Eastern Washington University's Epic Outdoors program in Cheney or from the University of Idaho's Outdoor Program office in Moscow.