When you think of eastern Washington, your first thoughts may not include elegant swans. Pend Oreille County, located in the northeast corner of the state and including the Colville National Forest, is home to a spectacular display of Tundra Swans this time of year though. 
So, what's a Tundra Swan? Hailing from the duck and geese family, it may look similar to your Platonic ideal of a swan—a large, white, graceful bird with a long neck. Tundra Swans are unique because they have a bit of yellow coloring above their bill, which is helpful in distinguishing them from their migrating cousin, the slightly larger Trumpeter Swan. Tundra Swans nest on Arctic tundra in the summer and then migrate long stretches to less extreme wintering areas.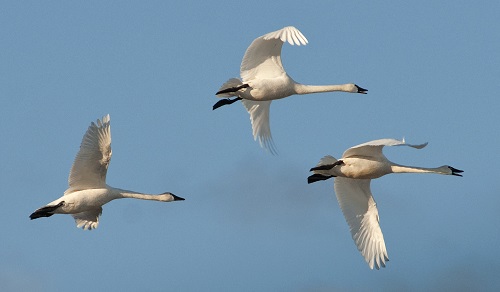 The National Audubon society anticipates that climate change could alter the route of the migrating Tundra Swan, but for now they make a stunning pass through the wilderness in our own backyard. As the Kalispell Tribe writes on their website, "the spectacle of flapping wings and sparkling, all-white plumage is always memorable. The cacophony of bugling calls and water slapping can be heard from far away."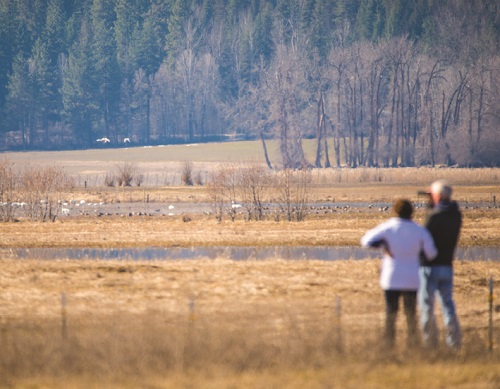 Saturday, March 16, is the date for the official 2019 Tundra Swan Festival. While the Tundra Swans migrate before and after this date, this weekend is the time when the locals put on festivities at the Camas Center for Community Wellness in Cusick, WA. The 2019 festival will include workshops, presentations, booths, vendors, a bus trip to Calispell Lake for wildlife viewing, and an optional hot lunch of hearty chicken soup, chili, sides, desserts, and refreshments. The festival is $20 per person with a $10 optional lunch.
In the Pend Oreille River Valley, the return of the Tundra Swan is a sure sign of spring. This weekend is a great opportunity to get outside and see a creature that's not in the typical regional wildlife rollcall. Tips: bring binoculars for better viewing, and dress in layers for varying weather conditions.
Check out the 2019 Tundra Swan Festival Facebook Page for more info.
(Sponsored Content)
[Photos courtesy of Porta]