Location:
Deer Creek Summit SnoPark, Kettle River Range in northeast Washington.
Activity:
Snowshoe, Cross-Country Ski, or Hike (trail open year-round).
Longtime residents of the Inland Northwest know the best way to take full advantage of our four seasons is to splurge for an annual SnoPark permit each winter. Without that pass, adventurers will find their options severely limited as snow piles up in the high country and covers the access roads leading to many of our region's trailheads.
There are three main types of SnoPark permits, and recreational users should give a little consideration to their favorite types of activity and frequency of use before making a decision about which permit to purchase. A one-day pass is $20, an annual pass is $40, and for those who also Nordic ski in specific groomed locations across the state, a special grooming sticker can be added for a total of $80 annually. This is a per vehicle permit that cannot be transferred between vehicles. For the hike described here, a special grooming sticker is not required.
As part of a program of providing a dedicated funding source for snow removal in parking lots across the state, the SnoPark system is vast. Statewide in Washington there are 40 SnoParks designated for non-motorized use, and another 80 open to motorized use, which can be utilized by human-powered adventure seekers who follow the same basic etiquette as those who recreate along potentially busy roads.
These trailheads would otherwise be inaccessible as snow begins to accumulate in the mountains. Most SnoPark visitors I meet have their own favorite access point, but it's also fun to take the permit on a tour of other areas. One such location is the Deer Creek Summit non-motorized SnoPark located along Boulder Summit Road in northeast Washington's Ferry County.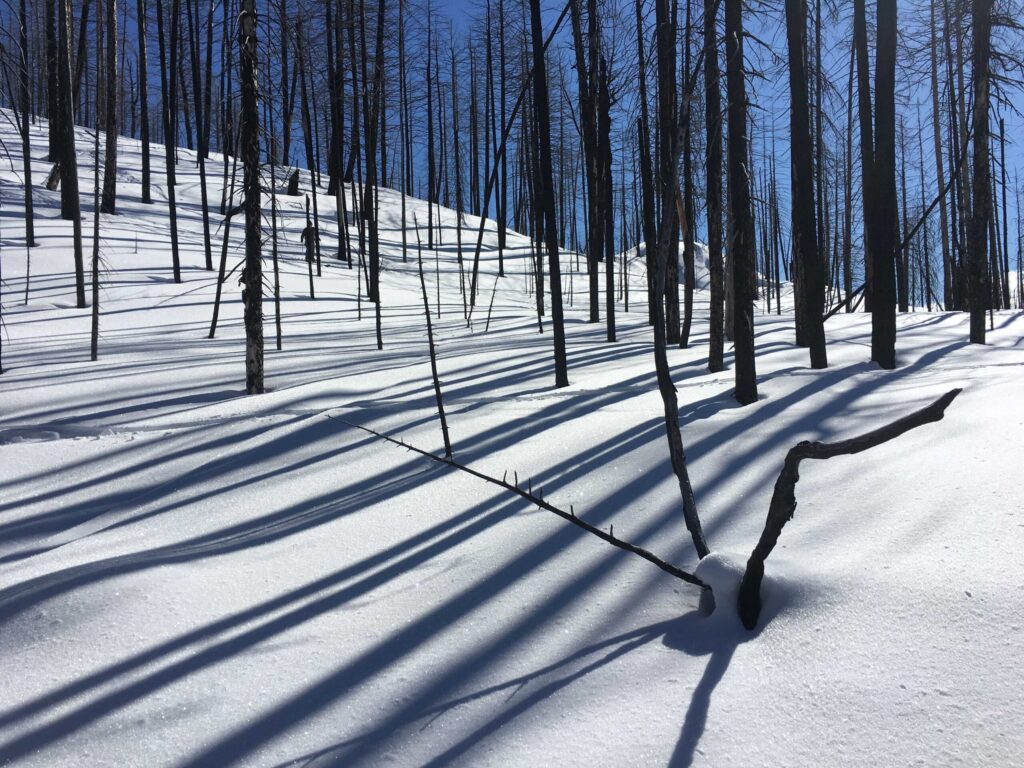 Located at the northern terminus of the Kettle Crest Trail in the Colville National Forest, visitors to this SnoPark have several recreational options at their disposal. (WTA page for Kettle Crest Trail.) In addition to being a great place to snowshoe, the site receives occasional grooming for Nordic skiing and offers backcountry skiers a place to earn their turns. The site has low avalanche danger, but winter visitors should always consult avalanche forecasts before a trip and come prepared with safety equipment for winter backcountry travel if planning to venture off the main trail system.
There are two parking locations at Deer Creek Summit, and for the hike described here it can be easiest to park at the south side of Boulder Creek Road. From here the easiest hike is to take the west side of the South Loop Trail as an easy out and back snowshoe hike where the main draw is the westward views along the trail. The trail is wide, since in the summer it's an access road leading to the Taylor Ridge trailhead. Since this trail is occasionally groomed for Nordic skiing, snowshoe users are asked to keep off to one side and avoid walking on the set tracks following grooming.
The viewshed along the South Loop Trail has changed substantially in recent years, as this area was heavily impacted by the 2015 Stickpin Fire. As a result, visitors must be aware of the potential for falling trees in the event of high winds.
On a clear and calm day, the skeleton trees create interesting shadows in the forest. This trail has an unobstructed view to the west, making sunset a particularly nice time to visit. For the easiest hike, turn around at the Taylor Ridge Trailhead kiosk and retrace one's steps to return to the SnoPark lot.
Visitors can choose to extend the hike farther south along the Kettle Crest Trail, or even try winter camping on the surrounding Forest Service land.
Deer Creek Summit via west side of South Loop Trail
Round-trip distance: 4 miles
Rating: Easy
Elevation gain: 480 feet
Getting there: From Kettle Falls, take Highway 395 northwest across the Columbia River. Continue 15.9 miles north on Highway 395. Turn west on Boulder Creek Road and continue 11.6 miles to Deer Creek Summit SnoPark.
Volunteer: Watch for upcoming opportunities to volunteer on local trails by checking wta.org/volunteer and sorting to "Eastern Washington" under the region tab. Group size limits are dependent upon current Covid-19 guidelines.
Holly Weiler believes in winter sports for winter sanity. Find her snowshoeing and skiing all over the Inland Northwest, getting maximum value out of her SnoPark permit.