Toadfish Coastal Kitchen Collection is a set of award-winning seafood tools packaged together for easy gifting. But if you're a seafood lover, you'll have a hard time giving it away.
The set includes three tools for preparing fresh seafood.
Put 'Em Back™ Oyster Knife: ergonomically-designed knife with a bent tip and handles made from recycled plastic bottles for shucking oysters.
Frogmore™ Shrimp Cleaner: original tool that peels, deveins, and butterflies shrimp in one smooth motion.
Toadfish™ Crab Cutter: slices through crab shells instead of smashing them.
Toadfish notes that the company also invests in marine ecosystems by planting 10 square ft. of new oyster habitat for every product sold.
MSRP: $88. Toadfishoutfitters.com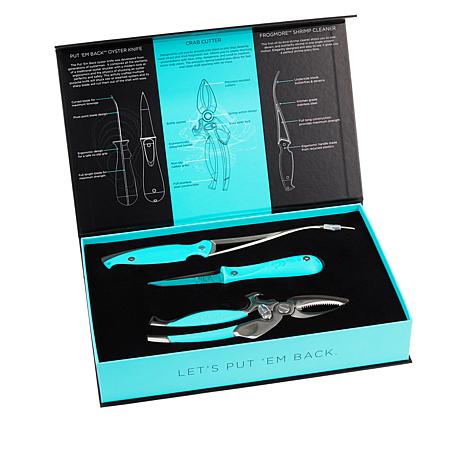 For more Food & Drink product reviews and recommendations, visit our content archives.