Nobody knows where Hells Canyon first got its name. Some say its origins date back to the area's first European explorers, who found the canyon to be impassible after one of their men drowned and several canoes were lost in the Snake River's unpredictable rapids. Others claim that the name originates from a mispronunciation of the name "Haller," a boat pilot whose plan to haul copper ore down the canyon was also reportedly thwarted by the canyon's infamous whitewater.
Regardless of its origin, the name "Hells Canyon" is undeniably fitting. Starting near the town of Oxbow, Oregon, the Snake River carves a jagged, 40-mile long defile into the heart of the desert landscape. Cactus, sagebrush, and rattlesnakes eke out a precarious existence among the steep canyon walls, which rise nearly 8,000 feet to the peaks of the Seven Devils Mountains (making Hells Canyon the deepest in North America). Summers along the river are unbearably hot, with temperatures often topping 110 degrees. Roads are few, and bridges are nonexistent. Maps of the area indicate an extensive trail system, but few paths are regularly maintained, and others have faded into oblivion after decades of disuse.
Still, the very factors that keep people out are among the reasons why visiting Hells Canyon is an unforgettable experience: the rugged topography preserves a starkly beautiful landscape that is historically and ecologically unrivaled. Bear, cougar, elk, mountain goats, and bighorn sheep flourish among the cliffs and the brambles. The untamed waters of the Snake harbor one of the world's last viable populations of white sturgeon, a monstrous fish hailing from the age of the dinosaurs that can grow to over a thousand pounds. Two-thousand-year-old pictographs — vestiges of pre-Columbian settlement — mark the canyon walls, and more modern artifacts — abandoned cabins, plows, and irrigation piping — bear testament to the canyon's recent history as a working landscape.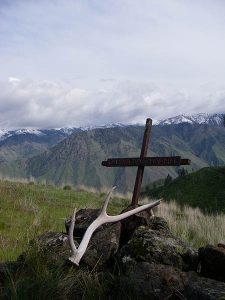 The scenic beauty of Hells Canyon has always attracted a small share of recreationalists, but in recent years an increasing number of adventure seekers have been drawn to the distinctive challenge offered by a rim-to-rim-to-rim traverse — running from one side of the canyon to the other, and back. Hat Point, the highest spot on the Oregon side of the canyon, serves as the western terminus for such expeditions. Windy Saddle, on the eastern (Idaho) side, serves as the de facto eastern terminus, though some purists grumble that "real" traverses begin at the 9,420-foot summit of He Devil, the highest peak on the eastern rim.
Drawn by the challenge of a Hells Canyon double-crossing, Steve Graepel and Mike James, a pair of ultrarunners from Boise and Billings, journeyed into the canyon in September 2012. The pair completed the rim-to-rim-to-rim 36 hours after setting out — tired and bloodied, but ultimately victorious. News of the successful attempt spread quickly.
Not to be outdone by Graepel and James' tale of personal misery, Pete Meighan, an ultrarunner from Pullman, Washington, made plans for his own attempt in 2015. "It was the first time I'd attempted something so big," Meighan recalls. "In retrospect, I was woefully unprepared for the task." Unlike Graepel and James, Meighan began his journey at the western rim, at Hat Point in Oregon. After dropping into the canyon and swimming the river, the ascent up the eastern rim proved more challenging than anticipated.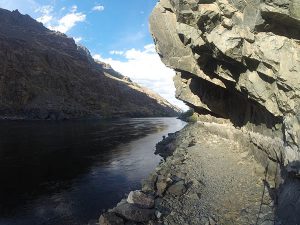 "Trail conditions were much worse than I expected and it was taking me much longer to reach the Idaho rim than I originally planned," Meighan explains. "So I turned around." Despite falling short of his goal, the unsuccessful attempt proved fruitful. "My first attempt was one of the best experiences I'd ever had," he gleefully proclaims. "By the end of the first day, the canyon was booming with wildlife — bears, snakes, elk. I had yet to see so much wildlife in a single outing, which added to the adventure."
Armed with lessons from his first try, Meighan set his sights on a second attempt the following year. This time, the stakes would be higher. Pack weight would need to drop considerably. Precautionary safety gear, like a stove and a sleeping bag, would have to be left behind if he were going to make the crossing in a single day. For Meighan, the tradeoff was unavoidable. "To maximize my chances of completing the rim-to-rim-to-rim, I would sacrifice some safety and comfort for speed."
Sunrise was still hours away when Meighan set out from Windy Saddle on the morning of August 27, 2016, guided by the glow of his headlamp. His route would be different than his predecessors. Graepel and James had dropped to the river via Dry Diggins Ridge and Bernard Creek, but had lost the trail for much of the descent. Instead of descending Bernard Creek, which the Forest Service has since closed to public access because of dangerous trail conditions, Meighan opted for Little Granite Creek — a longer route, but one that held the promise of better trail. By the time the sun came up, he had covered 8 miles and was steadily descending the steep drainage, dropping 6,000 feet over 6 miles. By 10 a.m., he was at the ford.
Crossing the Snake River is the crux of any Hells Canyon traverse. Graepel and James had been able to hitch a ride on a passing raft during their first crossing, but hadn't been as lucky on the return and had been forced to swim. Meighan planned on swimming both ways. He wasn't underestimating the river, and had carried fins and a life vest from Windy Saddle for this purpose.
His swim passed without incident, and soon he was going up the other side along Hat Creek. The trail vanished, and he bushwhacked his way through a tangled mess of poison ivy and thorny brambles. It was now the middle of the afternoon, and temperatures had risen into the 90s. By the time Meighan reached Hat Point, the panoramic viewpoint held little allure. Visitors to Hat Point can scale an 82-foot-tall fire tower for unobstructed sightlines across the canyon, but climbing an extra set of stairs was the last thing on Meighan's mind. He started down.
The steep descent took fewer than 3 hours. After another uneventful river crossing, he passed several rafting camps cooking dinner in the fading light. "Each had outdoor kitchens serving up elaborate dinners," Meighan recalls. "Although the food smelled great and I was feeling pretty depleted, I wasn't hungry. My stomach had long since turned on me from dehydration." Meighan had refilled his water bottles several times to stave off dehydration, but it was a losing battle in the dry heat and sunny slopes of Hells Canyon. After 18 hours on the move, his body was beginning to protest.
As the sun disappeared, he clicked on his headlamp. The battery quickly died. He had a backup light, but it too gradually weakened to little more than a faint glow. The night sky was clear but moonless. Climbing 6,000 vertical feet up a poorly maintained trail is an ordeal in the best of conditions. Factor in near-complete darkness, and it becomes a death march. "My climb up the Little Granite Creek drainage quickly devolved into a route-finding and bushwhacking slog in the dark," Meighan remarks morosely. "It would've been a huge luxury to be on a well-defined trail, such that my only focus would be putting one foot in front of the other. This luxury was few and far between." And then the hallucinations started.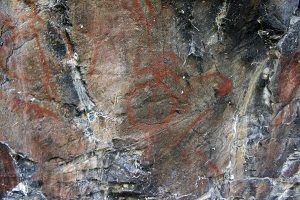 It's not uncommon for ultrarunners to start seeing things toward the end of their races, especially during the night. When it's dark, an ultrarunner's brain — already addled by fatigue and sleep deprivation — is trying to paint a picture of the world with limited visual input. And after 24 hours of intense physical activity, it's no surprise when the brush strokes start to go haywire. Images flashed in and out of Meighan's head. The bunchgrass, scratchy and cold, suddenly began to appear warm and inviting. He'd sit down and drift asleep, only to be jolted awake by voices from people who weren't there. "I was struggling to stay awake," Meighan confesses. "These were the most mentally and physically demanding hours of my life."
Meighan finally reached the top of Little Granite Creek, and as he looped back around the Seven Devils, the rising sun crested the horizon. Invigorated by the fresh morning light, he powered through the final miles and up the last set of switchbacks into Windy Saddle. Twenty-six hours, 4 minutes, and 56 seconds — 10 hours faster than Graepel and James. "I didn't feel elation at having successfully completed my trek or for setting a new FKT [fastest known time]," Meighan reflects honestly. "I only felt relief that it was finally over."
Despite the new documented record, Meighan isn't satisfied. "I still think that finishing under 20 hours is doable," he insists. "I plan on going back and doing this again." Each journey to the canyon is unique, but any rim-to-rim-to-rim attempt in Hells Canyon is sure to bring its share of pain, discomfort, and personal misery, which is why it will always hold a grip on the imagination.
That other famous canyon
Hells Canyon isn't the only gorge to be targeted by the ultrarunning community. At Grand Canyon National Park in Arizona, parties attempting rim-to-rim traverses depart the South Rim nearly every day during peak season (fall and spring). The record for a Grand Canyon traverse has steadily fallen since record-keeping began in the early 80s. In October 2016, Jim Walmsley, a 26-year-old Air Force veteran, broke the record for both single (2 hours, 46 minutes) and double (5 hours, 55 minutes) crossings.
Still, you'd be hard pressed to draw meaningful comparisons between the two routes. For one, there's a bridge over the Colorado River in the Grand Canyon, negating the need for a risky and challenging river swim. Purified water is readily available at half a dozen spots along the route in the Grand Canyon, while water sources in Hells Canyon are restricted to a handful of untreated springs and creeks. Trails — carefully groomed and graded in the Grand Canyon — disappear for miles at a time in Hells Canyon. Once you consider the different elevation profiles (21,000 feet of change in the Grand Canyon compared to 36,000 feet in Hells), the distinction between the two routes quickly becomes clear. If crossing the Grand Canyon is landing on the moon, then traversing Hells Canyon is a journey to Mars.
Hells Canyon Rim-to-Rim-to-Rim By the numbers
Driving distance from Spokane: 4.5 hours to Windy Saddle; 5.5 hours to Hat Point
Season: July through October
Distance: 42 miles roundtrip (via Graepel and James' route on Bernard Creek) or 51 miles (via Meighan's route on Little Granite Creek)
Elevation Change: 36,000 feet (Bernard Creek) or 39,000 feet (Little Granite Creek)
Water: Reliable water can be found at Sheep Creek, Bernard Creek, Saddle Creek, and a spring below Hat Point.