First Day on the Hill
Remember that everyone was a beginner once, and they all had a first day. Signing up with a ski or snowboard instructor will make that first day for you or your kids so much more fun and relaxed. Your instructor will have all the information for you on how to get started. Stop by the ski school on the mountain to sign up for lessons. Don't push yourself or your kids too hard and remember to have fun!
Clothing Recommendations
Skiing and riding is a lot of fun when you are warm and dry. The best way to dress for winter weather is to wear layers. In general, the three main layers are: 1. wicking 2. insulating 3. weather protection. The wicking layer is the layer worn next to your skin, usually consisting of long underwear. Make sure this first layer fits snugly, but not too tight so that it wicks sweat away from your body efficiently. The insulating layer is the middle layer that includes sweaters, sweat shirts, vests and pullovers. The final weather protection layer is the exterior layer, generally a jacket and pants that serve to guard against the elements of winter. That important layer should repel water from snow, sleet or rain and block the wind, while also letting perspiration evaporate.
Hats, Sunglasses and Goggles are About More than Looking Cool
Up to 80 percent of your body's heat can escape from an uncovered head, so wearing a warm hat is essential when it's cold. Sunglasses also do much more than make you look cool – they protect your eyes from damaging solar radiation, and goggles are necessary when it's snowing so that you can see what's coming at you down the mountain.
Can I Use the Old Skis in My Neighbor's Garage?
Unlike traditional straight skis, the shorter, curvier shaped skis that have been standard on the mountain for years now are easier to control, turn, and stop on most types of terrain. Old, outdated gear will make it harder to learn to ski and can be dangerous, increasing your risk of injury. Your best and safest bet is to rent modern gear from a ski shop or resort rental shop that is fitted to your body size and ability level.
The Right Boots Make All the Difference
Properly fitted boots with the right flex are essential for controlling your skis and keeping your feet warm. But what should a boot feel like? A properly fitted ski boot should feel like hands gently clasped around your ankles. Your heels should not slip up and down, your calf muscles shouldn't feel pinched. The boot should feel comfortably snug, but you should be able to wiggle your toes just a little bit. Boots that are too tight cause your feet to get cold, cramp, or go to sleep. You can't do anything on the slopes if you can't feel or move your feet. Have a professional from a ski shop help you get fitted in the right pair of boots. // (OTM)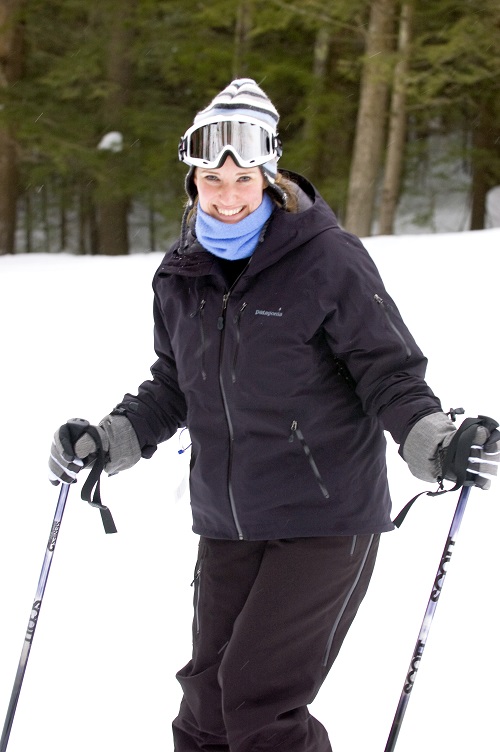 January is Learn to Ski and Snowboard Month!
Humans were never meant to hibernate in the winter! It's never too late to introduce your family to a world of winter fun and adventure on the ski slopes. You can take lessons from professional instructors all winter long, but Learn to Ski Month in January is the time when many ski resorts offer their best learning deals. Wouldn't you love to introduce your family to a new winter sport? Learn more about local resort Learn to Ski Month deals: Skinwrockies.com/learn-a-snowsport-month. //