I'm dressed as a Flying Elvis. I've joined a troupe of Vegas-era Elvis impersonators – Whitefish Mountain Resort employees any other day – swiveling their jump suit-clad hips and windmill-strumming air guitars through a cloud of red capes as they hand out candy during Whitefish's Grand Parade, the centerpiece of the annual Whitefish Winter Carnival. It's the festival's fiftieth anniversary, and some hundred-and-fifty floats, from flatbed affairs to fire trucks and flotillas of bikes, have lined up to cruise Whitefish. To celebrate this year's Las Vegas theme, none other than Vegas patriarch Wayne Newton has arrived as Grand Marshal; for an hour or so, the climate in downtown Whitefish feels downright desert-like. Walking down the street after our parade run is done, my pompadour held high, a Yeti on a fat bike gives me a thumb's up.
Earlier in the day, I watch nearly two-hundred revelers – with costumes ranging from Popeye to Mardi Gras masquerade ball attendees – brave arctic temperatures to jump into a four-foot-deep pool cut in Whitefish Lake during the Polar Plunge. Scuba divers assist the participants out of the plunge pool and into waiting towels, but only adrenaline – and perhaps a little liquid courage – keeps these hardy souls warm. I marvel as a young man in full Superman costume executes a capable, cape-flowing dive into the frigid water. Seconds later he pops out looking, for the moment, more like a soggy Clark Kent than Superman, but the look on his face says he's conquered the cold.
Held the first weekend of February (Feb. 6-8 this year), the Whitefish Winter Carnival, now beginning its second half-century, rates as one of the premier winter celebrations in the West, with events stretching between the artsy lakeside downtown of Whitefish and the world-class Whitefish Mountain Resort at Big Mountain.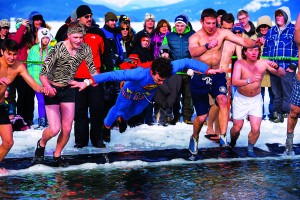 Begin downtown with the Polar Plunge, followed by pre-parade bar-hopping and people-watching among Whitefish's many cafes and pubs. In the evening, after the parade, head up to the resort for the Big Air competition, where lanky teenagers launch off ramps and rails, seemingly suspended in the air above Whitefish Lake some four-thousand feet below. The Torch Light Parade caps the festivities with youth skiers carving big, swooping turns down the Big Ravine behind the main lodge, lights aloft, followed by a fireworks display. The free-flowing beer in the bar keeps the celebration going long past the last firework has faded from the sky.
Travel Tip: Visit Whitefish without a Car
Financed by the Big Mountain Commercial Association, the free SNOWBus shuttles skiers and snowboarders between downtown Whitefish and Whitefish Mountain Resort – including stops at many of the main resorts, hotels and lodges – all winter, with extra service during the Winter Carnival. The historic Whitefish train depot – the fifth-most popular stop on the 2,200-mile Amtrak Empire Builder line – is an easy six-hour train ride from Spokane. Coupled with the train depot's location on the edge of a compact, walker-friendly downtown, the SNOWBus facilitates easy car-free travel, a boon in western Montana's wild winters. //