As this year's legislative session enters its final month, Alex Alston, state policy director at Washington Bikes, recaps the statewide bike-related bills and budget proposals she sees as top priority this year. The advocacy arm of Washington Bikes, called Washington Bikes PAC, works across the aisle to promote bicycle-related issues. It also works to pass ballot measures and elect candidates. During the legislative session, you can find Alston in Olympia, knocking on legislators' doors in hopes of garnering support for bike-friendly bills. This year, she's found overwhelming support for a proposed bike safety advisory council.
"The point — and why there's urgency around this — is that fatalities and injuries have been on the rise in Washington State," Alston says. "The other piece that has been our focus has been protecting and maintaining trails. As we work toward a vision of bicycling for all ages and abilities, I think both of these issues are important."
To make a difference, Alston says calling and sending emails to Spokane-area legislators will make the most impact. Legislators answer to their own constituents, so (at least in theory) they consider their constituents' concerns foremost. "When I'm in Olympia doing advocacy, in terms of being a constituent, I have three people there who will listen to me," she says.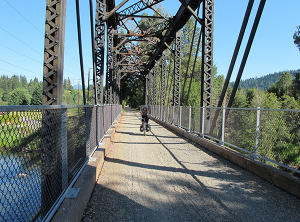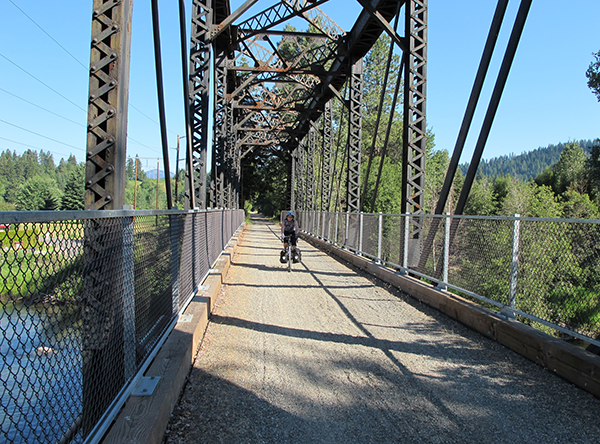 Cooper Jones Bicycle Safety Advisory Council
The Cooper Jones Bicycle Safety Advisory Council is named after 13-year-old Cooper Jones who was killed by a driver while riding in a Baddlands Cycling Club time trial in 1997. The bill aims to create the Cooper Jones Bicycle Safety Advisory Council to help reduce bicycling fatalities.
"After his death, his parents went to work to pass bicycle safety measures in the legislature," Alston says. Cooper's parents fought to pass Cooper Jones Bicycle and Pedestrian Safety Education Act in 1998. The law emphasizes bicycle and pedestrian safety education, but momentum and resources have waned over time. "We have connected this legislation to the legislation in the past to kind of honor their work," Alston says. "Much of the legislation that passed didn't have funding. So, this is kind of an attempt to resuscitate that legislation."
Step one for the Cooper Jones Bicycle Safety Advisory Council would be to determine what's caused the recent uptick in bicycle fatalities statewide. According to Washington Bikes, bicyclists comprise more than 7% of all serious injuries and fatalities on the road statewide. Yet, less than 1% of all commute trips are made on bikes.
The council would convene epidemiologists, engineers, members of law enforcement, advocacy groups and representatives from counties and municipalities to tackle the issue together and make recommendations to the legislature for reducing fatal crashes between cars and bikes. "Their recommendations to the legislature will hopefully shape future budget and policy decisions," Alston says. Research and recommendations produced by the Cooper Jones Bicycle Safety Advisory Council would likely carry more weight for legislators than data presented by advocacy groups, which is a big step toward rallying support for bike safety measures statewide.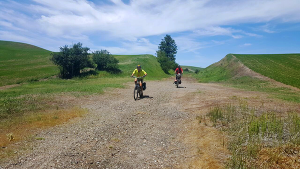 Funding & Protecting the John Wayne Pioneer Trail
"We're supporting Washington Wildlife and Recreation [Commission's] request for funding and also State Parks' requests for funding," Alston says. Of the projects on those agencies' lists, Washington Bikes has thrown its weight behind a slew of proposals to improve the John Wayne Pioneer Trail.
The longest rail trail in the U.S., the John Wayne Pioneer Trail spans nearly the entire state of Washington from Tekoa to North Bend. "One of the reasons it's a focus is that it's somewhat unique. It's this cross-state trail that would be open to the public for transportation and recreation," Alston says. "People will – people are – coming to our state to use this trail."
While the western portion, Iron Horse State Park, is well developed, the portion to the east of the Columbia River needs some serious love. The eastern half of the trail is, according to Friends of the John Wayne Pioneer Trail, largely undeveloped and unmaintained. Some sections are closed or private, requiring significant detours.
This year, the Washington State Parks and Recreation Commission requested funding from both the state's capital budget and grants to upgrade six sections of the trail. Some proposed projects would repair, improve or add trails, trestles, tunnels and trailheads. Others would add restrooms, signage, accessibility features and parking.
A Study Identifying the Economic and Health Benefits of Walking, Hiking and Bicycling
Washington Bikes and the Washington Trails Association came together to request funding for a statewide study of the benefits of what they call the state's three most popular active-recreation activities. Measuring consumer and tourism spending, retail and manufacturing revenue, and health benefits, the proposed study would follow in the footsteps of a 2016 state of Colorado study to lay the groundwork for policy supporting active recreation statewide. //
Erika bicycles as her primary mode of transportation. She stays healthy by running and playing pick-up team sports. You can find more of her writing at erikaprins.com.