In 2022, America's national parks had over 213 million visitors. Closer to home, Glacier National Park had over 2.9 million visitors. That popularity has led to a reservation system for bringing cars into the park. Given that popularity, how might we enjoy what national parks afford without finding ourselves cheek by jowl with fellow travelers?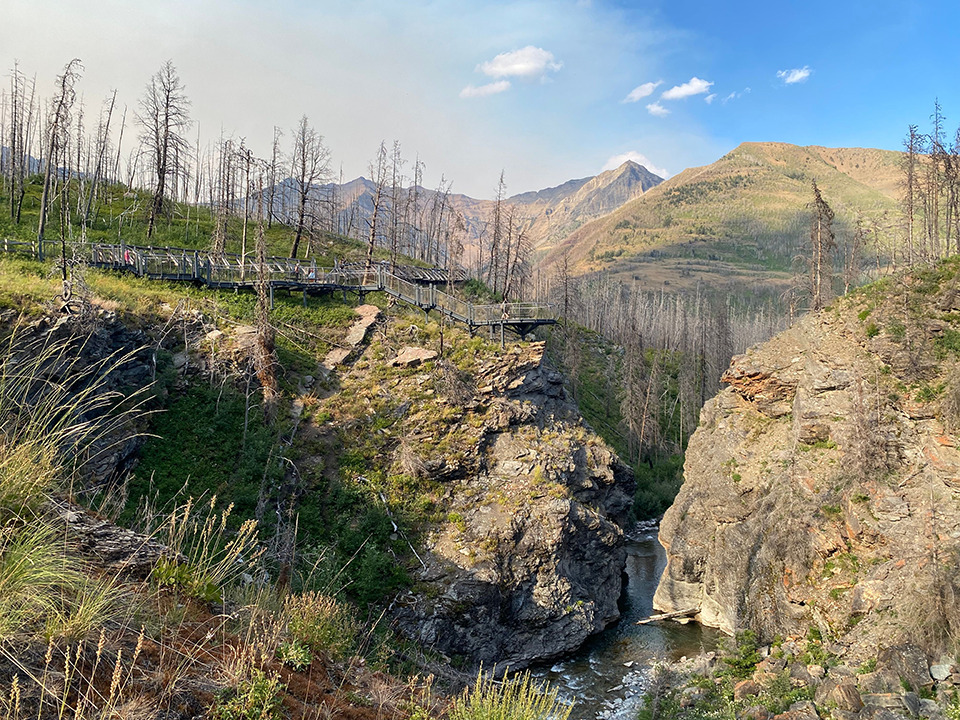 One thing we can do, in the words of poet Robert Frost, is to take the road less traveled, that being the road leading to Waterton Lakes National Park, in Alberta, Canada. Waterton Lakes NP receives just 500,000 annual visitors, making for a more immersive natural experience. Granted, Waterton is 130,000 acres compared to Glacier's one million, but the last thing you'll experience at Waterton is a crush of fellow travelers.
Besides the lack of crowds (except if you try to park at the Prince of Wales Hotel), Waterton Lakes has a lot going for it, much of which has been built on its connection to Glacier NP. In 1932, the two parks became the world's first International Peace Park. In 1979, Waterton and Glacier were declared a Biosphere Reserve, making them test sites for interdisciplinary approaches to understanding and managing changes and interactions between social and ecological systems. In 1995, the combined parks were declared a UNESCO World Heritage site. In 2017, they were designated the first International Dark Sky Parks, denoting lands that still have exceptional quality in starry nights and nocturnal environment.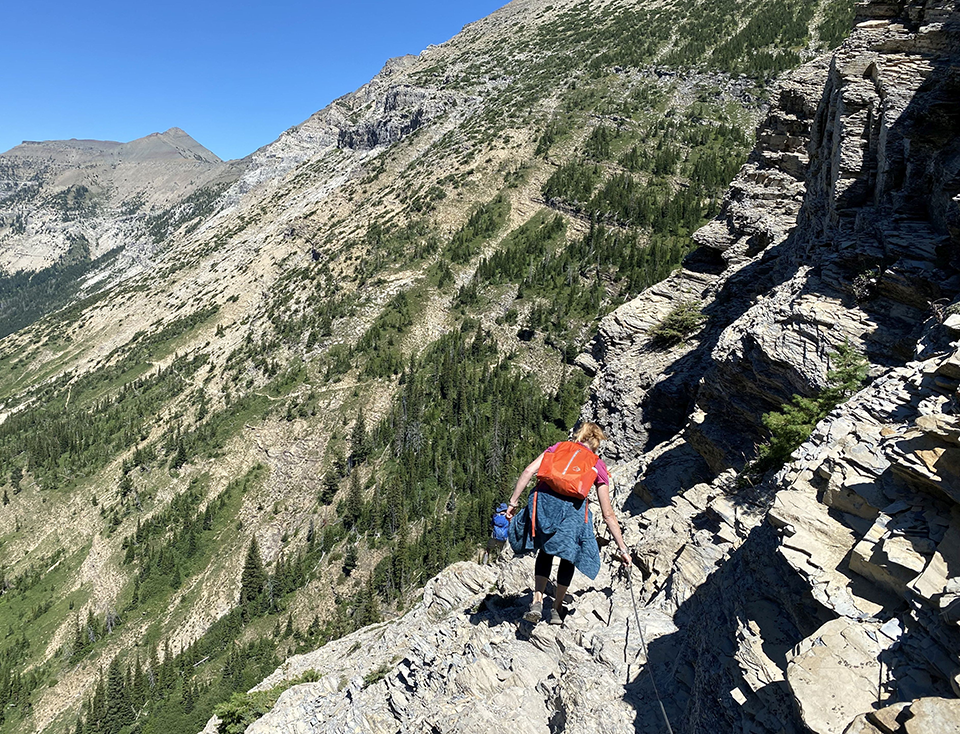 Road Biking Waterton Lakes
So, what's there to do in Waterton Lakes? Because my wife and I are cyclists first and hikers second, we spent our first two days exploring the two road rides inside the park. The first was the Red Rock Parkway, which leads from the Prince of Wales Hotel to Red Rock Canyon, a hub for the Blackiston Valley and Goat Creek trails. From the campground to Red Rock Canyon is a 25-mile round trip with 1,500 feet of climbing, but only 600 feet of elevation gain. The other ride is the Akamina Parkway to Cameron Lake. From the campground it's a 21-mile round trip with about 1,500 feet of climbing, most on the way in, with a fairly consistent though not steep grade. Expect a challenging ride up and speedy ride down. Both roads, as you might expect, make for a scenic drive as well, with many trailheads and picnic sites along the way. There are also rides outside the park, including on Highway 6 heading towards the Chief Mountain border crossing.
Hiking around Waterton
After our rides, we spent time walking through Waterton, which, according to the most recent census, is home to 158 residents. We strolled along the lakefront path and meandered around the townsite. There are restaurants and the sorts of shops you might expect in a national park. There's ice cream, coffee, jewelry, beer, local art, hot dogs, you name it. About the only thing lacking is a full-service grocery. The most popular hike in town is to Camerton Falls from the Red Rock parking lot. We all but had the trail and the falls to ourselves as the sun was setting.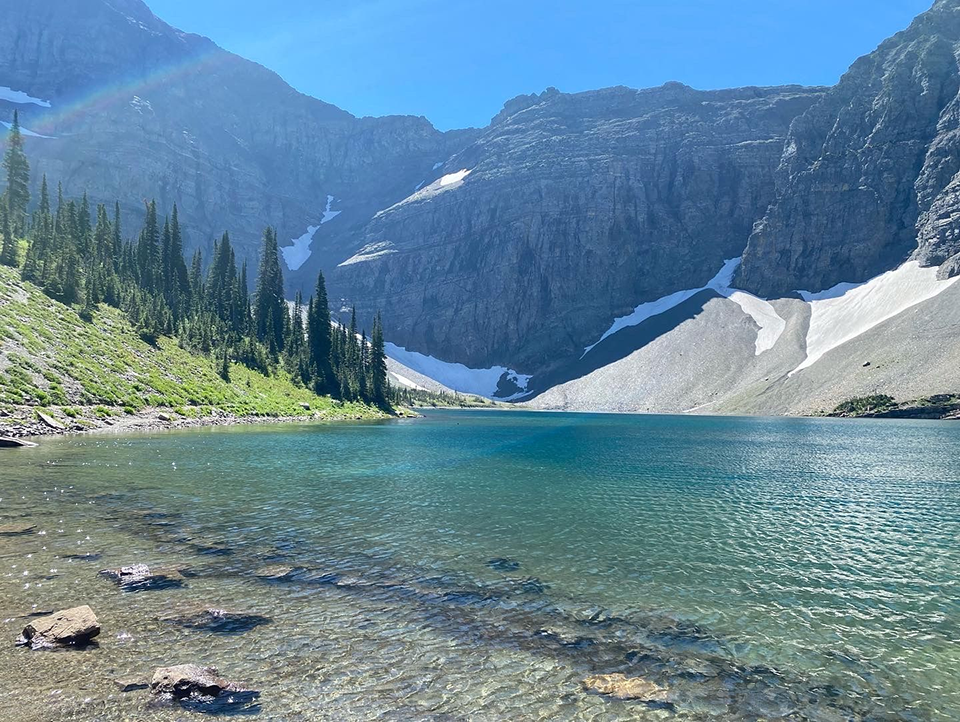 Waterton has 74 listed trails, six of which allow mountain biking and 20 of which allow for horseback riding. The Waterton Activity Guide breaks the trails down into hikes of under 90 minutes, day hikes up to a listed nine hours (most in the 4-5 hour range), and one multi-day hike along the Continental Divide. Our big hike for the trip was to Crypt Lake. Round trip it is just under 11 miles with a total elevation gain of about 2,100 feet, about three hours each way. The hike starts with a boat ride from the Waterton Marina to Crypt Landing across the lake. The trail is congested at first, being as popular as it is, but once the climbing starts, the hikers are fewer and farther between.
The highlight of the hike, other than making it to the lake for a refreshing dip, is the final leg with a scramble through a 65-foot natural tunnel through the rock that comes out to a sheer drop along a ledge that is traversed with the aid of a cable anchored into the rock. Some people brought their dogs, but we were glad to have left them behind. The tunnel and ledge are much of why National Geographic has called the Crypt Lake Trail one of the world's most thrilling.
Other Park Activities and Amenities
There are also more traditional vacation activities, from a day spa to horseback riding, kayaking, paddleboarding, and golf. Another is a dark sky tour. Visitors can book stargazing trips in Waterton or take a shuttle to a hiking or telescope tour. Dark Sky Guides provides the necessities such as headlamps and binoculars, and even blankets and camp chairs for the telescope tours. Bike rentals include acoustic, electric, and pedicabs.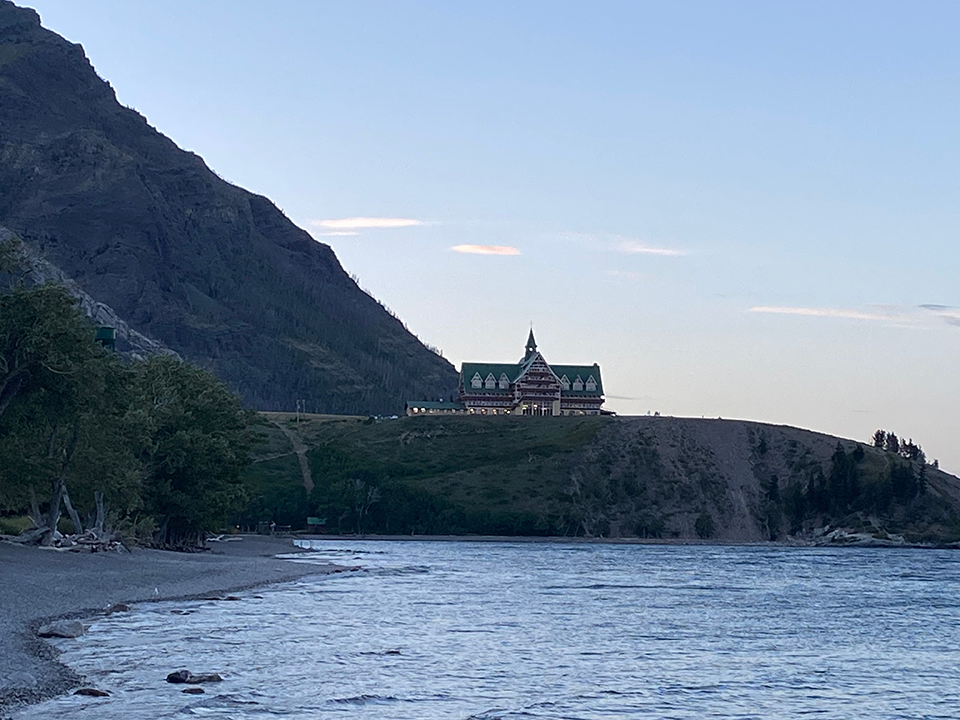 Lodging
For the iconic lodging experience, there is the Prince of Wales Hotel, built in 1927 by the Great Northern Railway to attract tourists seeking to escape, at least in part, prohibition back in the States. South-facing rooms provide an expansive view of Upper Waterton Lake and the mountains forming an imposing barrier between the two nations. The hotel's lobby and patio offer a similarly expansive view. Other lodging options are less iconic, including mountain lodges, resort hotels, and pampering spas. The trailer and tent camping is essentially a large parking lot with parking spaces and grass, more of a base for the day's events than lounging. Along with a number of backcountry campgrounds, there are a few front country campgrounds just outside park boundaries.
From Spokane, the quickest route to Waterton Lakes entails a six-and-a-half hour drive through Cranbrook and Fernie. An alternate route, through Kalispel and south of Glacier, makes for an hour longer of a drive. Flying or the train both require a car for the last leg.