If you missed the Dirty Dash and are looking for another opportunity to run, have fun and get dirty for a good cause (this mud run benefits Northwest wounded veterans), Webb's Slough in St. John south of Spokane has you covered. The Few, The Proud, The Muddy can be experienced as a one-day 5k fun run, 10k competitive run, or as a whole weekend of festivities that includes camping, a beer garden, food vendors, live music and even a three person volleyball tournament. The mud run course includes over 25 obstacles, from logs, pits, slides, hay bales, wood structures, rope swings and, of course, plenty of mud.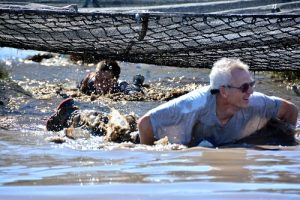 Marines of the Palouse, a non-profit group run by Marine vets in the Palouse area, puts on the event to raise funds to help out veterans in need. With an increasing number of returning vet PTSD and TBI cases, Marines of the Palouse provides these veterans with opportunities to experience outdoor therapy in the form of rafting, fishing, mountain biking and hunting trips around the region.
The race/run starts at 10 a.m., although the course is open all day, so you can experience it more than once if you don't get dirty enough the first time. Kids 10 and under get in free and can run the course with adult supervision. Sign up as an individual or team. Registration is $35 and up. For more info and to register, visit Marinesofthepalouse.com/#!mud-run/chsn.