As I approached the starting line, I quickly realized this race was unlike any I'd ever been to before. The competition was fierce. The conditions were uncomfortable. And the racers? Several had already licked me.
It was the annual running of the Eagle Cap Extreme Dog Sled Race, the only Iditarod qualifier in the western United States. The air was filled with nervous excitement—the type that can only come from over a hundred energetic canines barking in eager anticipation.
One by one the mushers brought their teams to the starting line. A staggered start ensured that the teams avoided entanglement, and before long the chorus of barking dog teams faded into the snowy afternoon horizon.
Witnessing a dog sled race is one of the perks of the Inland Northwest winter. This season, the Eagle Cap Extreme will be held on Jan. 18 in Joseph, Oregon, and the Priest Lake Sled Dog Race will occur on Feb. 3 near Nordman, Idaho. Either race will give spectators a healthy introduction to the sport, but if that's not enough, there are also options for individuals wishing to pursue dog-powered winter recreation themselves.
Skijoring—a combination of cross country skiing and dogsledding—is quickly gaining a dedicated following in the Spokane area, and requires much less gear and preparation than a typical dog sled setup.
"I just kinda went out and did it," explains Jim Ekins, a Coeur d'Alene resident who took up skijoring nearly 17 years ago. "My dogs figured they could run, I could ski behind them, and it was good."
Unlike dogsledding, which can require up to 12 dogs and thousands of dollars of specialized equipment, skijoring is relatively accessible to any skier with a four-legged friend. Ekins setup cost between $75 and $80.
The equipment is basic, given the prerequisites of skis and a dog. All you need is a harness that distributes pressure evenly across the dog's body, an approximately 10-foot lead, and an attachment point on your body such as a harness, belt, or backpack.
Many people have preconceived notions of what kind of dog will pull a sled or a skier, but Ekins maintains that any reasonably athletic and motivated dog will work. Team size typically ranges between one to three dogs. These days, Ekins' team consists of a border collie and a lab-shepherd mix. Still, he acknowledges that some dogs just don't have the innate drive to pull a skier.
While many skijorers rely on traditional verbal commands—"haw," "gee," and "hike"—having a responsive, well-trained team isn't entirely crucial.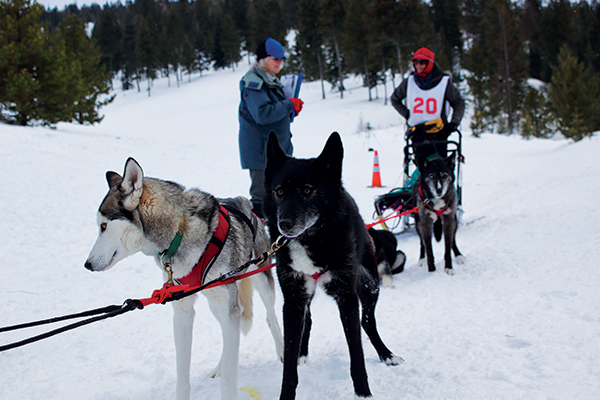 "Some people will train their dogs and make them really responsive to commands. My dogs aren't responsive to commands," Ekins admits. "But they like to run and they like to pull. If you can find a dog that likes to work and naturally is into it, you can make it work."
In addition to providing a great winter workout for both human and beast, skijoring also opens up longer routes that might not otherwise be accessible. Ekins notes that he can cover an 11-12 mile loop in around 2 hours. "I can't run 12 miles in 2 hours," Ekins explains. "I couldn't ski that on my own in that time, but the dogs make it possible."
Dogs are great pets, but they can also open up new opportunities for winter recreation. Whether it's viewing a dog sled race or trying skijoring for the first time, your next outing in the snow is sure to be a lot better if it involves a wet muzzle, a wagging tail, and an enthusiastic, barking ball of fur. // (Paul Chisholm)
Priest Lake Race Turns 50
In 1969, the Inland Empire Sled Dog Association (IESDA) hosted a race on the shores of Priest Lake, just south of Nordman, Idaho. With the exception of a few years, it has been held during the first weekend in February ever since and has become a cherished component of the Priest Lake winter community. This year's running—which will be held on Feb. 3—marks the 50th anniversary of the event. The event draws teams from all over the Pacific Northwest. Mushers are entered in a variety of categories based on race distance, dog breed, and the skill level of the musher. There will also be two skijoring events—one for advanced racers and another shorter event for beginners. The event begins at the Forest Service airstrip on the west end of Priest Lake and the race routes head west into the surrounding Selkirk foothills. Spectators are more than welcome, and race organizers are always looking for volunteers to help staff the event. The start line is roughly a 2-hour drive from Spokane. Visit www.iesda.org for more information.//
Skijoring Hotspots
Farragut State Park
Dogs aren't allowed on the Nordic trails, but you can skijor on the groomed fat bike trails. Loops range from 4 to 10 miles.
Palouse Divide Nordic Ski Area
Dogs are allowed at this trail network an hour north of Moscow. Several miles of gently sloping beginner trails make it a good spot to hone your skills.
Mt. Spokane State Park
A selection of trails are open for skijoring Sunday after 12pm and Wednesday all day.