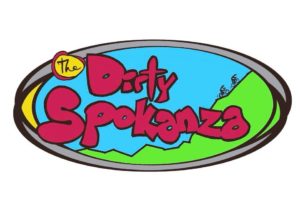 The Dirty Spokanza is Spokane's fabulous new premier gravel grinder cycling event! The inaugural ride will take place on Sunday, September 23rd, at 7:00 a.m. starting at Mojo Cyclery (1405 N Argonne Rd., Spokane Valley).
Touted as "the bastard son of the Midnight Century," the Dirty Spokanza rides ALL the miles, grinds ALL the gravel, and climbs ALL the feet from Mojo Cyclery up the West side of Mt Spokane and back down the other side. It will conclude with fizzy beverages at Badass Backyard Brewing.
The route is still being finalized, but think 80-100 miles with 7000+ feet of climbing. This is a mixed surface ride, so, as ride founder Justin Short writes, "at some point you will feel like you brought the wrong bike!"
Here's a description of the vibe from the race creator himself:
"The course will head north from Mojo up the "Pittsburgh bike lane," (that space between the yellow lines) to Beacon Hill, Spokane's go-to mountain bike park, where it will exit civilization as you know it. Before climbing Up Chuck, it will snake down one of the jump/drop lines with live alligators swimming in the gaps. The course will then trespass across someone's front porch where a seething maniac will be blasting away at us with rock salt.
For your grinding pleasure, every pebble will be polished to a brilliant sheen. Every dog on the course will have its fangs sharpened and will be infected with rabies . . .but it's the baby goat that will probably get you. At the summit a winter storm will blow in, freezing you in you your summer gear so you can squeeze brake levers down the other side with the useless clobs of meat you used to call hands. Like Hobbits skipping home from Mordor, you'll enjoy a fizzy beverage (or three) with your friends, knowing all is well because you survived the Dirty Spokanza.
This gravel soul-ride is not a race, but whoever wins gets the rubber chicken!"
Follow the ride event page on Facebook to keep up to date.