Perhaps, like me, you've caught brief glimpses of a mysterious, wooded slope as you cruise up and down Ash Street north of downtown Spokane. I've long assumed it was just someone's yard. In fact, that's Drumheller Springs Natural Park. There, trails wind through 12 acres of dry scabland and lush pockets of trees and plants where vernal pools appear through basalt bedrock. A meandering gravel trail suggests mountain biking, but Drumheller tends to invite a more relaxed, slower pace of recreating. Its rocky expanse is better suited to early morning jogs or evening strolls than high-speed pursuits.
On a recent weekday I spoke with Nick Wright, the only other person I encountered that day at Drumheller. A short, wiry man with intense eyes and a sincere smile, Wright was topping off a plastic water bottle from an easy-to-overlook pipe emerging below the upper meadow, at the foot of the new-looking staircase. "It's cleaner than the Vatican," he said. "This water is powerful."
Wright came from the tiny town of Malott, Washington, in Okanogan County to connect with nature and bathe in the ancient rivulet at Drumheller Park. He says the springs restore his body and spirit and relieve the damaged tendons and joint pain he's incurred through years of manual labor. He started coming here five years ago whenever he needed to "reconnect to spirit." Healing powers aside, Wright's not the only one with a deep connection to the springs.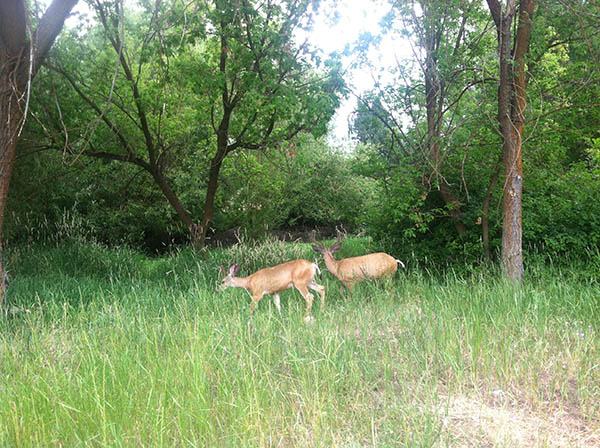 Barry Moses, a Spokane Indian, has been trying to restore Drumheller to the way area tribes knew it for millennia. "My great aunt would camp here during the three-day trip from Wellpinit," he says. His efforts began in earnest in 2011 when a well-intentioned tree-planting effort endangered one of the last urban sources of native food-plants like brown camas, Indian carrots, and bitterroot. Ponderosa pines, while indigenous and plentiful in Spokane, acidified soil and blocked sunlight. "There were never Ponderosas at Drumheller," Moses said, citing tribal records. "It was always open."
Moses convinced members of The Lands Council to let him show them what he meant. "It was spring, so it was easy to see where the new planting was already affecting the native plants." As the group encountered each native food plant, Moses served up traditional meals he'd prepared and packed in containers the night before, all made from the same plants. The tactic worked. The Lands Council members agreed to replant the saplings elsewhere, and the ordeal led to a Memorandum of Understanding with the Spokane Parks Board and the Lands Council. The Upper Columbia United Tribes (UCUT) became the primary caretakers of the park.
Carole Parks is a science instructor at Spokane Community College. She studied Drumheller extensively for her zoology master's thesis. Her research shows that native wildlife at Drumheller is declining, especially in springtime when the vernal pools dry up. Pacific tree frogs, water fowl, and deer still live here, but the long-toed salamanders that neighbors reported catching in decades past have all but disappeared. "I never saw a single one," she said. When the pools dry, amphibians are driven into the yards of the surrounding neighborhoods where they must contend with urban threats such as pets, people, lawnmowers, vehicles, and exposure to pesticides and fertilizers.
Yet in other ways it's better than it used to be. Abandoned vehicles used to litter the grounds until the mid-90s when Mary Porter and her Rogers High School students removed tons of garbage, and the city ringed the park in boulders to keep cars out.
It's hard to imagine Drumheller as anything other than pristine. I sat by a sprawling willow and tried to visualize it. Then a movement caught my eye — two deer, young bucks with velvety antlers. They eyed me warily, munching leaves as they moved along in near silence.
Beyond the park boundary is a newly acquired buffer zone, an extra layer of real estate where a house once stood, and Drumheller seems a little bit safer, at least in my imagination. All around, a city rushes by, oblivious, like a river parting around a grand, old tree.
Drumheller Springs Quick Facts
Size: 12 acres
Number of distinct plants: 175
1870: Chief Spokan Garry operates a long house and school for Native Americans at Drumheller.
1880: The park's namesake, Daniel Drumheller, operates a pig farm on the property.
1968: Eastern Washington Historical Society purchases the property.
Historical names: Stiuwa'tłxʷ; Lone Pine Springs; Garry Spring; Spring Hill.
Park map from Spokane City Parks & Recreation
Learn about other Spokane city parks in the OTO archives.
Story published in the September 2016 print edition of "Out There Outdoors" magazine as the Urban Outdoors column.
[Feature photo by Nick Thomas – Two bucks enjoy vernal pools at Drumheller Springs.]