Paddling a canoe on a quiet lake, especially when sunset colors splay across the western sky, is a great way to spend a summer day. 
"A canoe moves more smoothly and quietly than any other watercraft," says Brook Swanson, board member of the Spokane Canoe and Kayak Club. "I think it's the most comfortable way to be paddling – more comfortable than a kayak and less tiring than a stand up paddleboard. The fact that you can go long distances and it's maneuverable [makes canoeing] a good way to watch wildlife and be immersed in nature locations," he says. Swanson also points out that the history and tradition of canoeing also makes it a fitting way to explore the region's waters. "Canoes are the boats that were developed here by indigenous people. So people have been canoeing on local lakes for tens of thousands of years."
Gear: Simple is Better
"One of the neat things about canoeing is the simple gear. On a lake, in reasonably good weather, it's easy to go – just a boat, a paddle and a PFD. I love the simplicity of that," says Swanson, who paddles with his wife and 10-year-old son and also participates in canoe races. 
Most commonly used is the basic two-person plastic canoe. "They're very durable," he says. "There are tons of used canoes out there – and it's not that technology has changed over the years. Even old, funky canoes that you'll find on Craigslist can get you out on the water." Canoes can range in weight from 40 to 80 pounds, with the lightweight ones that canoe racers use being the most expensive. Paddles are made of either wood, plastic or lightweight carbon fiber. PFDs must be Coast Guard certified. "The key for life jackets is to use something that you find really comfortable and easy to wear…to make sure you use it right," says Swanson. Bringing along a whistle, attached to your PFD, is also a good idea; it can be used to alert other boaters of your presence or signal for help if needed.
Canoe rentals can be found locally at Mountain Gear and REI in Spokane, EWU's Epic Adventures in Cheney, and North Idaho College's Outdoor Pursuits program in Coeur d'Alene.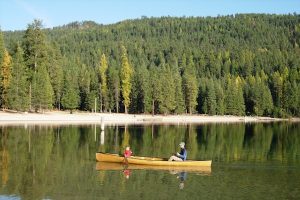 Paddling Techniques
"When people start out paddling, they tend to only use their arms…what you have to focus on is using your core muscles," says Swanson. This begins with sitting up straight and keeping the paddle shaft straight up and down in the water. "Reach forward as far as you can – so that means turning your body by twisting. And then pull back in the water by unwinding your body, [keeping your body] straight up and down," he says. "The muscle driving that unwinding is what drives the boat."
The average canoe paddling speed is four miles per hour, while canoe racing is six miles per hour, according to Swanson.
"Traditional canoeists will paddle on the same side and use different strokes for steering," he says. "People who are more into the exercise and the racing aspect of canoeing will switch their paddle over to the other side more frequently, every 10 or 15 strokes, which allows you to steer the boat with your forward strokes."
Teamwork is another important and fun aspect of paddling. "In order to move efficiently through the water, you have to really match what you [and your canoe partner] are doing together," says Swanson.
Safety
Beginners are advised to choose a smaller lake that is "mellow and easy" and stay close to shore, says Swanson. Check the national weather forecast for your chosen lake destination. In addition to thunderstorms, be sure to avoid the other major weather hazard for canoeing – high winds. 
"Big waves in a canoe are dangerous. If you get out on big lakes, like Coeur d'Alene or Pend Oreille, or even Rock Lake or Silver Lake, there can be three- to four-foot waves. A canoe can get swamped. If wind and waves are picking up, get off the water," says Swanson. "On a small lake, it can be really windy, but it's not big enough for the waves to pick up," he says. This is what's known as "fetch." For example, while wind doesn't have much fetch on Medical Lake, Swanson says, on Lake Coeur d'Alene, it doesn't have to be very windy to get very wavy.
While canoeing, it's also a good idea to stay aware of any motorized boaters, especially boats pulling skiers or tubers and jet skiers. Swanson recommends wearing something brightly colored, such as a PFD or hat, so other boaters can more easily see you. 
Other safety precautions to consider include bringing an extra paddle, in case one breaks, and extra clothes in a dry bag, especially a rain jacket or poncho to protect yourself from temperature fluctuations, says Jerry Cesaratto, a canoe instructor who's been a SCKC member for 35 years. 
Canoeing Classes and Clinics
SCKC offers classes to teach canoe handling skills. Contact the club at www.sckc.ws if you are interested in a class for July or August, and Jerry Cesaratto says he can schedule one if there are enough interested people. During the summer, he also organizes instructional clinics for kids. Be aware that river canoeing requires specialized safety equipment and skills, and SCKC offers specific classes about river safety and rescue as well. Visit their website for more info.
Best Local Lakes for Canoeing
Enjoy these lake canoeing spots recommended by Brook Swanson and Jerry Cesaratto from the Spokane Canoe and Kayak Club.
WASHINGTON
Medical Lake 
Horseshoe Lake 
Bonnie Lake 
Silver Lake 
Fishtrap Lake 
Liberty Lake 
IDAHO
Thorofare to Upper Priest Lake   
Round Lake 
Fernan Lake 
Swan Lake 
Killarney Lake
For other Canoeing and paddling ideas, check out "Paddling Routes of the Inland Northwest" by Rich Landers and Dan Hansen or the Spokane Canoe and Kayak Club website resource page at www.sckc.ws. //