For Terry Gosline, Terrain Park Manager at Silver Mountain Resort, every day on the job is like building a sand castle that's meant to be stomped on.
Between both the main terrain park under Chair 2 and the Noah's progression park on the front-side of the mountain, Gosline and his ten-person crew put out upwards of 40 different features throughout the season.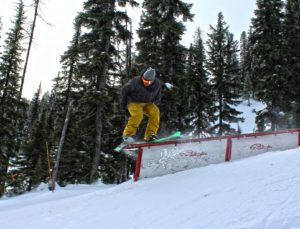 At the beginning of every season, those features need to be re-installed or rebuilt from the ground up; every day the wind, water, and wear and tear from users conspire to erase or bury them.
On dry days, Gosline and his crew spend at least an hour and a half getting the park open, shaping jumps shredded out from the day prior.
On storm days it might take Gosline's crew the entire day of heavy labor—digging out drifts, reshaping lips—to get the park up and running. It's a Sisyphean task getting the park unburied only for it to potentially get dumped on again that night.
But, says Gosline, who spends his summers running heavy equipment on the Silver Valley superfund cleanup, "There are a lot of people who, even on powder days, can't wait until the park gets open!"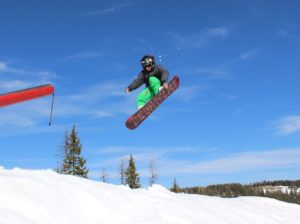 Now in his 20th season at Silver, the last dozen as terrain park manager, Gosline has seen terrain parks get both bigger and broader—both in terms of scale and in terms of appeal.
"When we first started building terrain parks, most of them were known as 'snowboard parks,'" says Gosline, and it was not unheard of for the parks to have "no skis" signs posted at the entrance.
That was due in large part to ski designs being incompatible with terrain park features such as half-pipes. But, like many things in the winter-sports industry, the evolution of ski design brought two-plankers into terrain parks.
That parity exists on Gosline's crew, too, with the proportion of skiers to snowboarders fluctuating year over year.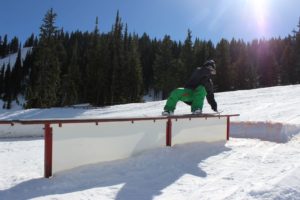 The individual features have kept pace with ski and board technology. In the early days of the park, Gosline and his crew had only a handful of rails in addition to the jumps. Now, wood and metal stunts—jibs, rails, barrels, boxes—comprise a large part of the parks.
Gosline says the progression park in particular has been a boon to new riders. Part of a broader movement over the past decade in the mountain-sports industry to ease beginner and intermediate riders into the sport, the Noah's progression park sits on a mellow slope adjacent to the primary first-timer green runs under the gondola.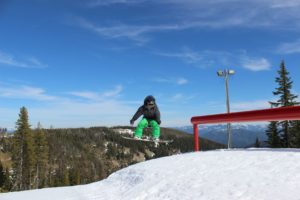 Now, if patrollers or park crew see someone struggling in the Chair 2 park, they can direct them toward the progression park.
"You have kids coming through with parents who grew up hitting features here at Silver," says Gosline. That multi-generational evolution, from grom to grownup, personifies the park's own growth.
"It's pretty cool to see the progression of our mountain," says Gosline.
And that's why the sand castle gets rebuilt every day. //
More Chances to Shred
Both advanced and aspiring riders will find terrain parks to suit their skills at the region's ski areas. Here's what the other three Ski the NW Rockies Association resort terrain parks offer up.
Located near the bottom of Bonanza Chair 1—although safely screened by trees if your tricks are not ready for an audience—the terrain park at 49 Degrees North features good top-to-bottom progression, from simple jumps to big boxes and booters. Beginner riders can also find smaller hits in a terrain park off Silver Ridge at the top of the mountain.
Comprising nearly 40 features between them, the two terrain parks at Lookout Pass offer a nice progression from beginner to expert. Halfway down the Idaho side, Huckleberry Jam Progression Park consists of beginner-friendly features—smaller jumps, simple and short boxes and rails—tucked away from the main traffic of the mountain to allow riders to practice with confidence. Accessed from Chair 2, Rolling Thunder is an all-natural terrain park constructed from trees felled for forest health. The highlight of the park is a nearly quarter-mile-long quarter pipe.
The 'Kan offers three places to jam, all easily accessed off Chair 3. Left of the unload station, the Progression Park features low-consequence tabletops and small boxes and rails. Right of the unload station, at the top of the Half Hitch run, Half Hitch boasts bigger features; its location allows for hot laps in transit to other parts of the mountain. Located off Crash and Burn, Gnarwood Forest is the mountain's natural terrain park, with a mix of natural features and timber-constructed hits. //