Why Not on the Spokane?
Another spring has sprung and summer heat is on its way. Kayaks and rafts are coming out of garages, tubes are being checked for leaks, and bindings are inspected on wakeboards and water skis. The warm part of the year is here!
You may be one of those people who are getting ready to take themselves, friends, and families to the big, beautiful river that runs through Spokane. Yet the one thing you will notice still missing is the Spokane Whitewater Park that so many of us supported when the idea gained traction a decade back. Local citizens even donated funds toward the project that would have created wave-producing structures in the Spokane River near downtown for kayakers to play on. Full disclosure: I threw a $100 bill into the pot years ago, too. Also, I am an early river surfing pioneer, so you could say I've had a stake in the game for a while now. Here's my say about the entire boondoggle that should have been a whitewater park in Spokane and how we still might be able to get there.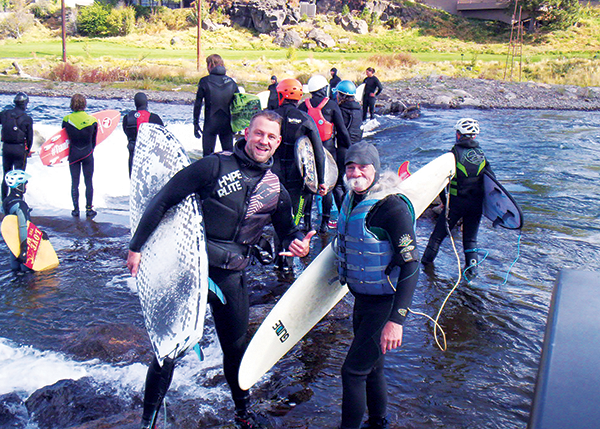 A Brief History of the Spokane River Whitewater Park
Whitewater parks with river-surfing waves, where surfers riding river-specific boards carve and ride on stationary river waves, are popping up in cities all around the Northwest and beyond. The Spokane River already has several natural surf waves and even more natural play waves for kayakers, but they are only ridable at specific flow levels. And unfortunately we missed our chance to be one of the many Northwest cities that now sport well-planned and well-loved whitewater parks.
So what ever happened to the Spokane River whitewater park? The big bucks for the initial proposal and study came from a $530,000 grant in June 2007 from the state's Recreation and Conservation Office (RCO). Another $500,000 of funds was raised from hundreds of donors. Also that year, the Great Spokane River Gorge Strategic Master Plan won the "Mayor's Choice" award for excellence in urban design. But, by June 2011, concerns over impacts on native redband trout had become a serious issue, and the project stalled out with Spokane Parks and Recreation having only spent $30,000 in grant funds. Citing a lack of progress, RCO officials rejected an appeal to keep the remaining $500,000 for the project and that was the end of any major public effort to build a whitewater park on the Spokane River.
The fact that whitewater park supporters didn't continue to problem solve their way to a park somewhere on the river was a major loss for the city and all of us in the region who love watersports. (Editor's note: read more about the history of the Spokane River whitewater park online at Outthereoutdoors.com/whatever-happened-with-the-spokane-river-whitewater-park-proposal.) 
Never Give Up
Although the initial proposal for the urban whitewater kayak park in Spokane crashed and burned, this should not have permanently stopped the project. There has to be the perfect place somewhere between Spokane and the east side of Spokane Valley that would fulfill the requirements for construction while satisfying the public's expectations. In fact, sites upstream were looked at early on in the planning process. Which leads me to think that perhaps the project was stymied by a limited vision, especially since concerns brought up by the Environmental Impact Statement could have been mitigated in one location or another.
The problem, I believe, was too much of a focus on the potential economic benefits from tourism and urban renewal along a particular stretch of the river (downtown Spokane) that distracted decision makers from what really mattered—a great community-backed outdoor recreation project and more public access to the river.
The Spokane River is long and has many options if one doesn't limit expectations to the two places along Peaceful Valley that were considered viable during the planning process. If a new push for a park materializes, advocates should look at locations in Spokane Valley or near Liberty Lake or Post Falls and make sure the proposal includes a surfing wave (which the original Spokane proposal didn't), since river surfing has become a major driver of whitewater parks around the world.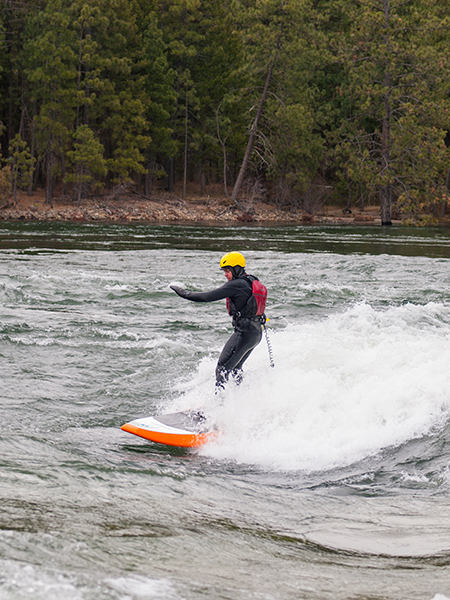 Learning from Whitewater Parks around the Region
There are many approaches we could take to see a whitewater park built in Spokane. Take the Bend Whitewater Park in Bend, Oregon, as an example. It is not located in the city center; rather, it is surrounded by neighborhood homes above the banks of the river in a green belt. Bike and walking paths line the bluff. There aren't any restaurants, bars, or tacky tourist shops looking to make a quick buck from those who frolic on that part of the Deschutes River. The park is simple and, as a result, it's beautiful. Also, Bend didn't limit its vision to just kayaks. With a population of around 80,000 people, the city ponied up the money and built a surfing wave!
The man-made wave whitewater parks in Bend and Boise are within a one-day drive from the Spokane area. These parks are attracting a large cross section of river enthusiasts, from tube riders and raft floaters to kayakers and surfers. The parks in both cities are booming and even expanding, with the Boise Whitewater Park already getting started on construction of another wave and whitewater section upstream.
Some people still want to float or surf a natural wave made by water rushing over a rock bottom. In that case, you can go to Missoula and jump into Brennan's Wave. Natural rapids make this surfing wave quite popular in that mountain town. You can browse gear and rent boards at Strongwater Surf Shop, watch the local rippers tear it up, and just maybe you'll be excited enough to make your first attempt at surfing a standing wave. For a longer drive, go to Billings and surf one of the four waves at G Spot, each of which is dependent on different cfs flows.
Or, perhaps you'll want to go southeast to another natural wave at Kelly's Whitewater Park on the Payette River in Idaho, where there is a surfing wave and campground to stay at with multiple other wave spots close by that also work in different cfs flow levels. There's even a yearly contest called the Payette River Games that attracts river surfers from all over the world. And Spokane is being left behind.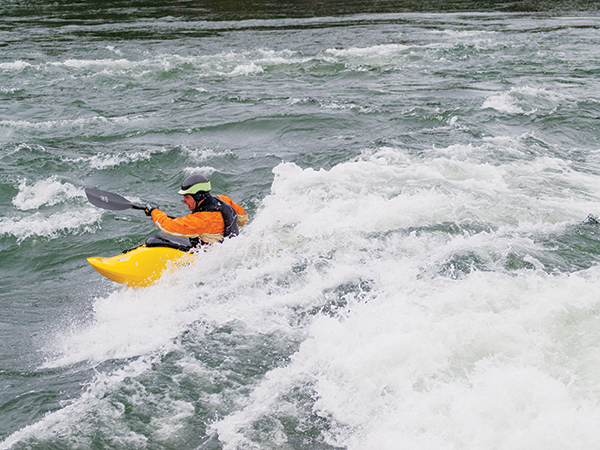 Reflections from the North American River Surfing Summit
River surfing is gaining so much momentum that the First North American River Surfing Summit was held in Bend on October 7, 2017. The event, sponsored by SurfAnywhere of Canada, who built the Bend Whitewater Park, attracted river surfers and whitewater enthusiasts from all across Canada and the Pacific Northwest. Billed as a 'how to' for people interested in having a surfing and whitewater park built on their own local rivers, it was a full-day seminar packed with information and practical ideas coming from experts. The semi-informal format allowed participants to ask questions during their presentations.
I drove down for the Summit and took the time to walk the park the following day. Of course, I also surfed the wave that the hydraulic plates create. I was seriously impressed. The park is wonderful. I found a very well-designed place for people to gather. It's cohesive and blended whole when viewed from the Colorado Avenue Bridge looking downriver at the three channels that make up the park. I could see it was built to be a functional and fun place for all ages of people to enjoy. Also, it incorporated necessary protections for wildlife and fisheries in that section of the Deschutes River. The designers had succeeded in building up the health of the river through habitat improvements that were obviously integral to the park's basic design.
From where I stood I could see cyclists riding and people pushing baby strollers and walking dogs above the river on the path that borders the park. Children were playing along the water's edge in McKay Park with their parents and kayakers stroked downstream or warmed themselves up on the rocks. The surfers were standing around waiting their turn at the wave, and spectators were watching the surfers from both banks and the bridge I was standing on.
The park was being used by a wide variety of ages and user groups on a gorgeous blue-sky October Sunday afternoon; it wasn't primarily for the kayakers or surfers. It was a community park that improved the quality of life in the neighborhood and in the entire town. Interestingly, there wasn't a store or restaurant within view.
At the beginning of the Summit, Neil Egsgard, president of SurfAnywhere, spoke about the ambition needed to put a whitewater park into any river and about the hurdles all groups of supporters face. He bluntly stated that, from finding a suitable site to actually surfing the wave the first time, we are looking at a ten-year project timeline. A decade! The roadblocks are many, the entrenched interests are varied, and the permitting process challenging. It is a vast uphill battle that costs untold hours of unpaid work and frustration, with no guarantee of success.
Egsgard says that some of the more challenging questions include: Who funds it? Who controls and regulates the new whitewater park and surf wave? Is it under city, county, or state control or does this particular stretch of river fall under federal waterway regulations, which is an entirely different ball game? Boy does this all sound familiar.
Let's Make a Whitewater Park on the Spokane River Happen
People need to step up and start working together for a whitewater park on the Spokane River again. Let's get together the right people, find the right partners, and look for multiple alternative sites this time. Another meeting, anyone? Contact Chris Cindric at cpcindric@aim.com to get on board. //
The Wave Shapers
What does it take to create a surfable river wave? Bend, Oregon, employs two full-time employees, plus one seasonal employee, who look after the Bend Whitewater Park and monitor surrounding water conditions. They are the wave shapers who control and adjust the hydraulics that create the surf wave using iPads in real time, and they do this far beyond their normal working hours. Their responsibilities include regulating the fish ladder and protecting a huge wetland upstream where the threatened Oregon spotted frog lives. These wave shapers make the wave work with constantly changing river conditions, and it's a hefty year-round job. // (Seal Morgan)
Seal Morgan is a surfer/skater/snowboarder/wakesurfer and was an early pioneer of river surfing at Lunch Counter Rapid near Jackson Hole, Wyoming, in the 1980s. A life-long musician, he teaches free Kenpo Karate lessons to neighbors and friends in his home dojo and snowboarding lessons on 49 Degrees North all winter. He also owns and sews Mtn. Threads Hats & Clothing winter gear in Stevens County, Washington. Seal can be reached at seal@boardwarm.com.
Feature photo: Surf Anywhere president, Neil Egsgard, enjoying the fruits of his wave building efforts. // Jacob Kelly Quinlan