I use to make a list of outdoor trips I wanted to do each year. Sometime in the middle of winter, my vitamin D deficient brain would drive me to my computer to type up a dream list of outdoor adventure objectives for the coming season. A section from a list I made in 2007 reads: Traverse the Cabinet Mountain wilderness, Climb Chimney Rock, Hike Hells Canyon north of the Imnaha River, MTB Devils Gulch, Hike the Bitterroot Divide from I-90 to Hwy 12, Middle Fork Salmon post-permit IK trip, MTB Seven Summits Trail, Kayak Bonnie Lake, Robbers Roost slot canyons, Bike to Alaska.
Those years, living solo in a small rental cabin with no yard and intentionally limited work and domestic responsibilities, my trip lists were long, dreamy, and impossibly ambitious. Although with the uber liberal, European style vacation policy I enjoyed with my job at the time, I actually ticked off quite a few trips from my lists each year. Still, there were always more that got kicked down the road. Leftovers to be added to the next year's list with the new ideas.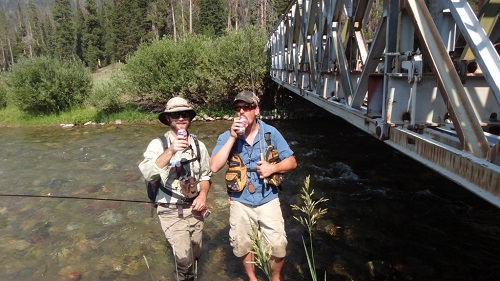 For the past couple years, due to a variety of life circumstances, my trips, for the most part, have ranged a little closer to home. While the itch to pack up and hit the road still burns, I've developed a deeper appreciation for the everyday adventures nearby. The possibilities for arranging our daily lives in a way that maximizes enjoyment of the remarkable outdoor opportunities we have so close at hand is only limited by our own creativity. I may not be biking to Alaska this year, or even likely traveling much farther than Sandpoint very often this summer, but I'm determined to have a damn good time right here at home. In that spirit, here's a local summer adventure idea list for the Spokane/Coeur d'Alene areas for those of us who may not stray too far this summer:
Bike the Centennial Trail between Spokane and Coeur d'Alene and back, Camp at Riverside State Park on the edge of downtown Spokane and hike or bike the vast trail network, Rally some friends and go disc golfing on one of the many local courses, Rent a SUP on Lake Coeur d'Alene and paddle around Tubbs Hill, Ride to Cheney on the Fish Lake Trail for lunch and back, Take hang gliding lessons from Inland Air Sports, Camp at Liberty Lake County Park and hike or bike to the summit of Mica Peak, MTB the Canfield Trail system as a big loop starting from the Fernan Lake side and ending up back in Coeur d'Alene, Learn to fly fish at one of Swedes Fly Shop's free Fly Fishing 101 classes, SUP the lower Spokane River (FLOW Adventures also runs tubing trips on this stretch if you want to try floating in the safety of a group), Hike every official trail in the Dishman Hills Natural Area, Run the beaches and lake neighborhoods around downtown Coeur d'Alene, Be a trail angel and sign up for a WTA or Evergreen East trail building project, Find a tranquil back road or singletrack route and bike with your buddies for a drink at your favorite brewery, Explore the "secret beaches" along the Spokane River and spend the day swimming (just don't eat the sand), Ride part or all of the Coeur D'Fondo route, Try to photograph a moose, deer, and coyote within the city limits of Spokane (wildlife hat trick!), Find and hike the closest Spokane County Conservation Futures property to your house, Ride new MTB trails in the Beacon Hill/Camp Sekani area, Go paddleboarding on the Spokane River just up from downtown and paddle over to No-Li and Ramblin Road for a beer or two (wait until river flows are safer), Go boat camping for a night on Lake Coeur d'Alene, Explore a section of the Columbia Plateau Trail beyond Cheney, Hike along the Little Spokane River and the new section of the Knothead Trail loop.
If you feel inspired and so inclined, post your local or regional photos and trip reports on our Facebook page or share them with us at editor@outtheremonthly.com. //