The Bureau of Land Management Fishtrap Recreation Area is well known to fishers, hikers, mountain bikers, equestrians – even astronomers – as a premier scablands getaway. The new Fishtrap Loop Trail is currently under construction, but it already opens up miles of new sights and experiences.
This 8,000 plus acre recreation area offers two big lakes, multi-use areas, non-motorized trails, and historic remnants of settler-era ranching. Both lakes are well stocked with rainbow trout; each has parking and boat access provided by the Washington Department of Fish & Wildlife (Discovery Pass required). All BLM parking is free.
The upper lake is 48-acre Hog (Canyon) Lake, open for boats and winter fishing. Fishtrap Lake covers 190 acres and lies in a narrow two-mile canyon. The bulk of the recreation area lies to the west of this lake where the new trail is being built.
Bob Strong, retired geologist and avid hiker, loved hiking the cow paths and dirt roads meandering the pastures, kolk-formed lakes, wetlands, and rocky exposures in the area and wanted to share them. "I led a hike on the proposed trail route for the first time with the Inland Northwest Hikers in spring 2010," Strong says. By 2012, "enough people contacted the BLM that it got their interest, especially since there was a volunteer group to help build the trail. That was the key!"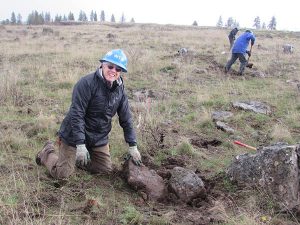 The BLM created a planning team that includes Washington Trails Association (WTA), Spokane Mountaineers, Inland Northwest Hikers, Backcountry Horsemen, and Evergreen Mountain Bike Alliance. The team determined the best route to visit and protect scenic views, historical sites, and natural features and also be maintainable. This resulted in a ground-truthed route for an 8-mile north-south loop system, connecting the Fishtrap Road and Farmer's Landing parking lot trailheads. The trail will connect new and existing routes and visit sites of special beauty and interest. "The Fishtrap Loop Trail is such an exciting project," says Stephen Smith, Outdoor Recreation Planner for the Spokane BLM Office. "Although this is a BLM project, there is a lot of public ownership. It is a testament to their love of these lands and spirit of adventure."
The BLM conducted the necessary permitting and studies, and trail construction was launched on National Public Lands Day in September 2015, when more than 50 volunteers showed up to start the work. Since then, there have been six WTA work parties. "It could be a multiyear process to finish the whole thing," says Holly Weiler, Spokane WTA coordinator, "especially since we use it as our early- and late-season work location. It's no fun to be working out there in July and August."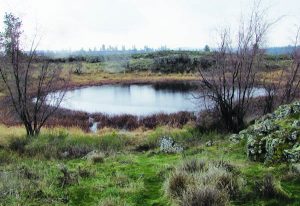 This March, I tagged along with a WTA work party and their cheerful crew leader, Jane Baker. We met early at the Fishtrap Road parking lot in brisk spring winds and spats of rain. We reviewed safety rules and grabbed tools provided by WTA: a Pulaski, McCloud, grub hoe, and pick mattock. The air filled with songs of meadow larks, and the ground was soggy with puddles, thick with grass, and dotted with cow pies. Suddenly – no more trail! An unmarked sea of prairie grasses spread out before us. A barely perceptible string of little red flags dotted ahead across the landscape. Each volunteer chose a red flag, sighted on the next one, and got to work. Greg Ropp, a rain-spattered volunteer, said "I enjoy giving back to the community for all the enjoyment that I have had hiking trails. Besides," he grinned, "I work in a cube. There is great satisfaction in working outside!"
Volunteer trail crews will be back to Fishtrap later this fall. Plan to join them, but don't wait to explore the Fishtrap Recreation Area. Your use keeps vegetation from regrowing into the new trail, so do your part and hike it! To learn more about trail restoration, visit www.wta.org or contact Holly Weiler at hweiler@wta.org.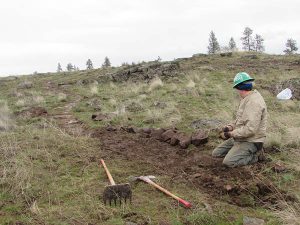 Getting There
From Spokane, take I-90 west 26 miles to Fishtrap Exit #254. Continue south on Old Sprague Hwy. Rd 2.5 miles. Turn left on Fishtrap Road at the sign to the resort. Continue 0.7 miles to the parking lot and trailhead on right. //