Getting the whole family out on the slopes in the clean, cold mountain air is well worth the effort. These tips, pulled together and passed along after years of ski family experience, will help make sure your family stays warm, dry, and happy on the mountain and that your winter fun doesn't break the bank.
Dress for Success: Warm, Dry Ski & Snowboard Gear Makes All the Difference
It takes trial-and-error experience to dial in the right mix of layers, depending on each child's exertion levels and toleration of colder temps. Here are some basic elements to get your started with the right kids gear.
Base layer: Look for tops and bottoms made of polyester-blend fabric (like fleece) and wool-polyester blend, calf-length socks.
Mid-layer: For night skiing and sub-freezing days, a mid-layer fleece vest or jacket is a good idea if one is not already attached to an alpine jacket as an inner lining.
Outer layers: A weatherproof alpine jacket is required, meaning it's both resistant to water and wind to help a child feel warm and stay dry in variable conditions. Weatherproof pants with cuffed leg openings, whether bibs or regular style, stay snug and prevent snow from getting inside.
Alpine sports helmet & goggles: Quality helmets come with a soft, cushioned lining and adjustable chin-strap. Ski goggles, worn over the helmet, provide warmth by shielding eyes from wind and snow and prevent injury during falls.
Gloves or mittens: Choose a weatherproof style with fleece liners, snug openings, and a cinch-closure feature to secure the glove or mitten around the wrist. On cold days, a child should also wear a face gaiter that covers the nose, cheeks, chin, and neck and tucks into the jacket collar. The chairlift ride is the coldest part of skiing or snowboarding, so make sure they dress warm. Always pack a stash of hand and toe warmers just in case.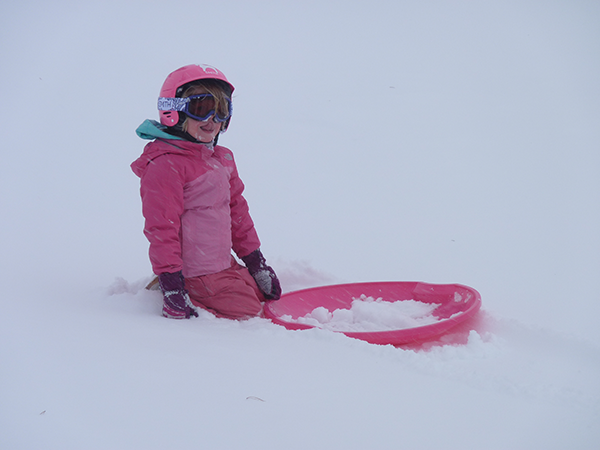 Baby Steps: Start Them on the Green Squares (Bunny Hill and Novice Terrain)
Making sure new skiers and riders progress by taking on terrain that matches or slightly challenges their skill level will make for a more enjoyable and productive experience. Tackle these green runs over and over until they are ready of something more challenging.
49 Degrees North (30% beginner trails)
Bonanza/Chair 1 to Midway off-ramp: Tamarack or Beaver Slide to Portal's long run back to bottom of Chair 1, or from Portal, head down either Knight or Bishop and meet up again with Portal as it traverses across, near the base, back to chair 1's loading area.
Chair 1 to Chewelah Peak summit: Silver Ridge-Beaver Slide-Portal (three connecting trails). Or from Silver-Ridge keep straight to Huckleberry Ridge then turn down on Big Bear which links to the end of the intermediate Bugaboo for a short while, and then the bottom of intermediate Alpine Road leads you to the Sunrise-Quad/Chair 5, which you ride back to the summit.
Payday/Chair 3: Treasure Hill or Gold-Pan Alley to Chair 2; Easy Slide-Fool's Gold-Gold Chute (three connecting runs) then take Treasure Hill back to Chair 3. Or take Easy Slide-Trolley Car (two connecting trails) to Gold Chute or Hans Highway back to Chair 3.
Angel Peak/Chair 6: Quartzite Ridge-4800 Road-Silver Dollar (three connecting trails) to the base of Chair 1 – or turn off Silver Dollar to Easy Slide and return to Chair 6 loading area. Or from the base of 6, you can go down Hans Highway to the base of Chair 3.
Note: There is a T-bar between the base of Chair 1 and Chair 2.
Lookout Pass (20% beginner trails)
Idaho Side, Chair 4
North Side, Chair 3/North Star to summit: Huckleberry Ridge to Grub Stake (on Idaho side) to Chair 1. (There are no beginner runs on the Montana side of the mountain.)
Mt. Spokane (26% beginner trails)
Chair 5: Ego Flats
Chair 3: Half Hitch-Cat Track-Ego Flats (three connecting runs); Pond Run-Northwest Passage-Cat Track to Ego Flats or Johnson's Run back to Chair 3 or 5. 
Silver Mountain (20% beginner trails)
Starting from the top of the gondola, go down Easy Street to Rose Run or Claim Jumper (both go under the gondola), and then choose from three trail options: Huckleberry, Bear Grass, or Dawdler; all end at the base of Chair 5.
Swap and Save: Tips for Saving on Ski and Snowboard Gear
Equip your family for winter sports on a budget by shopping at local ski swaps. These used gear swaps are essentially huge consignment sales for used and sometimes new alpine skiing, snowboarding, and Nordic ski gear. Swap's nominal entrance fees (typically $5/person, free for children age 12 and younger) and consignment fees help regional ski patrol organizations raise funds to purchase new safety equipment. These tips will make sure you leave the swap with awesome gear in your bag.
Inventory old gear. Identify what gear of your own you can sell at the swap. Have everyone in your family try on all their gear, head-to-toe, in early October to find out what still fits, what's too small, and what's worn out or uncomfortable and needs to be replaced. Take your undamaged and clean "experienced" gear to the public check-in event the Friday before swaps begin – determine your sale prices ahead of time. At the conclusion of swap, you'll receive a check for your items sold, and this money helps pay for what you spent while shopping.
Do pre-swap research. Know what brands and sizes to look for. If you need help at a swap, ask the ski patrollers and any gear-shop reps on the sales floor. Since merchandise is non-refundable, make sure you're truly confident with your final decisions. Bring your kids so they can try on boots, jackets, and pants.
Work as a team. Go with friends or other family members to divide and conquer. One groups goes to the "hard" gear section (snowboards, skis, boots, poles) while the other heads to the "soft" gear (ski jackets, pants, socks, helmets). Find the sizes you need, put multiple options in your cart, and have everyone try them on.
Attend more than one swap. Increase your odds by shopping around or attending the Sunday sale at Mt. Spokane's swap when many items are sold for 25% off the original marked price – often a great jacket or snowboard is still waiting for the right buyer to come along. //