Recreational trails in the Inland Northwest are constantly undergoing upgrades, thanks to local volunteers who tackle both new and ongoing projects in our region. Months or even years before recreationists see new trail construction, upgrades to existing trails, or even annual maintenance, dedicated representatives from local organizations are meeting with land managers. Together, they identify priorities, draft plans, and pledge volunteer service hours in support of grants for projects that eventually become our beloved trails.
Spokane County Parks
Spokane County Parks' Conservation Futures Program tops the list for new recreation opportunities in our region. The county website reflects numbers from the not-so-distant past, 2016, citing 31 acquisitions and 7,700 acres of public land. Flash forward to today and the list has grown to 49 acquisitions totaling over 8,875 acres. Most notable among these is Mica Peak Conservation Area and its new trailhead south of the Spokane Valley, along with an additional parcel that will span the distance from Belmont Road to Liberty Lake Regional Park. Mica Peak had an existing system of old logging roads when Spokane County Parks acquired the property, but that trail network is being augmented by new single track, which begun in 2018 and is still under construction. This summer will find volunteers with Washington Trails Association (WTA) hard at work on a multi-use trail to prominent vistas near the top of the conservation area, while Evergreen East builds a downhill-only flow trail through the middle section of the property. Evergreen is also busy with a new, family-friendly skills park at Beacon Hill, expected to be ready in late spring.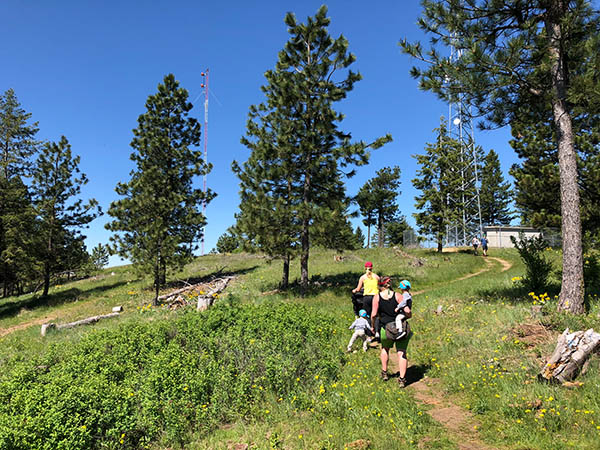 Other Spokane County Parks additions are so new the trail plans haven't been written yet. Last spring, the Dishman Hills Conservancy acquired the Flying L Ranch. Eventually the Philips Creek trailhead from this south Spokane Valley property will connect to existing trails at Glenrose; watch for a public planning meeting in early March. More recently, the conservancy acquired property near the Stevens Creek trailhead, which will create new loop options on the lower portion of Rocks of Sharon. The county is also in the process of acquiring an addition to Antoine Peak that will eventually result in the possibility of a third trailhead access point in the Spokane Valley and new trail connections leading to the summit.
Washington State Parks
Mount Spokane State Park also has projects in various stages of the permitting process. The mountain bike community will soon be able to enjoy the upper portion of trail 190, which received the green light for construction in 2018. Evergreen East will be leading the effort to complete this downhill-only trail from the summit to trail 131. WTA projects still a year or two out in the permitting process include a new snowshoe bridge on trail 110 and a new multi-use trail connecting from the lower Mount Kit Carson Loop Road to the Day Mountain trailhead near Greenbluff. Meanwhile, the Inland Northwest Land Conservancy is working in tandem with Riverside State Park to secure a connection between Riverside and Palisades Parks.
Northeast Washington
Although it's still very early in the planning process, a new trail may be coming to Department of Natural Resources (DNR) property just southwest of Colville. Local volunteers have been working with the DNR to draft a plan that could ultimately result in up to 25 miles of new multi-use single track with views of both the Columbia River to the west and the Colville Valley to the east.
Just north of Newport, the Kalispel Tribe's Indian Creek Community Forest is set to open to the public later this year. Trailwork on a half-mile interpretive trail is already complete, with additional work planned this spring. A long-term goal of the project is to eventually connect the Community Forest to the nearby Geophysical Trail System for year-round recreational opportunities from its SnoPark lot.
Sandpoint, Idaho
The Kaniksu Land Trust (KLT) is in the process of acquiring the land that will eventually become the Pine Street Woods Community Forest. With a target closing date of late winter 2019, KLT hopes to develop approximately 5 miles of non-motorized trails as early as fall of this year. KLT has a long-term goal of working with the Sandpoint Nordic Club to provide groomed Nordic ski trails on the property.
Also based in Sandpoint, the Trail Mix Committee helped develop the Bonner County Trails Plan, adopted in June 2016. The plan includes a wide variety of multi-use trails throughout the county. A priority project already underway is the Watershed Crest Trail, connecting Baldy Mountain near Schweitzer Mountain Resort to Sandpoint. The local Pend Oreille Pedalers bike club has already begun work on portions of the trail that have been approved, and the Trail Mix Committee is continuing work on the necessary trail easements and permissions to complete the planned 11-mile route.
Just east of Sandpoint, the Friends of the Scotchman Peaks Wilderness are continuing on-going maintenance projects and also beginning survey work in partnership with the Forest Service to reroute portions of the Goat Mountain Trail to improve trail conditions. The group is also continuing its successful Goat Ambassador program, which seeks to protect both recreationists and the area's iconic mountain goats through trail user education on keeping a safe distance from wildlife.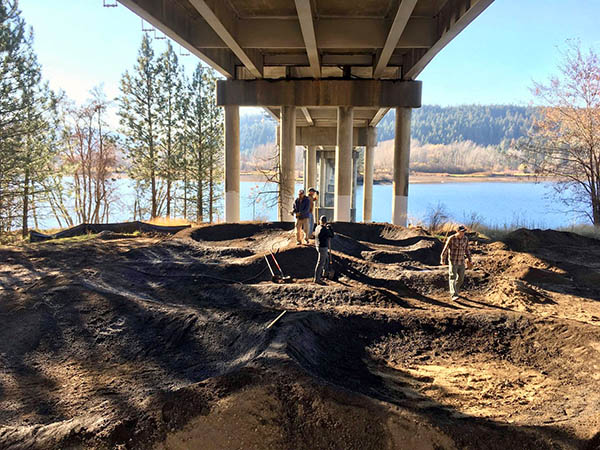 Coeur d'Alene, Idaho
The Lake City Trail Alliance (LCTA) are embarking on a new private/public partnership to enhance recreational access to Canfield Mountain's popular trail system through new trail construction on adjacent private property (with the property owner's blessing). Additionally, LCTA is wrapping up work on a new pump track for the City of Coeur d'Alene, as well as beginning work on a new bike skills area and flow trail near the North Idaho College campus. LCTA will also be working on the Caribou Ridge National Recreation Trail near Mount Coeur d'Alene.
North Idaho
Idaho Trails Association (ITA) is expanding its work throughout the state, with 44 projects planned for 2019 (up from 33 projects in 2018).  ITA's north Idaho work extends from Priest Lake and Bonner's Ferry trails to the St. Joe River Area, a new project location for the group.  ITA is also launching a youth volunteer program in 2019.  In addition to general trail maintenance, ITA plans to provide some key reroutes to the Kootenai River Walk Trail near Bonner's Ferry, as well as installation of a new board walk on the Priest Lake Beach Trail.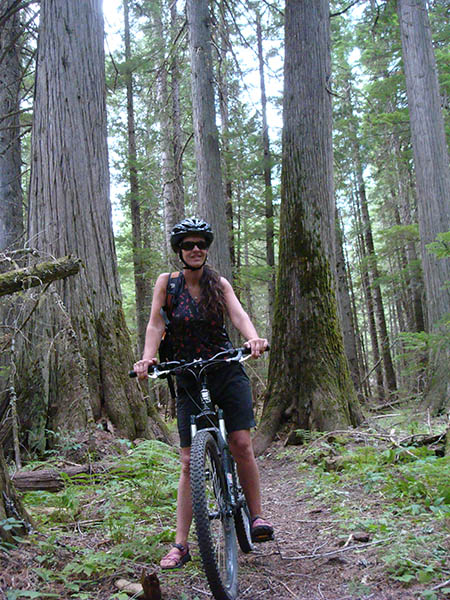 User Groups & Sharing Trails
The majority of non-motorized trail systems in the Inland Northwest are multi-use. This means that feet, tires, and hooves might be simultaneously sharing the trail. Be a good representative for your favorite activity by knowing the rules that guide multi-use trails.
Equestrians: Everyone yields trail to equestrian users. Best practice is to start with hello, and then keep talking to make sure the horse knows it's dealing with a human and not a predator. Dismount if you're on a bike, and typically move off-trail to the downhill side to allow the horse to pass.
Bikers: Bike traffic yields to those who are on foot. Best practice is to stop and move to the side.
Hikers/Runners: For foot traffic, descending yields to ascending. When passing from behind, all users groups should call out to make sure their presence is known.
When enjoying trails with a dog, research the rules before you go. Dogs are not permitted in designated natural areas within state parks. A leash law applies to all Washington State parks as well as all trails within Spokane County. Other areas may allow well-trained dogs to be under voice control. Be prepared to pack out all doggie deposits. //
 Holly Weiler has been sharing the trails since she was 12 but didn't realize she could build them, too, until she was in her early 20s. Now she's spent nearly a full year's worth of days building trails with local nonprofit organizations. She writes the Hike of the Month for each issue of Out There.