By Alison Bender, professor of Recreation and Leisure Services at EWU
To help you make the most of your outdoor time and keep things fresh during the pandemic, the faculty of Eastern Washington University's Recreation and Leisure Services Program in partnership with Out There Outdoors has created the SPOvid-19 Local Adventure Series.
Episode 4 – Biking & Urban Hammocking
This week's adventure takes you on a bike ride to enjoy relaxing in a hammock at a city park. So, pack your snacks, grab your ENO hammocks and straps, and get ready to hit the trails.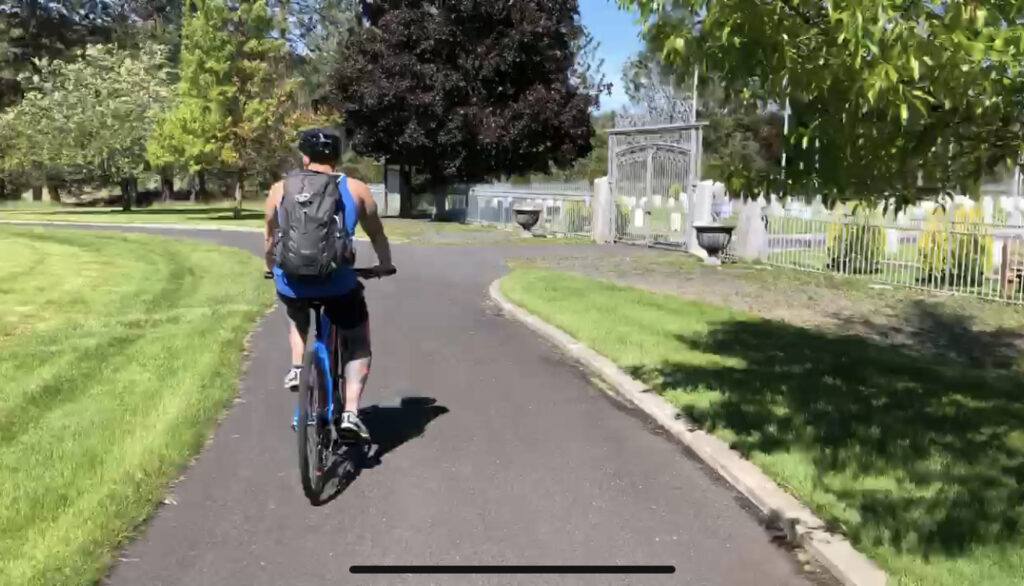 This adventure features an approximately 16-mile bike ride, beginning on the Spokane River Centennial State Park Trail, going through Riverside State Park, and ending at Audubon Park in Spokane, which is an ideal place for setting-up hammocks or slacklines. The website for Friends of the Centennial Trail is a good resource with detailed information for trailheads, ADA-accessible parking information, and a trail map.
Begin your ride at the Military Cemetery trailhead, located on North Wright Road. Follow the Centennial Trail north towards the Bowl and Pitcher area of Riverside State Park. The trail will end around Seven Mile Road, where you can take the bridge across the Spokane River and then travel the scenic Aubrey White Parkway on the east side of the river. Once you've taken in the beautiful views of the Spokane River, bike to Audubon Park to set-up your hammocks and take a few minutes to relax. The park is filled with beautiful pine trees providing shade and ample opportunities for hammocking.
The Centennial Trail is one the great recreation resources in Spokane — extending 39 miles from the Nine Mile Recreation Area of Riverside State Park all the way to the Idaho state border. The trail then continues 24 miles as the North Idaho Centennial Trail, extending through the city of Coeur d'Alene. Altogether, this two-state, National Recreation Trail is 63 miles long. With numerous access sites, choose among many different scenic trail segments for walking, biking, or running. If you bring your dog, keep it leashed and pick-up any waste.
One of the best parts of any outdoor adventure is the reward of relaxing at the end. Even better to chill in a hammock and enjoy gazing at the trees above. Please follow Leave No Trace ethics for hanging your hammock.