To add to the caravans of rafts, inner tubes and half-racks of Coors Light that parade down the Spokane River on hot summer days, ROW Adventures has begun offering more upscale craft-beer themed floats complete with an ice-packed keg of locally brewed beer. ROW has hosted regular happy hour floats for several years, but this year, the outfitter added a key happy hour ingredient: good beer.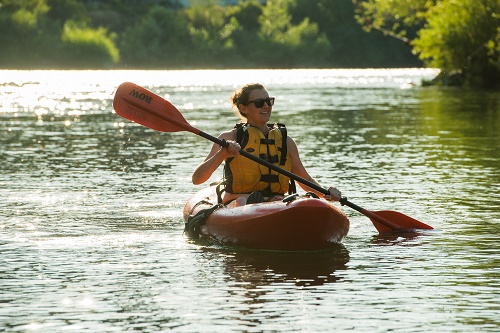 It's a celebration not only of local brews but of our urban river. And those two things are intimately intertwined. Spokane is unique among mid-size and major metropolitan areas in that it has a floatable river – much of it flanked by a state park – within its city limits. And while heavy metals and other pollutants still make their way into the river, the Spokane is cleaner than it has been in decades.
On a recent summer evening, when the temperatures reached triple digits, I put in with ROW guides and the brewers from Steam Plant Brewing at the Peaceful Valley put-in. Raucous inner-tubers floated by on splashy class II rapids, the river a sliver of its snowmelt-packed spring self.
After an hour of mellow floating, past dogs, disc golfers, fly fishermen and other floaters, the guides beached the raft and sit-on-top kayaks on a small sandy beach. Guides set up a table with a spread of appetizers while the Steam Plant brewers poured cups of cold beer from growlers and the pony keg: the seasonal Blood Orange Ale, steeped with orange zest and blood orange juice; the Cascadian Dark Ale, a nut-brown ale with a hoppy but balanced bite. A cacophony of cliff swallows flitted around a canyon wall across the river as guests raised cups in the amber summer haze.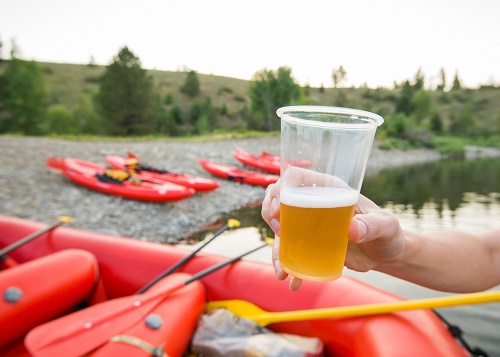 Dusk descended to the water, and so did mule deer, blue heron and the other natural nightlife of Washington's second-largest state park. A twilight take-out near the Wastewater Treatment Plant was a fitting reminder of how important healthy rivers are to our communities. For much of modern history, people drank beer because it was safer than water, and they believed it had restorative properties. Today, the local production of beer is a celebration of water and a sign of a community's vitality. There's still time to raise a glass in honor of our urban river on one of ROW's remaining happy hour floats this summer. Rowadventurecenter.com/spokane-rafting. //