In 1973, Alice Hostetter began organizing a weekly Tuesday morning bicycle ride with a few other women in the Spokane Valley. Soon, their group grew from a handful to a dozen. More rides were organized, and before long, the Spokane Bicycle Club was born.
To celebrate the club's 50th Anniversary this September, its members will host a dinner to recognize those who have made major contributions to Spokane's bike culture. Hostetter, who is now in her 80s, will be among those honored. The 50-year milestone is an opportunity for the club to reflect on its history and look toward the future.
Sally Phillips and her husband joined the Spokane Bicycle Club in 1989. Since then, she's served in a variety of roles, coordinating group rides, editing the club newsletter, and, for more than 20 years, organizing the Bike Corral at Bloomsday. She says one of the top reasons to join the club is to discover the best places to bike in the Inland Northwest.
"When my husband and I first joined," says Phillips, "We didn't really know where to ride. We would ride over to a bike shop, but that got to be expensive because we'd end up buying something and then just ride home! So it was great to find the good routes, not just the scenic loops, but also what streets to use to get from here to there."
Of course, there's also the social aspect of cycling. Phillips says one aspect that makes the Spokane Bicycle Club's rides unique is that they'll often stop for a snack break or end the ride at a restaurant. "We do like to eat!" she says. "And it gives you a chance to chat a lot more easily than when you're riding."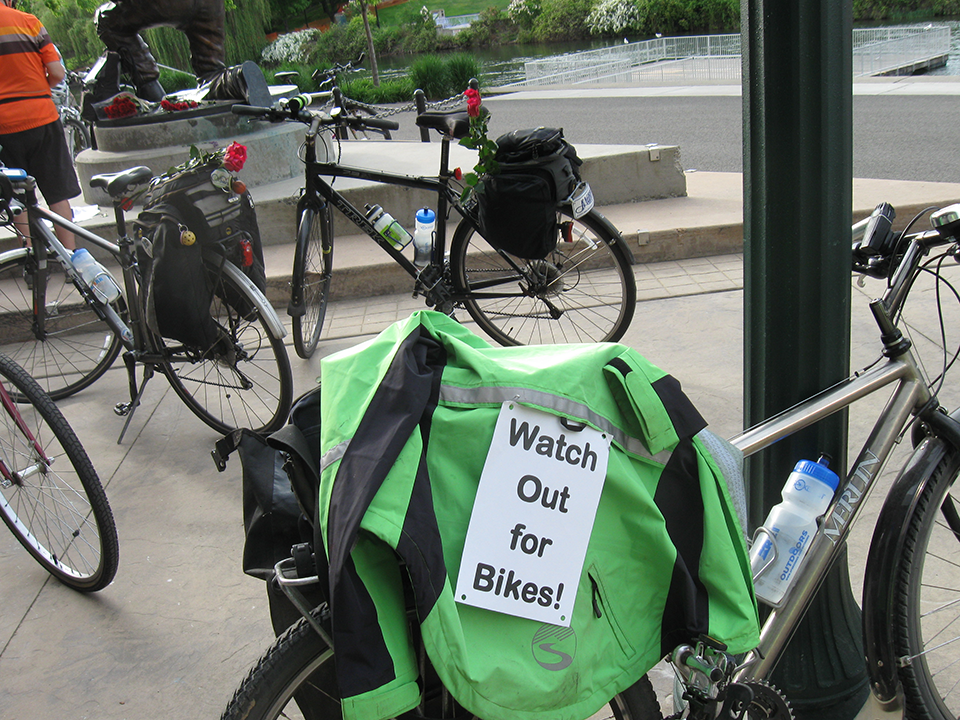 Contributing to Spokane's Bike Culture
But the Spokane Bicycle Club is more than a social group. Over the years, they've been involved in guiding the development of the region's bike-friendly infrastructure. Margaret Watson has been a member of the club for 37 of its 50 years. In the 1990s, she and a group of other volunteers worked with the Spokane Transit Authority to place bicycle racks on city buses. Initiatives like these earned Spokane a Bicycle Friendly City Award from the League of American Bicyclists in 1995. Spokane was the first city in Washington to receive that distinction.
Watson is also proud of the education work that the club has done.
"A tremendous volunteer named Eileen Hyatt introduced the Basics of Bicycling into Spokane Public Schools from grades four, five and up into middle school," Watson says. "That's a very big deal to teach safe bicycling for children."
The same year that the League of American Bicyclists honored Spokane as a Bicycle Friendly City, they named Hyatt their Educator of the Year.
Today, the Spokane Bicycle Club continues to host several group rides each week during the spring, summer, and fall. Information about each route, including the distance, pace and difficulty, is posted online. Tim Hunt, the club's current President says they offer rides for all abilities, but tend to cater more toward the recreational rider than the hard-core cyclist.
"We want to exercise, we want to get in shape, but we're not racing," says Hunt. "There are a lot of social rides that will include a coffee break or lunch afterwards."
Hunt says that club rides are also geared toward cyclists who might be nervous about riding on roads shared with vehicles and those who want to get to know the area better. The club offers scenic rides on low-traffic routes, and emphasizes riding safely and comfortably in a group while coexisting with car traffic.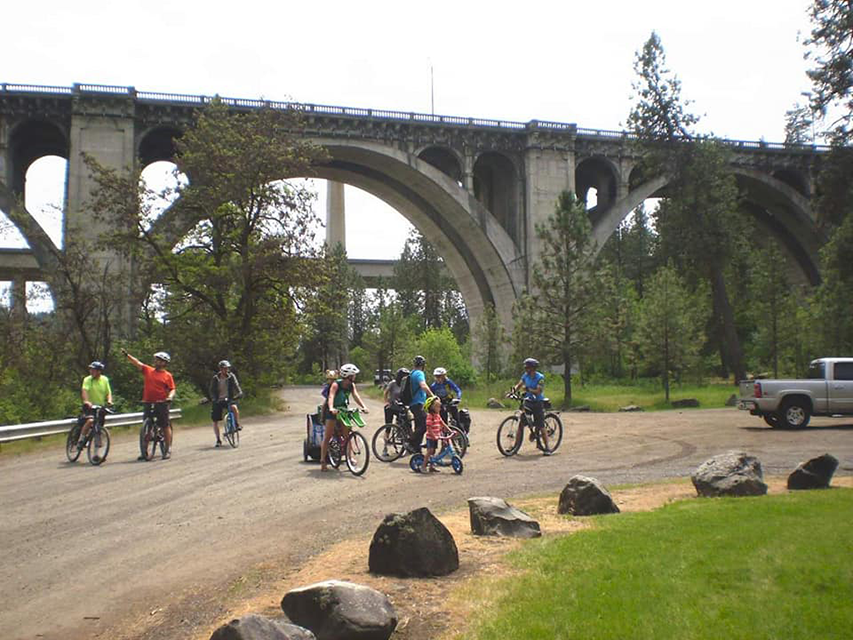 Bike Everywhere Month
Each May, The Spokane Bicycle Club sponsors the annual Bike Everywhere Month. A full schedule of events includes a pancake breakfast in Riverfront Park (May 15) and "energizer stations" throughout the city on National Bike to Work Day (May 19). You can find all of the Bike Everywhere Month events, as well as information about the club and their upcoming rides, at Spokanebicycleclub.org.
Looking to the Future
When asked about her hopes for the future of the club, Sally Phillips once again invoked the past. "We used to do Sunday rides that were sort of whimsical," she says, "We had a poker ride and progressive dinners on bikes. Stuff like that where it might engage people who are not much into, 'I'm gonna get out and ride 50 miles today.'" Phillips says she'd like to start organizing more of those quirky, themed rides again in an effort to attract new members to the club. They're also investing in new technology, she says, which will allow members to track rides via their smartphone.
Each of the members I spoke to encouraged anyone interested in learning more to join the club on an upcoming ride or stop by a Bike Everywhere Month event. "Spokane has the best bicycling in the country, in my opinion," says Margaret Watson. "The best way to get to know your community is to get on a bike." //
Chris Maccini is a writer, editor, audio producer, and skier living in Spokane. He wrote about Whitewater Ski Resort in the last issue of Out There.