Come January, winter stoke is soaring—but so is the treacherousness of mountain passes and the increase of carbon footprints as winter sports enthusiasts chase fun-hog status. Fortunately, Amtrak's Empire Builder offers daily service to Whitefish, Mont. from Seattle, Wenatchee, Spokane, and Sandpoint. Board the train in the afternoon or late evening and wake up in the historic heart of Whitefish before the lifts start running. Whitefish is an adventure paradise, so it's not just skiers and snowboarders who have all the fun. Cross-country and backcountry skiers, fat-bike lovers, snowshoers, fish enthusiasts, and, yes, skijorers can all fully partake in the winter wonderland. This four-day itinerary maximizes the possibilities and will make you wish you had stayed the whole week—or longer.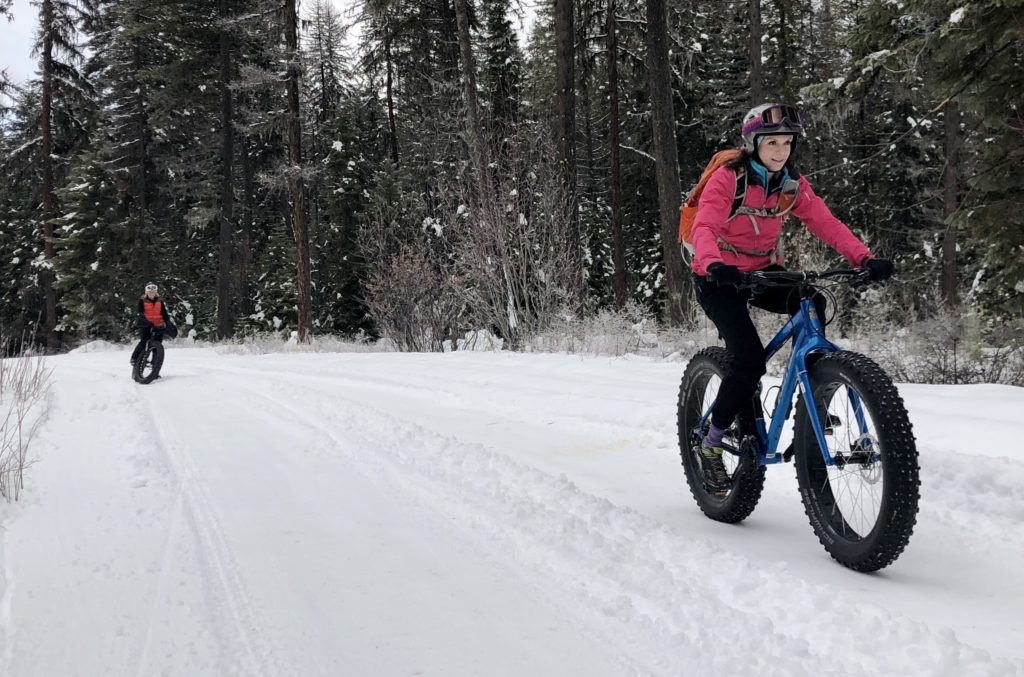 Day 1: Fat Bike and Stay at Whitefish Bike Retreat
Enjoy the spacious seats on the Amtrak train overnight and arrive at the historic downtown Whitefish train station early on day one. If you book with Dollar Rental, a representative will have the car warmed and ready. Drive to Whitefish Bike Retreat (WBR), where owner Cricket Butler can set you up with beautiful lodging and perfectly fit fat-tire bike. Although on-site groomed trails are limited this winter due to timber harvesting, Butler's knowledge of all things bike and trails make the lodge worth a visit. "I don't believe bigger is better. I believe in quality," she says. In all of her roles, from shuttle driver to owner to bike technician, this commitment stands out—so much so that guests who aren't bike enthusiasts will also love the WBR experience.
At the heart of WBR is its lodge; its simplicity shows off the rugged Montana style. With access to a beautiful and generously allocated kitchen, cozy living area, luxurious bathroom for hot showers, and long tables for spreading out maps or sharing a meal, it's the perfect home base for couples or groups of friends. Winter season includes reduced rates and a wood-fired sauna. For people who prefer not to dirty their hands in the kitchen, drive back to town to Pescado Blanco and enjoy a mountain-town twist on Mexican favorites.  
Day 2: Cross-county Ski at Glacier National Park and Stay at The Lodge at Whitefish Lake
Head back into town for breakfast at Swift Creek Café before picking up ski rentals. Glacier Cyclery & Nordic will have you fully kitted out for a day of cross-country skiing in Glacier National Park. The knowledgeable staff can also recommend an itinerary. With the Going to the Sun Road closed for winter, the winding, scenic pavement turns into a human-powered dreamscape. A good introduction to cross-country skiing in the park is a leisurely glide to Lake McDonald.
From Whitefish, drive 25 miles to the west entrance of Glacier National Park. Follow signs for Apgar, but be sure to stop at the foot of Lake McDonald to take in the view. Continue to the parking area at Lake McDonald Lodge and ski out and back on the Going to the Sun road. Be sure to pack plenty of snacks, water, layers in case the weather changes, and binoculars for wildlife sightings.
Drive back to town and check-in at The Lodge at Whitefish Lake, which is an approved drop-off location for Dollar Rental. Take the S.N.O.W Bus into town for dinner at Wasabi Sushi Bar & Ginger Grill. Ask your server to recommend sake pairings for every course, and start with the Hamachi carpaccio— a thin veil of fresh yellowtail with hot curry oil, avocado, tobiko, chives and tare sauce. From there, take your meal in any direction, from Nigiri to Sashimi to inspired fusion roles.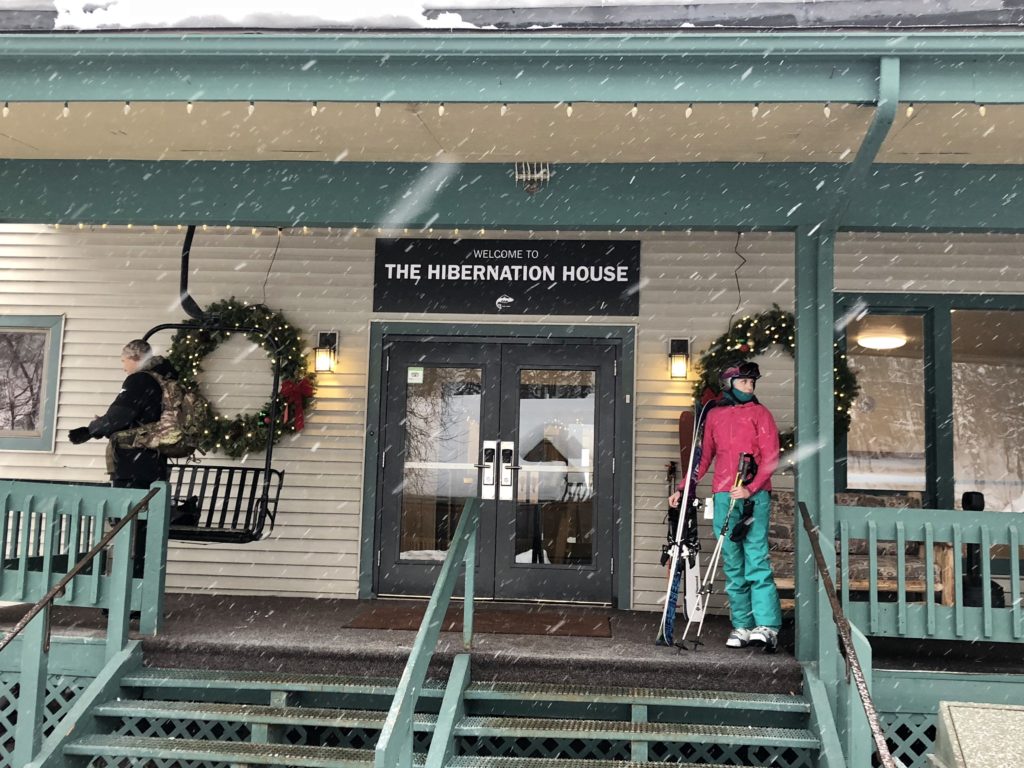 Day 3-4: Ski, Snowboard, Snowshoe, and Relax at Whitefish Mountain Resort
After watching the sunrise from the lake-side hot tub at The Lodge at Whitefish Lake, catch a free ride up to Whitefish Mountain Resort on the S.N.O.W. bus, which runs approximately on the half hour from 7 a.m. to 10 p.m. Great deals on winter ski and stay packages, consistently epic snow, and 11 speedy chairs that cover 3,000 acres of groomed runs and playful terrain—those are just a few of the reason why Whitefish is a must-visit resort this winter. Kate Atha, the assistant ski patrol manager, offers a behind the scenes glimpse of what else makes the resort special.
In an industry where male patrollers are still the industry standard, Whitefish stands out in that close to half of its patrollers are women—and, coincidentally, fully half of the dogs in the patrol's K-9 unit are female. Atha has co-led challenging rescue scenarios, like extracting a skier with a broken femur from the trees and safely lowering 140 guests from a chairlift with mechanical issues. "Anything that could happen in day to day life could happen here," Atha notes. Anything and then some.
It's liberating to know you're in such good hands when exploring epic terrain. Skiers looking for a challenge should try Atha's favorite linkup: Elephants Graveyard to lower No Name to Haskill Chute. As for a favorite, all-level option? "If I have to pick one run, it's definitely Inspiration. It's a 2,000-foot vertical run with the best views of the area," she notes.
Travelers on a budget should check out the resort's Hibernation House, which includes hot, home-cooked breakfast and a hot tub. The Bierstube on the mountain offers pub fare and sightings of your favorite resort staff and patrollers.After two full days of charging, take the S.N.O.W. bus back to town and be ready to snooze in the spacious Amtrak seats the whole way home. Grab one last bite at Craggy Range, a Whitefish classic, while you wait for your train to roll in. Keep an eye on the online train tracker. If an act of god delays your train on its way from Chicago, consider it a sign from the heavens that you should order another round and raise a glass to your epic long-weekend adventure.