I left my house a couple of hours before dawn. It was my 47th birthday, and I thought it would be a great idea to ride the gravel route up Mount Spokane from my house for the first time. The air looked a little foggy, but as daylight began to appear, it occurred to me: "This is not fog." It was the day that the Air Quality Index (AQI) in Spokane shot up to 393. For reference, they cancel professional bike races in China when the AQI reaches 300, and at the time the AQI scale stopped at 400.
Wind currents had blown into our region overnight, bringing smoke from wildfires in California, Oregon, and British Columbia. It wasn't all stale, previously choked-on smoke from far away, either. There were plenty of fires close by lending the air a thick, freshly-charred quality. The ski lodge was not visible from the summit, but I was too thoroughly engrossed in the adventure to consider calling for a spouse Über pick up. That night, over margaritas at Rancho Chico, my wife broke into song in the spirit of Eric Clapton, "she can't ride, she can't ride, she can't ride . . . Smokane!" Great, now smoke season has a theme song I'll never get out of my head.
Sadly, smoke season has become a modern reality that plagues commuters, racers, and event promoters alike. During last year's horrifying smoke fest, I bike commuted to work, telling myself that I don't breathe any harder than I do while driving because my route is flat as a pancake, but there are plenty of bike commuters here who don't have the option to drive when the air turns toxic.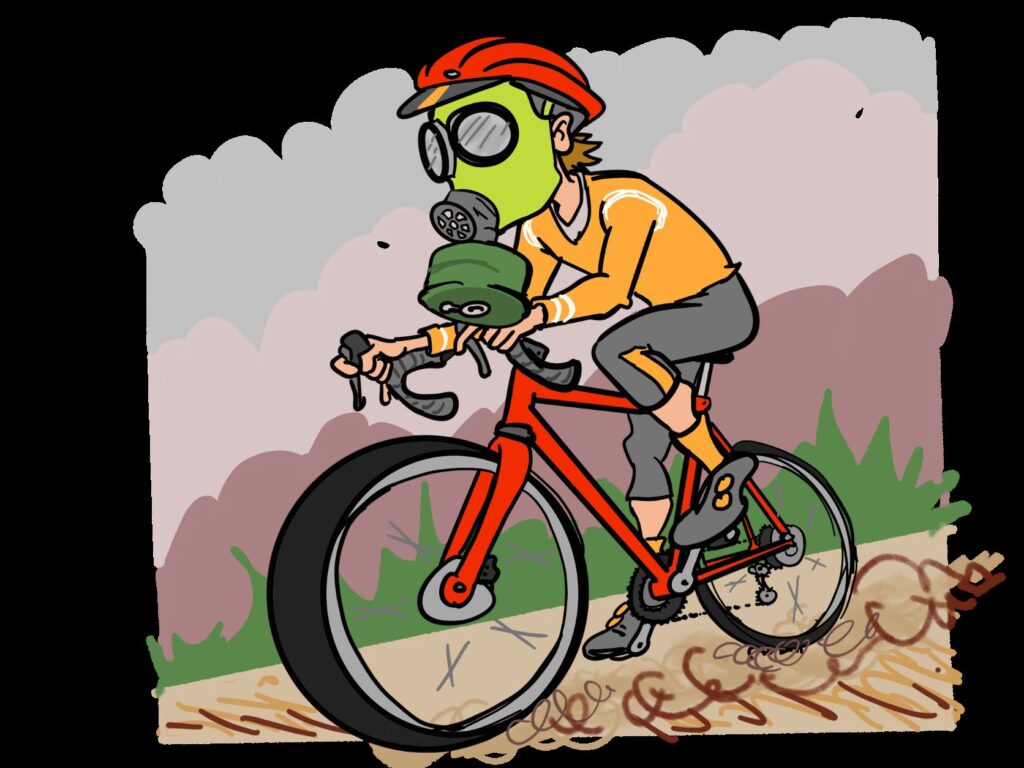 The smoke season calendar tends to be stacked with bike races and other events, and riders basically work on a bachelor's degree in meteorology to figure out when they should take their training indoors or cancel travel plans to an event. Last September, when the Cross-Washington Mountain Bike Race got smoked out, I drove all the way to Utah looking for clean air to ride in.
To say nothing of pandemic-related complications, event promoters take a huge gamble scheduling events this time of year. There are a lot of expenses involved in promoting an event that aren't recouped until race day. The smoke magically blew out in time for the Midnight Century this year, an event with zero dollars invested, yet a week later, organizers of the River City Classic, Spokane's biggest road race, had to pull the plug one day out. No doubt, Marla and Michael Emde, organizers of the Inland Northwest Cyclocross Series, are working on a PhD in meteorology in preparation for cross season this year.
So, when do we ride or not ride? Local podcaster and the guy bringing the 24-hour mountain bike race back to Spokane (YES, IT'S COMING BAAACK), Pat Bulger, says, "I have a rule, but break it at times for specific reasons/events. Promoters are smarter than that, and don't exactly want 200 cases of 'black lung' listed in the insurance report, or worse, as the reason they were sued into losing their house."
For further insight, there is a great article on the Data Driven Athlete Blog called "Air Quality and Cycling: When to Ride, When to Stay Home."
Justin Short will be out there riding or indoors hiding from the smoke in preparation for The Big Lonely, a 350-mile bikepacking race in Bend, Oregon, in early October.
Read more Everyday Cyclist stories in the column archives.