As we head into winter in the Inland Northwest, many of us are gearing up for winter activities, and for many seasoned and aspiring backcountry skiers and snowboarders, that means getting in shape and practicing with their gear. For those in the Spokane area, we have a great, sanctioned resource at our local ski hill that only a few communities have in their backyards in the form of a designated uphill travel route at Mt. Spokane. It allows snowgoers to use human power to ascend the mountain in designated places and at specific times.
At some resorts, a lift ticket is required to be on the slopes, and uphill traffic is prohibited; however, a growing number of ski areas, including Mt. Spokane, have responded to the surging interest in backcountry skiing and riding and interest in uphill travel at resorts by incorporating uphill travel and sidecountry opportunities into their winter sports offerings. The accompanying rules specifying when, where and how skiers, snowboarders and snowshoers can ascend the mountain are in place for the safety of all recreationists, resort guests and ski resort employees. When it comes to limited powder resources, there's also an issue of fairness to the lift ticket and season pass holding riders looking for lift service to shred as many laps and carve as many turns as their legs can handle.
Mt. Spokane's uphill policy serves many regular lift riders but also others who may only occasionally ski or snowboard in the downhill ski area. Many of the people who climb up Mt. Spokane in the winter from the snowmobile/Lower Selkirk parking lot are groups and families on snowshoes who stay outside of the ski area boundary on State Park trails, while the bulk of those skiers and splitboarders taking advantage of the designated in-bounds uphill route at Lodge 1 are usually geared up with climbing skins and backcountry gear and are there for one or more reasons: to get in shape, to practice with their backcountry gear in a safe environment, or to sneak in a few free powder runs.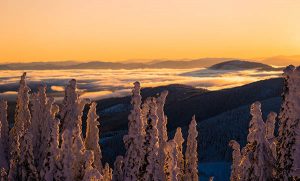 Fitness Fanatics
A number of the regular uphill travelers disappearing up the mountain above Lodge 1 on any given morning are there to crank out as much climbing as they can as part of a personal fitness regimen often intended to keep their bodies tuned for future backcountry forays. These individuals typically have their highly breathable clothing dialed to limit sweating on the way up and some of them may time their ascents, trying to best personal records. With its proximity to downtown Spokane and the Valley, Mt. Spokane is the most convenient place for backcountry riders to build up their backcountry lungs and legs and possibly score a powder run or two before work on weekdays.
Practice Makes Perfect
Having a place where it's legal and safe for people to gain experience with their backcountry ski or splitboard gear before heading out on backcountry riding adventures in more remote, consequential places is essential. Such practice is necessary to gain confidence and strength and to work the bugs out of touring gear and learn how to properly use avalanche safety gear that is standard for backcountry excursions. Heading up with a group of friends to get your backcountry gear and bodies tuned up also provides a great opportunity to socialize with and get to know the strengths, quirks and potential liabilities of future backcountry touring partners. Whether it's a small group of friends or a large organized group of enthusiasts, climbing to the top offers quality social time with the chance to learn from others.
Powder Hounds
Some skiers and riders ski up Mt. Spokane with the main goal being to get in an extra untracked powder run or two before the lifts start running. Don't expect to see these folks, usually flying solo or in small groups, lollygagging or chit-chatting much along the up-track, as they push to get as many powder runs in as possible while the uphill route is open.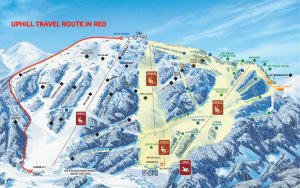 Mt. Spokane Uphill Travel Policy Rules
Because the route designated by the Uphill Travel Policy resides within the Mt. Spokane Ski & Snowboard Park concession area, there are some rules to follow. During the week, guests must park at Lodge 1 between the two driveways on the lodge side of the road. On weekends, parking is moved to the employee space just uphill from Lodge 1. If guests will be parking before operational hours or on a non-operational day, they will need to display their Sno-Park permit.
The designated B-29 ascent route begins at the base of Lodge 1 and travels uphill, on the far left side (looking uphill), to the junction with B-29, following the outside edge of the groomed trail to the uphill junction with Tea Kettle. The uphill route then follows the outside edge of Tea Kettle adjacent to the ski area boundary to the summit. Uphill travelers must stay on the trail edge closest to the ski area boundary (left when travelling uphill). The uphill route is available from 6:30-9:10 a.m. on days when the resort is operating, with some exceptions several weekends a year when ski race events are scheduled (check Mt. Spokane's uphill policy website for updates). At 9:10 a.m., skinners must be transitioned to downhill skiers regardless of where they are on the trail. Prior to 9:10 a.m., the descent route is limited to Tea Kettle/B29 only. After 9:10 a.m., any open run can be skied. Uphill travel according to the policy is also allowed on non-operational days, including from 6:30 a.m. until dusk on Mondays; 6:30 a.m.-4 p.m. on Tuesdays (except Holidays); and on Sunday evenings after the ski area has closed and the runs have been swept and cleared (usually 4:30 p.m. until the park closes at dusk).
Uphill travelers are also required to be visible (by wearing headlamps during hours of darkness) and yield to all downhill traffic (person or machine). Pets are not allowed in the ski area. Remember, it is a privilege to be granted this access, and we must be respectful to keep this good relationship. All uphill travelers in the patrolled ski area boundary are considered skiers and are required to familiarize themselves with the uphill ski policy as well as Mt. Spokane's Skier's Responsibility Code (found online). A designated and sanctioned uphill route at Mt. Spokane is a relatively new privilege, and, hopefully, such access will continue to expand at Mt. Spokane and at more resorts in the coming years. To read the full Mt. Spokane Uphill Travel Policy, visit www.mtspokane.com. // (Skye Schillhammer and Derrick Knowles)
Skye Schillhammer is a freelance photographer and bike shop employee at the Bike Hub in downtown Spokane. He wrote about paddleboarding in the Idaho backcountry in August.