Skiing and snowboarding aren't "cheap" sports; they require not only financial investment but also a significant time commitment. Thankfully, to assist with a family's lift-ticket budget, is Ski Idaho's 5th and 6th grade Peak Season Passport program, which is open for youth from any state, making it a great option for Spokane parents. Ski Idaho, a non-profit organization officially known as the Idaho Ski Areas Association, offers this program to any 5th-6th grade youth.
How the Passport Works
Register online at SkiIdaho.us and pay a one-time $18 processing fee. A parent or guardian will receive the printable 2019-2020 Passport via email. Then present the Passport at the ski area ticket office (or show the digital copy on your phone) to receive a daily youth lift ticket. Participating ski areas may have blackout dates, so check each mountain's passport-use details before your trip.
Benefits
A 5th-grade skier or snowboarder is eligible to receive up to 3 full-day lift tickets at each of the 18 family-friendly Ski Idaho alpine ski locations (see below); 6th graders can receive up to 2 full-day lift tickets at each of 17 participating locations. The diversity of the ski areas, both large resorts and smaller mountains, provide varied terrain for all ages and skill levels.
With a single lift ticket costing from $20 to more than $100 dollars, this program provides incredible savings. In the Inland Northwest alone, a 5th grade student can ski 3 days at Schweitzer, 3 days at Lookout Pass, and 3 days at Silver, for a total of 9 ski days—all for only that $18 registration fee. And there are still 15 more ski mountains they can visit throughout Idaho.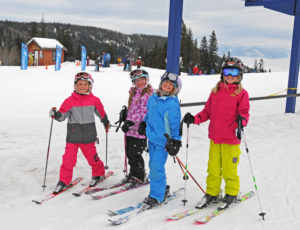 What Parents Say
Spokane mom Browyn Coyne's daughter was in Ski Idaho's 5th Grade Passport program last season and is now enrolled in the 6th grade program. She says the Ski Idaho Passport fits her daughter's growing interest in skiing as well as her progression level. "Up until last year, my daughter only had skied the 'Magic Carpet,' so it would have been a 'hard sell' for my husband—who doesn't ski—that we would spend money on our daughter's lift tickets," says Coyne, who grew up skiing with her family. Now, it's mom and daughter days at the mountain—along with grandparents.
"I don't know how long my daughter will ski, during the day, so the Passport makes it particularly affordable for a new skier. It's another bonus to try different ski areas," she says.
For the Lewis family of Spokane, who has twin 11-year-old daughters in 6th grade this ski season, the Ski Idaho Passport will provide double the savings. "Cost is one of the limiting factors that determines how often we can go skiing each season. And the Passport will allow us to go more often, so the girls get more time on the mountain. And we get more family time to ski together," says mom Robin Lewis.
"The more often we go skiing, my daughters will keep progressing—get more practice and more confident each time. This age is a prime time to learn. They're not as self-conscious about learning how to ski. Their bodies are changing, and they're learning to be more comfortable on skis. I remember taking a leap in my ski skills at this age." //
SKI IDAHO DESTINATIONS
North Idaho: Lookout Pass Ski & Recreation Area, Schweitzer Mountain Resort, Silver Mountain Resort
Central Idaho: Bald Mountain Ski Area, Brundage Mountain Resort, Cottonwood Butte Ski Area, Little Ski Hill, Lost Trail, Snowhaven Ski & Tubing Area, Tamarack Resort.
Southern Idaho: Bogus Basin, Magic Mountain, Pebble Creek Ski Area, Pomerelle Mountain Resort, Soldier Mountain Ski Area, Sun Valley.
Southeast Idaho: Grand Targhee Resort, Kelly Canyon Ski Resort. //
This article was sponsored in part by Ski Idaho.
Originally published in the December 2019 issue as "Ski Idaho Passport Program Helps Create Lifelong Skiers & Snowboarders."