If you ski too fast, you just might miss it. At the top of the cat track that leads to Mission Ridge's famed Bomber Bowl run is a piece of history from the World War II era: part of a wing from a B-24 Liberator bomber. A plaque mounted next to the wing describes how exactly the aircraft ended up on the mountain.
In late September of 1944, the B-24 was conducting a night training mission out of Walla Walla Army Air Base and, unfortunately, veered off course during a storm. A local fire lookout heard the aircraft through the fog as it passed overhead, and then saw the fireball moments later when the plane crashed. A search party reached the crash site the next morning and located the bodies of the six crew members.
The remains of the crew, and some of the wreckage, such as the aircraft's machine guns, were recovered in the days following the crash, but the bulk of the bomber was left on the mountain.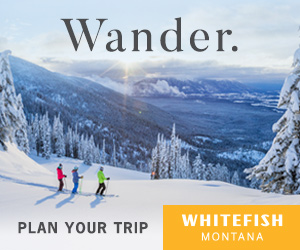 With the United States at war in both Europe and the Pacific, security and secrecy were of upmost importance, so the incident was barely noted in the press. In 1967, the local newspaper, the Wenatchee World, finally published a story on the crash.
As a kid who grew up on the mountain in the 1980's, one of my favorite runs was located near the crash site, and I can remember seeing pieces of the wreckage during low snow conditions. In the summer, even the bomber's engines are visible.
In 1985, a 12-foot section of the wing was removed from the crash site and relocated to the main base area lodge. What followed were several years of meager snowfall, so the resort's operators, being the superstitious lot that they were, speculated the wing's removal from the upper reaches of the mountain had somehow angered the snow gods. In 1992, the wing was returned to a spot located just uphill from the actual crash site, where it resides today. "Within an hour after we finished, it was snowing," said Mark Milliette, one of the employees who returned the wing to the mountain.
In 1994, local Eagle Scout Tom Rasmussen led the effort to create a plaque that commemorates the crash, and those six crew members who lost their lives. "Everyone in the valley knew that a bomber crashed here," Rasmussen said. "But they don't know why it crashed, how it got there, who was on it."
Once the wing was returned to the upper mountain, snow returned to Mission Ridge, with few lean years since. Local legend has it that if you stop and rub the wing, good luck, or snow, is soon to follow. //

Brad Northrup holds an MA and a BA in History, and has an affinity for unique items from the past. He has been a contributing writer for Out There Outdoors since 2011.