By Amy Silbernagel McCaffree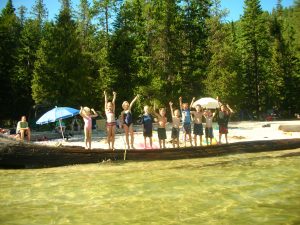 Camping provides rituals for family bonding: the road trip, meals around the picnic table, playtime, and the campfire.
Days stretch long for children to immerse themselves in nature. It's as transformative as it is fun.
"Teaching children about the natural world should be treated as one of the most important events in their lives," writes Thomas Berry, in his book The Dream of the Earth.
So let trails and trees become your child's playground; pebbles and pinecones can be their toys. Something magical happens when children are set free in nature. You can make a campground the new happiest place on earth for your kids this summer.
When camping with children, there are some special considerations.
Travel Time & Location: A seemingly short road trip can morph into one that takes twice as long, especially when traveling with children age five and younger. This can complicate your entire schedule for Day 1, especially meals and recreation. Other important considerations when camping with kids include access to grocery stores and urgent care clinics (in case of emergency) near your final destination.
Reservation Options: There is no greater disappointment than getting to a campground only to learn that all the sites are full. It's best to choose one that allows you to reserve a campsite online or by phone as many popular campgrounds fill up during the summer, especially on weekends.
Bathrooms: Flush toilets vs. vault toilets? Hygiene routines can make or break a camping trip. Warm showers are nice but not always essential. While vault toilets (modern outhouses) can be a bit too big and scary (and sometimes stinky) for young potty-trained children to use, it all depends on where you go. Some trade-offs might be worth the benefit a particular campground provides in terms of recreation and ambience.
Safety: Campgrounds aren't childproof; there are always inherent risks. But, in general, a safer campground is one without easy proximity to extreme danger, like cliffs or a raging river.
Recreation Opportunities: Is there a lake for swimming, boating or fishing? Trails for biking, hiking and nature exploring? Creeks with bridges? Maybe even a playground? Pick a campground that offers activities you know your kids enjoy and opportunities you want them to try.
Here is a closer look at six classic Inland Northwest campgrounds that are great for kids.
HEYBURN STATE PARK
Located 37 miles south of Coeur d'Alene, between the towns of Plummer and St. Maries, Idaho.
Created in 1908, Heyburn State Park is the oldest park in the Pacific Northwest. It encompasses over 5,000 acres and includes waterfront on Lake Chatcolet and Benewah Lake—two small lakes located south of Lake Coeur d'Alene.
Amenities include a marina and boat launch, docks, restrooms with flush toilets and showers, playground, and the Rocky Point Marina store, which rents canoes, kayaks and paddleboats through Labor Day ($15 for the first hour, $10 for each additional hour, or $40 for the entire day). There is also WiFi at the visitor center.
There are actually three campgrounds within the park: Hawley's Landing is the biggest one, with 10 tent sites and 42 hook-up sites, showers and public dock; Chatcolet has 38 tent sites but no showers; Benewah has 24 tent sites, 15 hookup sites, showers, dock and boat launch, but sites here cannot be reserved. Standard campsites at Heyburn cost $14-16, plus tax. There are also rental cabins and cottages available year-round. Online reservations are available.
At all Idaho state park campgrounds, check-in time is 2:00 pm and checkout time is 1:00 pm.
When camping at Heyburn, a must-do adventure is the Trail of the Coeur d'Alenes—open to walkers, bikers, in-line skates and electric wheelchair users. Get on the trail, which runs through the park, and cross the historic Chatcolet Bridge on the southern end of Lake Coeur d'Alene—kids will love it. On the south side of the bridge is the mouth of the St. Joe River that flows between Chatcolet Lake and Round Lake. Look for Osprey and their nests on the pilings that guide boaters. There is no water available along the trail, so be sure to bring enough along.
If you can bike all the way to Harrison—nearly eight miles one way—stop at the popular Creamery & Fudge Factory for ice cream. (July is National Ice Cream Month—indulge!)
According to park staff, interpretive programs will be organized by Recreation Unlimited volunteers and occur at the Hawley's Landing campground. According to Park Manager Ron Hise, "Programs are typically five days per week and vary from kid activities to hikes, skits, games and family campfire presentations on local history and nature."
Info and directions: www.parksandrecreation.idaho.gov/parks/heyburn.
ROUND LAKE STATE PARK
Located in Sagle, Idaho—10 miles south of Sandpoint.
Popular with locals as a day-use park, Round Lake State Park offers just enough recreation within its 142 acres to create an enjoyable camping trip, especially with very young children.
Campsite fees start at $21 a night. There are 35 standard campsites and 16 serviced ones. Flush toilets and no-fee showers are available.
At its deepest, the lake is only 37 feet. The beach, twin docks and unpaved boat launch are the focal point for much of the park's activities. Anglers will enjoy casting their lines into the 58-acre lake, which is stocked with Rainbow Trout (large mouth bass and other fish species also reside in the lake). People fish from the docks, canoes or other watercraft. Only electric motors are allowed.
Kids will enjoy swimming here—the shallow area is a bit muddy, but warm enough. There is no lifeguard on duty and the "beach" is actually hard-packed dirt. There are shaded picnic tables near the beach area, along with a vault toilet.
Canoe, pedal boat and stand-up paddleboard (SUP) rentals are available. Cost is $7-10 per hour, life jackets included, with half, full and two-day rental options.
Hike the kid-friendly 1.8-mile Trapper's Trail around the lake. Kids will enjoy spotting wildlife and huge Skunk Cabbage leaves, and crossing the bridge over Cocolalla Creek. A general guideline for children is that they can hike one mile per age. (Note: In mid-June, a section of trail on the east side of lake was marshy with no alternative route; be prepared to take off your shoes or get your sandals wet and wade through ankle-deep water and mud—watch for frogs!). Interpretative signs along the trail provide facts about the lake's history and wildlife.
If you want to bike, stay on the Stewardship Trail—a 2.5-mile loop around the lake.
Although the park has a nice outdoor amphitheater, no ranger-led interpretative programs are scheduled for this summer. But there is a kid-friendly display in the visitor center, where you can also find firewood and fishing worms for sale.
Info and directions: www.parksandrecreation.idaho.gov/parks/round-lake
FARRAGUT STATE PARK
Located in Athol, Idaho—20 miles north of Coeur d'Alene.
With playgrounds, three 18-hole disc golf courses, the Museum at the Brig, a swimming beach, docks and boat launches for Lake Pend Oreille, and more than 40 miles of trails for hiking and biking, kids can try something new every day while camping at Farragut State Park.
This 4,000-acre park, converted from a World War II naval training station, has four campgrounds—fees start at $23 per night. Whitetail is the primary one for "standard" tent campsites. Altogether, there are 223 individual campsites, 7 group sites and 10 camping cabins. Online reservations are available. Both flush toilets and showers are available.
Older kids on bikes will enjoy exploring this massive park. Beaver Bay Beach is where families can swim, although Lake Pend Oreille is not known for sandy beaches. But it does have the "best stone-skipping beaches," according to Jon Jonckers, father of two and Out There senior writer. There is also a scavenger hunt for kids based out of the museum.
Junior Ranger activities and other summer interpretative programming will depend on campground hosts being available as volunteer leaders, according to Farragut State Park Manager Randall Butt.
Despite all there is to enjoy at Farragut, Silverwood Theme Park and Boulder Beach Water Park are only a short drive away (off Highway 95 south), should your family desire some non-campground thrills.
Info and directions: www.parksandrecreation.idaho.gov/parks/farragut.
BEAVER CREEK CAMPGROUND
Located near Nordman, Idaho, off Highway 57—about 90 miles northwest of Spokane.
Without the noise and distractions found at larger, more populated campgrounds, Beaver Creek Campground offers a quiet, rustic experience for families.
Located in the Idaho Panhandle National Forest on the northwest shore of Priest Lake, this U.S. Forest Service campground is known for being well maintained with clean vault toilet "bathrooms" (no sinks, just a toilet). There are no showers here, but "it's not that big of a deal because you're swimming," says Jon Jonckers, who often camps here with his two children.
Campground hosts help operations run smoothly among the 42 campsites and their guests.
Access to two kid-friendly hiking trails—the northbound Navigation Trail and the southbound Lakeshore Trail—as well as a swimming beach, the creek and Thoroughfare to Upper Priest Lake provide recreation and exploration options.
Because of its northern location, speedboat traffic noise on the 25,000-acre lake is minimal at this campground. Yet, the "town" of Nordman (restaurant/store/bar) isn't too far away.
Reservations are essential for securing a campsite during the summer; fees start at $18. Call 1-877-444-6777 (National Recreation Reservation Service), or reserve online at www.recreation.gov.
If Beaver Creek has no vacancies, another good bet for families is INDIAN CREEK CAMPGROUND, located on the east-central side of Priest Lake. It's one of the three campground units that comprise Priest Lake State Park (more info: www.parksandrecreation.idaho.gov/parks/priest-lake).
"It's super family-friendly, but it seems more like 'church camp' than car camping because there are basketball courts, paved boat launches, a little store, amphitheater and stage," says Jonckers. There is even Wifi access.
As a large and popular campground, it tends to be noisy, so you're not likely to see wildlife here, according to Jonckers. But the campground has flush toilets and showers. And it's close to logging roads and trails where you can search for the renowned Priest Lake huckleberries.
Recreation Unlimited volunteers will provide interpretative programs at Indian Creek throughout the summer.
Info and directions: www.fs.usda.gov (search for Beaver Creek).
KAMIAK BUTTE COUNTY PARK
Located 70 miles south of Spokane—12.5 miles east of Colfax, WA, between the towns of Palouse and Pullman, off Highway 272 (Palouse Hwy).
Not as well known by those living outside Whitman County, Kamiak Butte County Park is "probably one of the best maintained, beloved campgrounds," says Jon Jonckers.
Situated under Ponderosa pine trees atop the only butte in the area, the 298-acre park is modest and simple yet with beautiful scenery. Kids can explore nature and observe wildlife throughout the park. In addition to a playground, children will enjoy hiking the Pine Ridge Trail—a three-mile loop with a half-mile summit spur trail.
"If you want a nice, quiet, secluded camping experience, it's a great park for that," says Janel Gobel, program representative for Whitman County Parks and Recreation.
The shaded campground has potable water and bathrooms—vault toilets are located closest to the campground and flush toilets (open seasonally, usually mid-May until mid-October) are near the day use area. Cost is $15 per night, and although there are only seven campsites with first-come, first-serve availability, you're likely to find a site. Because it's a locked and gated park that opens at 7:00 am and closes at dusk, it is not too busy of a campground, according to Gobel. The only exception, she says, is during certain special events at nearby Washington State University, like when students return for fall semester (mid-August). A park ranger lives on-site.
While the park is susceptible to closure during the height of summer fire season, it has remained open the past three years, says Gobel. To ensure the park is open before you visit, call (509) 397-6238 or
check for an announcement on the Whitman County Parks & Recreation department website or Facebook page.
Info and directions: www.whitmancounty.org.
WALLOWA LAKE STATE PARK
Located in northeast Oregon, near the town of Joseph; 12 miles south of Enterprise, Oregon (5-hour drive from Spokane).
Nestled at the south end of its namesake glacial lake, Wallowa Lake State Park has so much to offer, campers liken it to a resort. A playground, amphitheater, marina, swimming beach, off-leash pet area, and hiking and mountain biking trails ensure a diversity of recreation. The 3.7-mile long lake is known for its clean, clear water, and nighttime stargazing is spectacular in this remote corner of Oregon.
Wallowa Lake is stocked with trout and Kokanee, with anglers boasting record-setting catches. August 24th is the park's annual Kokanee Festival. Within the park, wildlife sightings are common.
"The deer are friendly and come right through the campground, even licking your cars—they're a bit of a nuisance," says Jon Jonckers.
Along with its many amenities, the park is adjacent to the Eagle Cap Wilderness and its beautiful backcountry trails, popular with hikers and horseback riders. Less than a mile outside the state park is the terminal for the Wallowa Lake Tramway (wallowalaketramway.com), a four-person gondola that climbs 3,700 feet in 15 minutes—the steepest ascent in the U.S.—to the summit of Mount Howard (8,256 feet elevation). Single day tram rates are $19-$28 per person, depending on age; children age three and younger ride free. From this peak in the Wallowa-Whitman National Forest, you can enjoy a three-state alpine wilderness view and hike to alpine lakes and basins.
While day hike options might be too rugged for small children, there are other activities within the campground or near its vicinity, including horseback riding and miniature golf. The town of Joseph is renowned for its street art. You can also visit the Hells Canyon National Recreation Area and many miles of rugged hiking trails in Hells Canyon.
Camping fees start at $20 per night for a tent site, of which there are 89 available, along with 120 full-hookup sites. Two yurts are available to rent—$38 per night (summer rate); each one sleeps five people, and you must bring your own bedding, camping supplies and equipment. Reservations can be made online or by phone. Restrooms with showers increase the camping comfort level, and laundry facilities are available, which can be helpful when you want to stay for a week or more and pack light.
Info and directions: www.oregonstateparks.org, or call 1-800-551-6949.
Wherever you camp this summer, heed the words of Michael Lanza, a father of two and northwest editor for Backpacker magazine (from "10 Tips For Raising Outdoors-Loving Kids," www.thebigoutside.com): "Create experiences that make [your children] eager to go out again the next time." Happy Camping!