The first time I visited the Sherman Creek Wildlife Area, I was delighted by what I found in a location I have never seen described in local guidebooks. Sherman Creek is roaring in the springtime, and with its low elevation, this is a good place to see early buttercups and other wildflowers. It's managed for whitetail deer habitat and home to a sizable turkey population, and it's also a good place to watch for eagles soaring over Lake Roosevelt.
Getting there is easy since it's just off Highway 20, but it's also hard since there is very little signage. Watch for the wide spot with the "Discover Pass required" sign, as that's the only indication you're in the right spot. If you go too far, you'll end up at the nearby fish hatchery, a worthwhile side trip for those who have the time. The Old Mellenberger Bridge is located directly in front of the parking area, blocked off to vehicles but open to foot traffic. It's not until after crossing Sherman Creek on this bridge that you'll find any trail signage, installed by a Boy Scout for his Eagle Scout Project.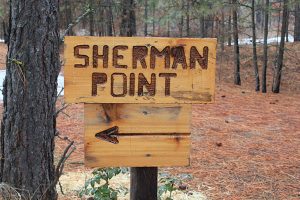 The entirety of the Sherman Creek Wildlife Area consists of more than 9,000 acres of winter range. The Sherman Point Loop stays on a corner of the property that hugs the shoreline, maximizing views but keeping the distance relatively short. There are old roadbeds on the property that invite additional exploration if one has the time. For the main hike, continue about a quarter mile beyond the bridge, hiking on an old roadbed. At the marked trail junction, turn left on the Sherman Point Trail and walk down the hill and toward Lake Roosevelt. The signage along the way points out interesting parts of local history: National Park Service signs and Bureau of Reclamation benchmarks (stamped 1938) indicate the boundary with the Lake Roosevelt National Recreation Area, and Boy Scout signs point out the old ferry landing across from the mouth of the Colville River. The best view of Lake Roosevelt is located at the Reed Slide Overlook, where sand cliffs across the bay fall off steeply to the lake below. Beyond the Overlook the trail climbs a short hill and rejoins the roadbed. Turn right to follow it back to the Old Mellenberger Bridge and the parking lot. Roundtrip distance: about 3 miles.
Getting there: From Spokane, drive north on Highway 395 through Kettle Falls. Cross the Columbia River and continue west on Highway 20 for 2 miles. Watch for Sherman Creek Fish Hatchery signs and turn left on Mellenberger Road. Continue 1 mile to the Mellenberger Bridge parking area. Discover Pass required. //