When I first heard about SheJumps, I was at an all-women's introductory clinic on avalanche and snow safety at Stevens Pass in 2013. The class is put on annually by Elyse Saugstad, Ingrid Backstrom, Michelle Parker, Jackie Paaso and Lel Tone – professional female skiers at the top of their game. The clinic, called S.A.F.E. A.S. (Skiers Advocating and Fostering Education for Avalanche and Snow Safety), was my first exposure to an event of this kind. These women are strong, confident, and have vast experience in the mountains. They were promoting an upcoming all-women ski movie called "Pretty Faces: The Story of a Skier Girl," produced by Lynsey Dyer, a professional skier and co-founder of SheJumps.org.
I walked away from the clinic completely inspired. My brain buzzing with my newly acquired backcountry knowledge as well as the raffle's grand prize: a brand new avalanche air bag! I went home that night determined to take it to the next level and earn my AIARE Level 1 Avalanche certification that same winter. I wanted to share in these women's experiences.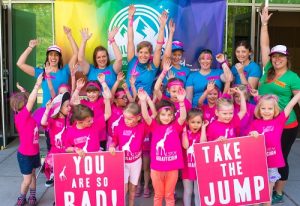 About SheJumps
SheJumps.org is a 501(c)(3) nonprofit based out of Salt Lake City, Utah, with a mission to increase female participation in outdoor activities. SheJumps is 99% volunteer operated and funded by money raised at their events. The SheJumps logo is the Girafficorn: half giraffe, half unicorn. It represents persevering, keeping your head high and dreaming big. SheJumps hosts educational and social events designed to connect like-minded ladies with a love of the outdoors on a local and national level.
Activities include very technical events that require previous experience, such as the SheJumps Alpine Finishing School, a ski mountaineering course held in the backcountry by professional female guides, intermediate or more social events like a ski wax clinic or community bike ride, and beginner events, such as Youth Initiatives and Wild Skills Clinics: free day camps for girls ages 6-18 to learn basic and foundational outdoor skills like rock climbing, how to use a compass, read a map and carry out basic first-aid.
"What would you dare to accomplish if you knew the only possible outcome was success?" This question is the mantra for SheJumps, and it is part of what inspired me to become an official ambassador this year. I did end up getting my AIARE certification and discovered a whole new love for skiing in the backcountry. I am so grateful I had those women encourage me to take that first "jump." It's the kind of opportunity I want to bring here to my hometown of Spokane – creating events where women can learn new skills, take risks, and build confidence, all while succeeding in the outdoors.
SheJumps Events in Spokane
Our most recent event was an Intro to Fly Fishing Clinic hosted by Heather Hodson, a local fly fishing expert and founder of Spokane Women on the Fly. The event filled within 48 hours and was a huge success! We also organized a social event at Schweitzer Mountain late September that included a group mountain bike ride with après and great prizes.
Coming up, we have a super fun Wax and Wine Clinic on October 14, hosted by the Sports Creel and the Rocket Market, and an all-women intro to avalanche awareness clinic on November 5, taught by Larry Banks (splitboarder) and Mike Brede (skier) of Panhandle Backcountry and hosted by Gonzaga University. We will have some great prizes from big-name sponsors, and you will walk away feeling a whole lot smarter about traveling safely in the backcountry. I am completely stoked about both of these events!
We'll also be announcing an event with TJ Sneva and SNEVA MFG, too. Sneva is a Spokane native and has been making his skis locally for 20 years. We are planning a tour of his ski-making factory that includes how his custom skis are made, and of course there will be après and prizes. As the weather turns colder, keep an eye out for our big Get The Girls Out event (GTGO) at Schweitzer Mountain, a hands-on bike maintenance class with The Bike Hub, and possibly a Rock Climbing Clinic at Wild Walls in the spring. Be sure to check the SheJumps.org website and the Out There online calendar for all upcoming Spokane events. //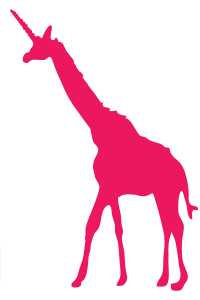 Written by Anna Twohig