In early June 1993, Karl Mueggler slipped out of an eddy and committed himself to the main surge. He edged his kayak into the trough of a beastly wave, and then his boat sliced river-left to river-center. Navigating in this way allowed Mueggler to set a paddle rudder and surf the wave's sweet spot. He carved back and forth. In this time of liquid chaos, the wave would break but not subside. That left Mueggler in altered states. He became a darting salmon in his own private Idaho, a cougar raging within the aqua lair. "Whoop, whoop!" he shouted over the crashing spray of the Selway. Those of us watching from the bank returned the call while marveling at a boater's skill on this mountain stream of emerald.
River travel can be mesmerizing, peaceful, terrifying. Even a half-day commercial float presents a possibility for any of these realities and more. But river runners will gush about how a certain awakening of the senses is unavoidable on a multiday trip down the Selway. Permit applications are often unsuccessful because so many people covet the chance to experience this designated wild river that runs 47 miles through the vast and impressive Selway-Bitterroot Wilderness. The rapids vary in difficulty according to water levels, but no matter the reading on the gauge at the Paradise put-in, the run overall is rated from Class IV at low water to Class IV+ (or above) at higher flows. Got action? Check!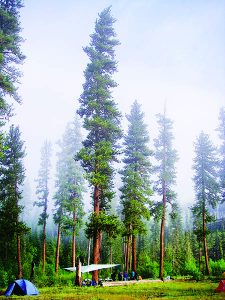 Relentless? Not necessarily. In certain stretches, the river lulls, and swift flatwater teases out my contemplations about time. Daily routines back home have the capacity for dulling our awareness of how many heartbeats have been played and how many might remain. Before a wilderness river trip, I find myself unable to consider a journey without thinking about its ending, or past travels, or how the next one might end too soon. On the Selway, and any multiday affair, river runners will reference a phenomenon called "river time." Miles of dramatic scenery and whitewater, day after day, tend to settle one's soul within the currents and geologic introspections. You live in the present tense. Presence. Gifts from nature.
On river time, Mueggler did not believe such reflections so much as he lived them, and then spoke of them with a dual purpose. He convinced everyone at the fire circle of how much this global community shared by people, creatures, plants, and big clear water matters to us all. He also needed to testify for himself that if this system's perspective was not the path to a land of magic or bliss or salvation, at least it came with tangible effects. No river runner has wondered if the timing was bad. The rocks, wood, and retentive holes dole out lessons in sometimes fatal proportions, and the flow of the water is somehow a hint to us all that we had better pay attention now.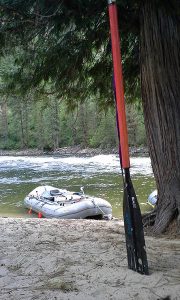 In any adventure — such as life — the one thing to count on is the unanticipated. Mueggler lived just a few short years after that breathtaking Selway trip. He and two other experienced backcountry travelers were buried in a Utah avalanche on January 12, 1997. As Mueggler's friend Joe Biby wrote in a tribute later that dark winter, "Like the whitewater Mueggler sought to ride in his kayak in an effort to merge with the wild currents, a great turbulent wave of snow took him away."
When I stood on the river bank in 1993, watching Mueggler surf the powerful Selway wave that kept on giving, nothing right then could be confined to a kayaker's bag of tricks. What played out before me transcended mere physical achievement and beckoned me to wonder about the river's aura. How could something be so affirming? Mueggler's remarkable smile exceeded the waterway and penetrated the amazing mountains of the Selway-Bitterroot. From within a storm of whitewater, Mueggler released a spirit of the wild that I seek and envy to this day.
When a friend invited me to run the Selway in May 2015, I understood it would be a new experience, despite that several of us had been on the trip with Mueggler a startling 22 years prior. It was different, but people still graduated to river time and sustained a community. We talked safety, chased a boatless kayaker in Ladle Rapid, hiked to stunning overlooks, scouted rapids, cooked delightful meals, and thirsted for more than we could consume. Once on the river, we left behind the daily trappings of our hectic lives and lived as the proud unshaven. We had broken through to a point where we could take along the best of each of us, and so Mueggler was there on the Selway this time, too, surfing through story lines and waiting to catch a wave.
Seeking River Time?
Running the Selway and other wilderness rivers requires special permits and preparations. For information on the "Four Rivers Lottery," which includes the Main Salmon, Middle Fork of the Salmon, Selway, and Snake-Hells Canyon Rivers, visit http://www.fs.usda.gov/detail/bitterroot/home/?cid=STELPRDB5262645. According to the site, permit applications must be submitted online through Recreation.gov, and the application period is December 1 through January 31 each year.
That means it might be difficult to get on a trip this spring or summer unless a permit holder has extended an invitation. The U.S. Forest Service site also notes, however, that "cancelled reservations will be released at a random time within 24 hours beginning on March 16th and continuing throughout the float season." Careful attention should be paid to river and weather conditions, as well as boaters' abilities, equipment, and experience. These rivers are the real deal!
For more information on the Selway River and other multiday trips in Idaho, acquire a copy of Greg Moore and Don McClaran's "Idaho Whitewater" and Grant Amaral's "Idaho: The Whitewater State." //
John Eliason lives, paddles, and writes in Spokane, WA