Located in the sweet spot between the Cascades and the Selkirk mountains, Spokane's surrounding region hosts thousands of acres of public lands with hundreds of miles of trails. Resting on the edge of the arid Columbia River Basin, the stable climate almost permits year-round trail running. Spokane County features the two largest State Parks in all of Washington, and thanks to the Conservation Futures Program, as of 2016, more than 7,000 acres of conservation and recreation lands have been acquired and preserved in Spokane County. Perhaps the Inland Northwest trail running swell is due in large part to the sheer number of trails runners of all abilities have to choose from. Here are a few Spokane-area favorites.
Top 10 Trail Running Spots
Several trail systems rise right from the center of town. From Beacon Hill to Dishman Hills to the bluff below High Drive, nearly every neighborhood hosts a natural area with volunteer-maintained trails. The breadth of these urban trail-running locations feeds directly into the prominence of the Spokane high school cross-country dominance. Whereas some high schools in the northwest might have a dynasty in certain field or gym sports, virtually every Greater Spokane League high school has produced nationally recognized runners.
Riverside State Park deserves credit as the most user-friendly, non-motorized section of metro-backcountry in the entire Northwest. One can run for as long as you want, for as many miles as you want, without running the same trail twice. Running along the river is peaceful and relaxing most days. Except for the occasional jolting reminder of the rifle range, you can often run for an hour or more without seeing another soul. The Wilbur Trailhead and the Bowl and Pitcher might be the most popular entries into the park, but there's plenty of great terrain to see from the Military Cemetery and the Carlson Road Trailheads.
From every Spokane vantage point, Mount Spokane dominates Eastern Washington. The main mountain looks like an upside-down salad bowl, but the satellite peaks, such as Kit Carson and Day Mountain, offer rugged and technical trails. Most runners stick to the main trails or the forest roads around Quartz Mountain; however, the uncommon spots and the tangent trails to various sections of the park often prove to be the best adventures. Just like Riverside, you can run for as many miles as you want, without running the same trail twice.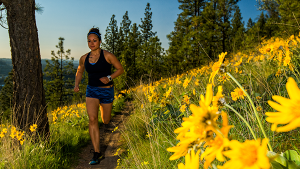 Equally beautiful and wild, yet more tranquil than Riverside State Park, the Turnbull National Wildlife Refuge features a mosaic of wetlands, basalt outcrops, and rolling meadows. While most of the refuge is a wildlife sanctuary and off-limits to visitors, the 5.5-mile scenic auto tour loop is a real local treasure worth running. It may not be singletrack, but the road connects to multiple spur trails, and there are so many chances to see a variety of birds and other wildlife. Trail runners are never disappointed with a run at Turnbull.
The Spokane Valley and Liberty Lake offer stellar trail running spots too. For starters, Liberty Lake Regional Park includes several miles of trails that lead to beautiful waterfalls and gorgeous views of the surrounding area. The Saltese Uplands Conservation Area gained considerable fame when trail runners discovered it is a prime spot to train on rolling hills. None of the trails are too hard or too easy; they're just right. However, if you truly want to test your trail running mettle, and you need to train on steeper hills, then you should check out Antoine Peak Conservation Area and Iller Creek Conservation Area. Both of these locations feature long, sustained hills to maximize your training.
Local Trail Running Community
Spokane might be the epicenter of this article, but from Wenatchee to Missoula, the trail running community makes the most of training hard and training fun. The open terrain and the stable climate are significant ingredients, but the real heroes are the organizations and businesses that reinforce the trail running community. Runners Soul, Fleet Feet, Fitness Fanatics and Mountain Gear routinely give back to the trail running community, and running groups and clubs like Trail Maniacs that organize races and social runs have brought new excitement and energy to the local trail running community. Trail runners are also infinitely indebted to the mountain bikers and hikers who work so hard to maintain and repair so many miles of trails, including groups like Evergreen Mountain Bike Alliance and Washington Trails Association.
Lastly, never forget that trail running brings out the best in people. It's a sport you can do under your own power, in any direction, fast or slow. Sometimes you're fighting the wind, and sometimes you're seeking new sights. All things considered, the feeling you get from a good trail run is far better than the feeling you get from sitting around wishing you were trail running. //
Tips for Trail Runners
Plan your hydration. Drinking fountains are not always turned on or working properly at trailheads. Handheld water bottles are awesome.
If you run with headphones, make sure you can still hear other trail users. You must be able to respond to mountain bikers that approach from behind, or wildlife that cross in front of you.
Keep your dog on a leash, and clean up after them. Of course, your dog is unique among all dogs, totally obedient and never does anything wrong. It doesn't matter. It's the law.
Leave No Trace. I believe it's mostly accidental, but please make certain that your sticky energy food wrappers don't fall out of your pocket. Also, if you see a tiny foil wrapper on the trail, please pick it up. It's tough to stop running, but it's the right thing to do.
If you run through lots of thick brush and tall grass, remember to check for ticks.
Yield to other trail users (equestrian, hikers, mountain bikers). Uphill runners should yield to downhill runners.
Getting lost during a trail run is not a waste of time. //
Jon Jonckers is a running coach at Shadle Park High School and the Board Chair for the Friends of the Centennial Trail. He contributed to the Race Ride Event Guide in the March issue of OTM.