It's not *quite* ski season, but we know there are plenty of you itching to get up to the mountain. 49* North is boosting this in-between season with a Rocktoberfest party, using the bunny hill and mountain trails for bike rides, the lodge area for live music and BBQ, and offering season pass processing so you're ready when those first few snowfalls do arrive.
This family-friendly event will also include a hobbit forest, a full mountain bike ride (one of three rides of varying levels you can choose from), craft beer, and live music from local artists. Kelsi Garvin, a guitarist from the Spokane area, and Dave Deveau, a local-to-Chewlah singing fire chief, will entertain with music ranging from classical to country.
Proceeds from Rocktoberfest will go to support the 49* North Winter Sports Foundation (a nonprofit organization), so your fall fun will support winter play on the hill.
Last but not least, there will be prizes by drawing, including this El Oso Uno fat bike! You'll be set to ride in winter if you're the winner.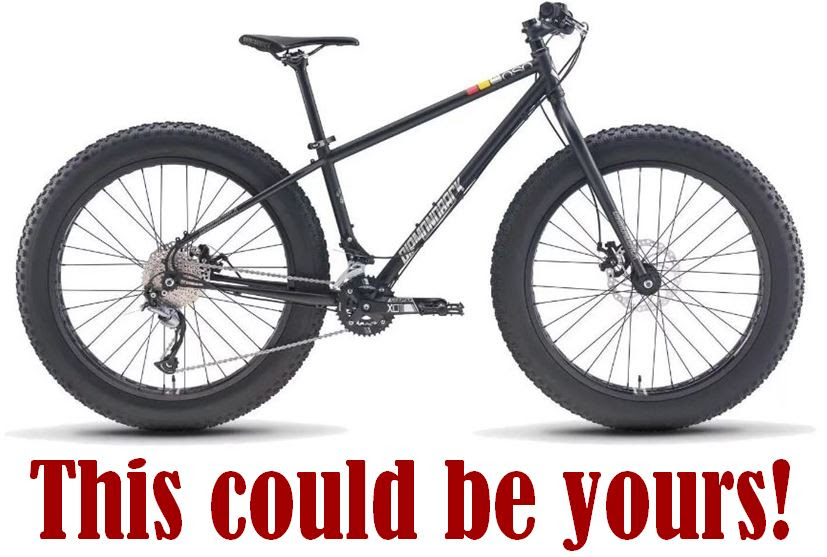 Check out the full schedule for Rocktoberfest below, and sign up online today! Festivities kick off at 11:00 a.m., with a 10:00 check-in for the Chewelah Peak Look mountain bike rides. Riders should be prepared for iffy weather and must wear an approved helmet for the ride.
Get rockin'!
Rocktoberfest Schedule    
10:00     Bike Registration in front of Ticket Office
10:30     Season Pass Pick up in the Ticket Office
11:00     Bike Ride Begins at Lodge
11:00     BBQ on the Deck
11:30     Advanced Hike to Chewelah Peak
12:00     Live Music Begins
12:00     Youth Events
1:00       Beginner Hike
1:00       Intermediate Hike
2:00       Riders begin to return
3:00       Raffle Drawing
4:00       Live Music Ends