The summer in my mind is always perfect—obliging weather, tons of time off from work, and a lineup of great partners ready to hit the road at a moment's notice. Tis the season for setting audacious goals and finally crossing off some of the items on the tick list. But if you do plan to spend a lot of time local this year, there's a new spin on a favorite crag that worth your time. It's fixed up with shiny new hardware and ready for pulling your first hard 5.9 or hangdogging a new project. Dishman deserves a second look thanks to its interesting history, brilliant accessibility, and the fine introduction it provides to technical climbing.
The shiny new hardware comes by way of a dedicated crew from the Bower Climbing Coalition (BCC) which made Dishman its first big project. Board member Eric Lawson estimates he spent 40 hours removing the first 35 unsafe bolts. Bolt extraction is tedious because the group is trying to remove and replace bolts rather than chop them, which would further scar the rock. When I visited the cliffs to catch a glimpse of their progress, Arden Pete, another board member and local developer, was rappelling down the face after replacing a rusty, old anchor.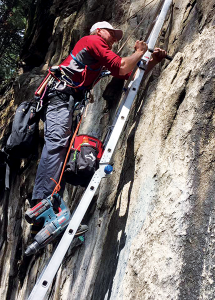 Pete and Lawson consider Dishman a great summer crag because it's shaded all morning. The BCC hosted an Earth Day clean up earlier this year, so the fun climbing is surrounded by a tidier environment. Other perks include a short approach and close proximity to just about anywhere in Spokane. The hiking trails extending into the Dishman Hills Conservation Area are also worth exploring. But the major selling point for Dishman is the diverse array of climbs that challenge your technique and strength. Here are a few recommended Dishman routes:
Chicken Spread (5.9) A warm-up route that will give you a taste of how challenging the climbs at Dishman can be.
Free Installation (5.11a) A true classic and local's favorite. Mountain Project contributors agree: "Probably the best 11a here. Starts up a left facing flake and turns the roof to the left. This climb starts out crimpy and hard, then juggy and overhanging mid-way. finishes with some good, balancy slab climbing."
Touch of Gray (5.11c) A challenging start leads to "awesome" climbing up high. "It's steep high up and technical. Not like other climbs around. It's a subtle little dance to get up there," says Pete.
Rock 106 (5.11b-12.c) A brilliant climb with sustained difficulty. The rating is contested since a huge flake fell off nearly a decade ago. It was named for graffiti about a local radio station.
Of course, the best thing about urban climbing isn't just the clever names derived from the whims of the first ascensionist. Easy access to safe climbing brings the community together. "In the old days," says Pete, "people would talk and tell stories. They didn't like to go to bars; they liked to hang out here." I suspect this season of climbing at Dishman will see a throwback to those good ol' days. //
Bower Climbing Coalition
The BCC maintains, expands, and preserves Inland Northwest climbing. As the climbing scene in the Spokane area continues to grow, the BCC plays an important role in helping climbers voice their concerns and create community-based solutions to a range of issues. Right now, they are focused on replacing severely corroded bolts at Dishman to honor local climber Andrew Bower. Bower fell from the top of the main cliff as he was preparing to replace bolts, a form of community service he carried out to improve safety for other climbers. The hardware replacement is a legacy project in his memory.
The BCC will also explore other aspects of its mission in the coming months and years. Climbing coalitions are important forums for discussions about access, stewardship, and education. They can also partner with national groups such as the Access Fund to advocate for climbing areas. The BCC invites community requests and suggestions for gear replacement via their Facebook page. Also, it documents hardware updates such as anchor replacements on the website Mountain Project. //
Summer Hess is a writing instructor at Eastern Washington University and manages special projects for the Community Building. She wrote about Jon Snyder in the April issue.