Leavenworth really knows how to get people's warm fuzzy Christmassy feelings flowing, thanks to the town's annual Christmas Lighting Festival. Now in its 44th year, it includes: live music; Santa strolling through the Bavarian Village passing out candy canes and visiting with children; and a ceremony that culminates in a spectacular moment when all the decorative lights turn on for the village buildings and the trees in Front Street Park—nearly a quarter million lights altogether. This year the festival takes place the first three weekends of December, Friday through Sunday nights: December 3-5, 10-12, and 17-19.
For those unfamiliar with Leavenworth, it's about a three-hour drive east from Spokane, and all the "downtown" village shops and eateries convey the same Bavarian aesthetic theme. This ingenuous motif idea, which began with the downtown area's renovation in the early 1960s, saved Leavenworth from extinction after the local sawmill closed and the railroad was re-routed. Year-round tourism keeps this town alive.
If you don't mind rubbing shoulders with hundreds of strangers, squeezing into small boutiques to shop, and spending time in the midst of the sights, sounds and smells of the bustling village, then you should enjoy this festival. It's all about reveling in the Christmas spirit.
Anyone feeling bah-humbug this season might consider a visit to this festival like a dose of Prozac. After all, the town was named one of the "Most Christmassy Places in America" by the Travel Channel, and Time included it in its list of "Top 10 Places To Find the Most Holiday Cheer."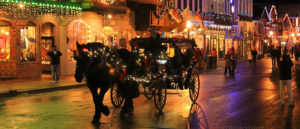 The festival's agenda each weekend will go like this: Friday evenings will be a simple affair with no lighting ceremony but the holiday lights will be on. Starting at 3:30 pm there will be choir entertainment at the Front Street Gazebo, and Saint Nikolaus (also known as Santa Claus to non-Bavarian folks) will arrive by carriage at the Gazebo at 4:30 pm with special treats for the kids.
Saturdays and Sundays are full of entertainment, such as high school and community choirs and bands, beginning either late morning or early afternoon. Festivities "officially" begin at 1:00 pm both days with an Opening Ceremony and the arrival of Santa, followed by more entertainment, which will continue through the early evening. Frosty, Rudolph and other Christmas characters will be mingling throughout the village, along with strolling carolers, to enhance the festive mood.
There will be a warming tent where you can purchase cider, gingerbread cookies and hot spiced Gluhwein (German wine). You can also gather around burn barrels to get warm. An outdoor Food Booth Court, courtesy of local non-profit organizations, will help feed the massive crowds throughout the festival weekends. And cafes and restaurants will provide a warm place to sit and enjoy a meal.
At 4:30 pm the Lighting Ceremony begins, and the anticipatory minutes before the lights are turned on are giddy, crowded and just plain fun. There is usually the singing of Christmas carols, so enjoy the merriment and raise your voice! Kids will especially love all this and consider it a magical winter wonderland—parents, the young at heart, and non-Scrooges will too.
On Saturday, December 4th there will be a Starlight Lantern Parade, starting at 5:45 pm at the Gazebo on Front Street. You can carry a lantern and join the procession to the Living Nativity—a reenactment of baby Jesus in a manger with Mary, Joseph, shepherds, and the wise men, with actors in costume and live animals. The 20-minute presentation will take place at an indoor location. This is a free event with cocoa, cookies and time to pet the animals (bring hand sanitizer!).
A weekend spent in Leavenworth, especially if you're a snow sport enthusiast, can include one afternoon at the festival while enjoying recreation in the morning, such as Nordic skiing or snowshoeing on the nearby trails. Or spend an entire day alpine skiing or snowboarding at Stevens Pass or Mission Ridge, both only 32 miles from Leavenworth. There is also a family-oriented Ski Hill in town, organized by the Leavenworth Winter Sports Club, which has two rope tows, a terrain park and a tubing park. And a visit to Leavenworth in the winter would not be complete without enjoying an old-fashioned sleigh ride, such as the one offered at Red-Tail Canyon Farm, located only two miles from town. For more information about any of these options, go to www.leavenworth.org, the home page for all things Leavenworth tourism related, and click on the "Recreation Guide" tab.
There is also the Nutcracker Museum (nutcrackermuseum.com)—made more famous by the curator's guest appearance on Conan O'Brien's latest talk show premiere. When you arrive in town, more information about the festival, recreation options, and other special events can be obtained by visiting the Chamber of Commerce office, located at 940 Highway 2 (one block from downtown). It's open seven days a week, starting at 8:00 am, and open Monday-Thursday until 5:00 pm, Friday and Saturday until 8:00 pm, and Sunday until 4:00 pm.
And if you can't make it to Leavenworth this December, there is always the Ice Festival on January 16-17, 2011.
WHEN YOU GO:
Drive west on I-90 and take exit 151 at Quincy. Go right on Road 1 NW, then right at WA-281 north. Turn left at WA-28 West (also called F Street SW), and then take slight left at WA-285 N. Turn right at S. Mission Street, right at N. Miller Street, then slight left at N. Wenatchee Ave. Continue onto Highway 2 West and it will take you right into the town of Leavenworth. (You can also take Highway 2 West from Spokane, if you don't mind traveling on two-lane highway the entire way.)