A weekend road trip to Wallace, Idaho, is a trip back in time, offering adventure for everyone from history buffs and barflies to century-riding cyclists or casual bike riders and trail walkers. Here are some of our favorite things to do in this historic mining town this fall.
Bike World-Class Trails
Crowd-free trails, cooler temps, and autumn colors mean fall is one of the best times of the year to make a weekend trip to Wallace to ride one or more of the area's truly world class trails and gravel routes. The 73.2-mile paved Trail of the Coeur d'Alenes (open all year) and 15-mile Route of the Hiawatha gravel surface trail (open until Sept. 18) are the crown jewel trails for sure, but there are several other lesser-known rides that are also pretty awesome.
The Northern Pacific Trail, or NorPac, is best ridden on gravel or mountain bikes. The 12-mile, multi-use and multi-surface trail runs along the old Northern Pacific rail bed and goes from Mullan, Idaho, into Montana. Start your ride in Mullan for a shorter pedal, or add some miles by starting in Wallace.
The Route of the Olympian along the St. Regis Rivers is technically a continuation of the Hiawatha on the old Milwaukee rail bed, but it is a completely separate and free route that isn't maintained (some trestles unrideable). The Old Milwaukee Railroad Trail is 35 miles long between Pearson and St. Maries. This compact dirt and country gravel road route along the St. Joe River is a great gravel ride.
For shuttles for any of these or other rides, call the Wallace Inn at 208.752.1252. Check out Friendsofcdatrails.org for more info on bike trails and routes.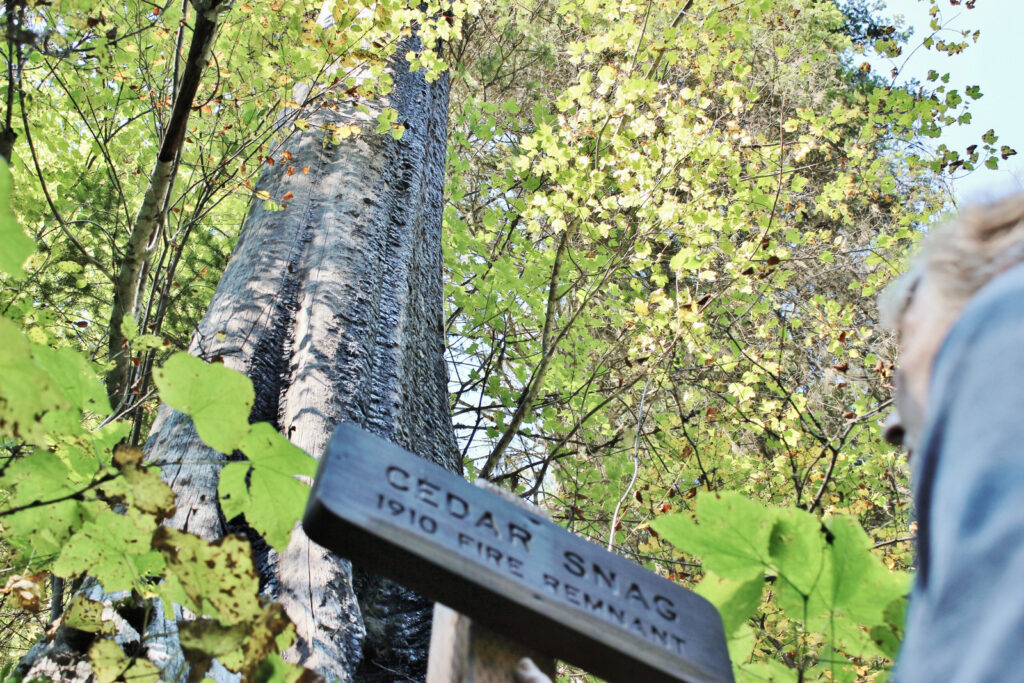 Hike the Town
Wallace offers some excellent urban walking with tree-shaded neighborhoods, small parks, and self-guided walking tours of the town's 1890s-era National Register of Historic Places homes and churches.
Another must-experience Wallace walking adventure are the century-old, restored wooden stairways on the hill above town. Most of the stairways are 100 or more feet long and some have landings and decks where moose, deer, and elk are frequently spotted in the surrounding forest.
One mile south of town you'll find the four-mile round trip Pulaski Tunnel Interpretive Trail that follows Placer Creek past waterfalls and cool forest up to the Nicholson Adit mine portal, where Ranger Ed Pulaski saved his crew from America's largest wildland fire back in 1910.
Explore a Rich History
The entire town of Wallace is listed on the National Register of Historic Places, so you don't need to travel far to step back in time here.
Some Wallace history tour favorites include the Sierra Silver Mine Tour. This open-air trolley tours the storied buildings of the commercial district on the way to a Sierra Silver Mine tour through a sideways cut in the mountain to learn about the dangers and rewards of mining.
For the story of the people who worked the mines and the struggles they faced, a trip to the Wallace District Mining Museum is a must. There are also three other museums within walking distance, including a train station, brothel, and landmark church that have been transformed into museums. 
Other historic attractions are a short way out of town. The Mine Heritage Exhibit and four-acre riverfront park are just off Exit #61 at I-90. Here you can explore massive mining machines.
Nine Mile Cemetery lies just one mile north of Wallace on State Route 456, where 3,000 internees inhabit this other National Register of Historic Places site.
For the best hands-on perspective on Panhandle mining history, take a drive up Burke Canyon to the now largely abandoned mining towns of Gem, Frisco, Yellow Dog, Mace, and Burke. It's seven miles one way on the paved State Route 4, which makes for a great bike ride too. Find historic markers at the beginning, middle, and end of the roadway.
Zipline and Bike Park
Silver Streak Zipline is spread out on over 263 acres of forested mountainside above Wallace and includes 10 ziplines. In addition to the zip thrills, it's also home to SVR GAS, a new mountain bike park that opened in spring of 2022 and includes two pump tracks, a mountain bike jump line, and several miles of shuttled bike trails.
Book a fall zip or bike park tour at Zipwallace.com.
Lodging, Dining, and Shopping
A wave of new businesses have taken root in Wallace, Idaho, in recent years, from brewpubs to craft eateries, a wine bar, coffee shops and cafes, a book store, a quality outdoor apparel shop, and restored historic lodging.
Bring your bike, walking shoes, and curiosity about the past and spend a few days exploring this ever-evolving mountain town. Find a great listing of Wallace lodging, dining, and drinking options at Wallaceid.fun.
Fall 2022 Events in Wallace
Sept. 3-5: Under the Freeway Flea Market: 80 vendors with unique items, food, and beverages along a 1-mile covered flea market space beneath I-90.
Sept. 17: Center of the Universe Raffle & Rededication: A pure Wallace-style event celebrating the anniversary of the 2004 Mayor's Proclamation with toasts, Drum & Bugle Corps Salute, reading of the Proclamation, and raffle to win scores of prizes.
Sept. 30-October 2: Fall for History Festival: Learn about the Wallace-area's checkered past with speaker presentations, mining history tours, live theater, museum visits, guided walking tours, and plenty of quality food and drink.
Dec. 2-11: Wallace Hometown Holidays Festival: Make your holiday plans in historic Wallace. Photos and breakfast with Santa, pet and lighted parades, craft fairs, live theater, kids' pageants, hay rides, and more!
Find more stories about Wallace, Idaho, in the OTO archives.