Bicycle road racing can be just as much fun as it can be discouraging. How so? Going fast is fun, but going fast while everyone else is going faster can be dispiriting. The trick, at least from this beginner's point of view, is to "get your mind right" and focus on the fun.
There are three types of road races: criterium, road, and time trial. The criterium is held on a loop course about one mile in length. Criteriums are great for spectators because they see the riders come by every couple of minutes. You can get close enough to feel the air being pushed aside as the group zooms by. A 45-minute race provides a lot of excitement. Road races are longer and the routes are more drawn out. A loop for a road race can range from 5 to 20 miles, but it's not limited to that. It could be a single loop of 50 or more miles. Time trials are typically an out-and-back race. Racers are started at intervals, such as every two minutes, and they must go it alone. Drafting off a lead rider is not permitted. Are you ready to race? Here are some suggestions.
Twilight Series – Begins Tuesday, April 8 and then continues on almost every Tuesday through August at several venues in Eastern Washington. The Baddlands Racing Club hosts the series, providing a great way to gain experience and get into racing shape. You can find yourself climbing Steptoe Butte, racing at Williams Lake, or speeding around a criterium course in Liberty Lake. (baddlands.org).
Ronde Van Palouse – April 12, southeast of Spangle, WA. This tour of the Palouse road race is a 16-mile circuit consisting of 10 miles of pavement and 6 miles of graded gravel. The constant rollers take you up and down and up and down and the cruel wind never gives you a break. Spokane Rocket Velo Cycling proudly brings this sufferfest to you. (spokanerocketvelo.com).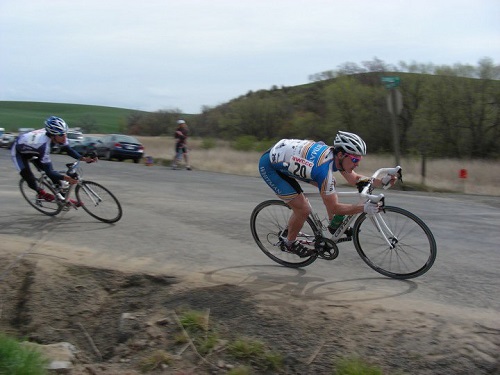 Tour de Bloom 2014 – May 4 and 5 in Wenatchee, WA. The Tour de Bloom is an omniun: a two-day event that includes all three races. The time trial is held the morning of the first day. The criterium is held that evening. The road race completes the trifecta on the following day. You're not obligated to do all three races. You can register for just one or two if you like. (wenatcheevalleyvelo.org/tour-de-bloom-2014).
Green Bluff Circuit Race – Saturday, Jun 7 at Green Bluff north of Spokane. This is a seven-mile loop with a 500-foot climb up Green Bluff Road on each lap. Races are 1-8 laps depending on the category. The individual King/Queen of the Mountain is contested on the second lap of each race. Spokane's River City Red Cycling Team hosts this race. (rivercityred.blogspot.com/2014/02/greenbluff-circuit-race-june-7-2014).
Prospero Granfondo Axel Merckx Okanagan – Sunday, July 13 in Penticton, BC. A grand fondo is not a race in the sense that you have to be licensed, etc., but it is a timed ride. The three courses: 55km, 92km, and 160km all offer beautiful scenery and challenging climbs. (granfondoaxelmerckx.com).
Jederman Grand Fondo – Saturday, July 19 in Cheney, WA. Emde Sports hosts this event, and it truly is for everyone, offering a choice of 30, 66, or 112-mile routes. Finish the 112 miles in less than six, eight, or ten hours to get a medal commemorating your accomplishment. (emdesports.com/jedermanngranfondo/home.html).
Lilac City Twilight Criterium – Saturday, July 26 in downtown Spokane. After a long hiatus, this exciting event returned to downtown Spokane in 2012. The course is L-shaped and about eight-tenths of a mile in length. There's a free kids race included. Spokane Rocket Velo also hosts this event. (spokanerocketvelo.com).
Coeur d'Fondo – Saturday, September 27 in Coeur d'Alene, ID. The Coeur d'Fondo offers two competitive and three noncompetitive courses, two of which include riding on a cruise boat. The Gran Fondo (108 miles) completely encircles Lake Coeur d'Alene while the Medio Fondo (84 miles) takes a short cut at the Chatcolet Bridge. Gold, silver, and bronze medals are awarded for finishing within applicable time limits. (cdagranfondo.com)
38th Annual Western Montana Hill Climb Championships – Sunday, October 4 in Missoula, MT. This is Montana's oldest annual competitive cycling event. The hill climb is designed for the casual as well as the competitive rider. Riders of all abilities have participated in this event, ranging in age from 7 to 75. The four-mile course climbs 840 feet up Pattee Canyon Drive. Cyclists leave at one minute-intervals and ride against the clock. (missoulabike.org/hillclimb). //