"Push back into child's pose," our instructor says. Her soothing yoga voice engages us to soften muscles and minds as we settle our hips over our heels, arms extended out in front of us. "Let go of the day behind you," she encourages. I had already let the day go as soon as we made our way down to the boards lined up on Boulder Beach. My attention was focused attentively on the whirl of emotions and sensations that come with taking on a new experience like doing yoga on a river. I was focused in the moment, following instructions and feeling uneasiness give way to exhilaration.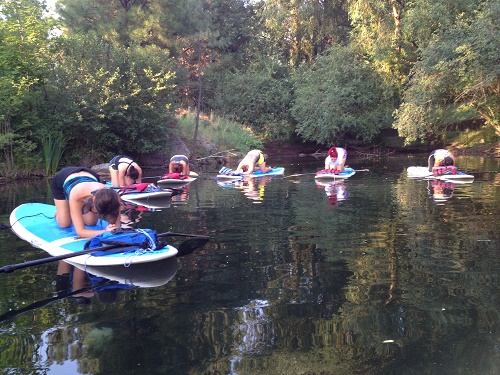 I tucked my sandals under the strap at the end of the board, secured the anchors and paddled out on the Spokane River. Our instructor led us into a little inlet, out of the way from boats, rowers and jet skis, where we dropped the anchors on our boards that would keep us from floating away during the class. Some of the students were already standing on their boards, while others remained seated, although by the end of the class everyone was comfortable enough to paddle back to shore standing up on their boards.
The group was a mixed bag of students who had practiced plenty on the water, others who were relatively new to doing yoga on a board, and even one person who loved paddleboarding but had never done yoga before. While I have spent many hours on the mat as a student and instructor in studios, homes, and make-shift office studios, this was my first time wading into the increasingly popular phenomenon of SUP yoga.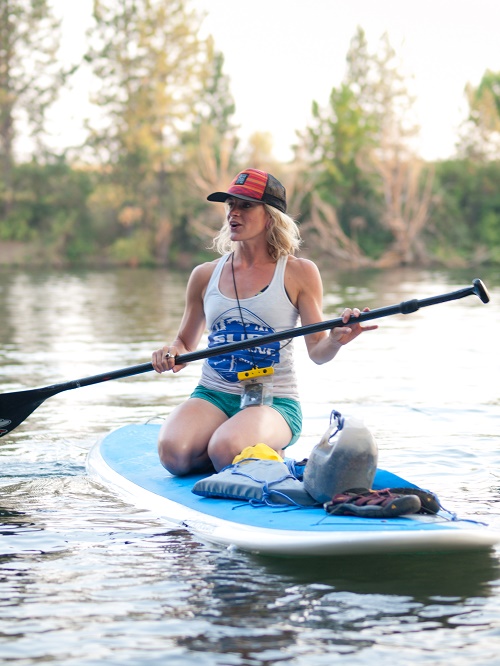 After years of practice, my muscles have become accustomed to engaging into lunges and softening into pigeon pose. But on the wide and stable board, I was more aware of muscles than I have been in a while, and I had to focus on keeping my balance to stay out of the water. As we moved through cat cows, the rocking of the board became soothing. When we lifted our hips for downward facing dog, it got a little more challenging, but even more than being difficult, it was thrilling.
Familiar yoga movements that usually feel comfortable and routine made me feel alive in a way I hadn't felt in a while. With only a few inches of board separating my body from the glassy surface of the river, every breath, every movement, every shift of weight became an act of heightened intention. We walked hands and feet together to forward fold, and watched the water from upside down.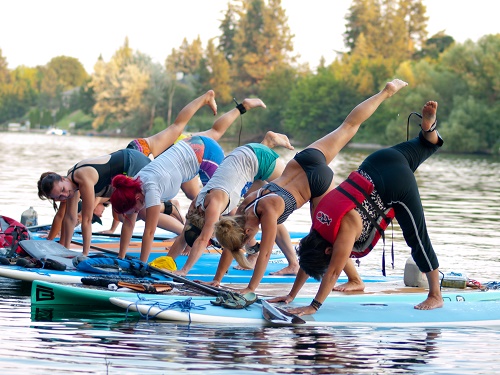 For SUP yoga, poses and sequences are modified for the paddleboard, our instructor Lacy Gannon of SUP Spokane tells us. We flow through sun salutations, and Gannon keeps everyone closer to their boards, moving through fairly stable poses. Offering boat pose to easy seated pose to seated forward fold and back to boat provides doable sequences that helped build confidence and a sense of balance on a board.
After about 45 minutes, Gannon guides us onto our backs for Savasana, or final relaxation. She encourages us to let our hands slip into the water as muscles soften into the floating mat. Most of the students close their eyes, but the waving of the trees above me, the sounds of the birds and the waves rolling into the inlet and the smell of the river was relaxing enough.
Want to give SUP yoga a try? There are several options on the Inland Northwest's rivers and lakes. These classes all include use of a board, paddle, PFD, and other safety gear along with instruction. SUP Spokane offers classes on the Spokane River launching from Boulder Beach near Millwood (Facebook.com/pages/SUP-Spokane). Personal trainer Darcy Staudinger offers SUP lessons and paddleboard yoga classes on several area lakes throughout the week for $35 a class (more info at darcyspersonaltraining@comcast.net or 509-487-7815). On Lake Coeur d'Alene, instructor Katie Fitzgerald offers SUP yoga classes in collaboration with Coeur d'Alene Paddleboard Company (Facebook.com/CDAPaddleboard). //
Kootenay Spirit Festival: Yoga, Dance, Medication, Music
September 12-14, Nelson, BC, just three hours north of Spokane, is hosting the first annual Kootenay Spirit Festival. This spiritually-charged festival includes yoga classes, speakers, workshops covering a wide range of practices, and music and other social events intended to inspire mindful living, love of nature and engaged community. Kootenayspiritfestival.ca.