The Inland Northwest's arid reputation is baked into its name. While it may be on the "dry side" of the Cascades, with world-class whitewater, blue-ribbon fishing and a place at the forefront of river sports, the region has been quietly racking up river recreation accolades over the years. Meet these three Inland Northwest river people who are revolutionizing the way we relate to and think about our iconic waterways.
Heather Hodson – Fly Caster
Spokane angler Heather Hodson is upending the typically masculine demographics of fly fishing, one cast at a time.
"Being on the water is an escape for me," says Hodson. "My everyday life can be very hectic, juggling three different high-stress critical-care nursing jobs, training for marathons, starting a women's fly fishing group and maintaining an amazing relationship. The river is an outlet for me, my happy place: no cell service, no social media, no television, no ICU alarms going off, just me and the river. I'm not a very religious person, but I'm a very spiritual person, and the river is my church. The smells, the sounds, the views, everything about being on a river is 'Zen.' Catching a fish is just a bonus."
Hodson grew up near Mount St. Helens in southwest Washington, where family outings revolved around water. There she started gear fishing with her father. As an adult she settled in Spokane, one of her main motivations being the proximity to fishing waters, with more than 50 lakes within 50 miles.
Hodson started fly fishing in 2009. "It took a full year to catch my first fish on the fly rod," she says. "I had no idea what I was doing, so I decided to take the beginner fly fishing class at Silver Bow Fly Shop in 2012."
Hodson took to the sport like, well, a fish to water: last year, she fished more than 75 days. In an effort to get more women on the water, Hodson created Spokane Women on the Fly in March of last year. In addition, Hodson, who is now a fly designer for Catch Fly Fishing – her two designs, Rainbow Bright and Barbie, are apparently "fish-catching machines" – helped develop and now teaches the women's beginner fly fishing class at Silverbow. In 2014, 24 women took the class; this spring's classes are sold out, and she is adding more.
Clearly Hodson has tapped into a pent-up demand. "I think that women can be very intimidated by fly fishing," she says. "I walked into a fly fishing shop in Montana, and the first thing they said was, 'Are you buying something for your husband?' My idea is to give women the tools to make it less intimidating – so they can talk the talk and walk the walk. I think men are more amazed that women are actually interested and passionate about the sport and not just trying to impress someone."
Hodson notes that she has never claimed to be an expert at fly fishing; it's her passion and love of fishing, the outdoors and sharing those experiences with others that drives her. "It's amazing that I can see other women have that same experience. I've had a couple ladies that have told me they don't want to touch the fish – now, one of the girls that told me that is a crazy, addicted fly girl!"
Now that Hodson has achieved her initial vision – "ladies getting together informally to fish" – she's casting a wider net. "Once a month we tie flies and drink some beer – I call it "Tackle and Talk." It's a group of like-minded women with no drama; there's nobody trying to impress anybody in the group." She hopes that as more Spokane Women on the Fly anglers develop confidence in fly fishing, they can lead their own outings. She's also working on putting together more trips, including a fully-guided and outfitted weekend.
Hodson expects to see a lot more women out there as interest in fly fishing increases. "Women can see we're 'reel women' with an emphasis on the R-E-E-L," laughs Hodson, "not just models that look good but normal women. We're out there, we like to fish and we have extreme passion for it."
Hodson's Zen approach to fishing extends to her "kiss-and-release" policy. "Ever since I was a little girl, I always kissed the fish and then released them," she says. "I kiss them and thank them and let them be on their way, so I can have the opportunity or somebody can have the opportunity to catch them again." Thanks to Hodson's infectious angling enthusiasm, often as not that next opportunity might just be another woman.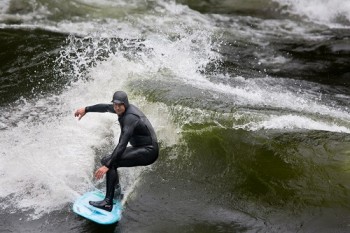 Kevin Brown – River Surfer
Missoula, Montana is routinely ranked as one of the best river towns in the United States. Kevin Brown, co-owner of Strongwater Mountain Surf Company, would like to see it ranked as one of the best surfing towns too. It may seem like a pipe dream to some, but Brown, known to most as "KB," has revolutionized the young sport of river surfing.
Brown is one of few surfers who can say his riding began in the Rocky Mountains of Montana. As a child, he saw surfing for the first time on visits to his grandparents in Chula Vista, Calif. "I had always been fascinated with boards: skateboarding, snowboarding when it first started, wakeboarding before it was even called that."
Brown got a whitewater kayak in that sport's infancy and built a respectable resume, competing in U.S. Freestyle competitions. "I fell in love with the river, with the power of the water – whitewater kayaking was always surfing in the mountains to me, never kayaking."
When, in 2008, the city of Missoula built Brennan's Wave, an engineered whitewater feature downtown next to Caras Park on the Clark Fork River, Brown found an inland outlet for surfboards. "The year Brennan's Wave was built, the high water made it hard for kayaking," he says. "So a dozen of us brought out surfboards, and that was the start of surfing here."
At the time, surfboards were simply a means of making the best of a blown-out wave, says Brown. "When the water went down, we got out our kayaks – whichever was the best tool for the best wave. The more we fell in love with surfing, the more we started getting waves that maybe three or four years earlier, we wouldn't have looked at surfing. We started giving surfboards more of a chance: instead of just walking away from a wave, we'd just start grinding and grinding, trying to successfully ride it."
Then they started building surfboards specific for river waves. Those river waves aren't necessarily perfect for ocean boards, says Brown, but they are surfable with the right set-up. Brown and his business partner opened Strongwater in downtown Missoula in 2008, bringing river surfing to the masses and surf culture to Montana.
"River surfing is probably a lot like ocean surfing was when it started out," says Brown. "There are no stigmas, no cliques – it's all camaraderie, everybody cheering each other on. Everybody falls down, everybody swims; the best person is not that much different from a first timer. Even if you're the best guy, at the end of your run you're going to fall down and swim to shore."
Brown is committed to seeing Missoula being a bona fide surf town. "We surf every day – we probably surf more than most people who surf the ocean," he says. "We put a lot of effort into getting Missoula onto the map [as a river town]. Waves are being built all over the world in rivers – the sport is exploding. But Missoula still has a ton of work to do, which is why I love it so much. There's so much opportunity."
Brown is a true believer that tourism and capitalizing on a great river running through a downtown is the future. "Not only for environmental reasons but the economic future," he says. "Change is a good thing; you've gotta be open to it." And that idea of change, so perfectly embodied by rivers – ever-changing and connecting vast distances while staying in place – informs Brown's approach to both work and play, which are essentially, inextricably intertwined.
Peter Grubb – Whitewater Pioneer
The founder of the world's top whitewater tour operator got his start in life in the desert. "I grew up in central California, so I wasn't around water a lot except for the Pacific Coast beach area," says Peter Grubb, founder of Coeur d'Alene-headquartered ROW Adventures.
"My father was a biology teacher, so he took us camping a lot and introduced us to an appreciation of nature at an early age, but my first rafting trip wasn't until 7th grade in science club," says Grubb. "In college, I was looking for a summer job as a camp counselor, and there was a little ad that said 'whitewater guides wanted in West Virginia.' I was going to school in Annapolis, Maryland, at the time, and I remember I got an atlas out to figure out where West Virginia was!"
That summer, over the course of 111 day-trips on that West Virginia river, Grubb fell in love with guiding. "I thought the only thing that could be better than this would be doing five- and six-day wilderness trips where I could connect with people on a more meaningful level and share things more deeply," he says. "So I started doing research, talking to people and reading books and zeroed in on Idaho. It has more wilderness whitewater than anywhere in the U.S., double the next contender, with something like 3,500 miles of free-flowing whitewater. So I ended up here the summer of 1979 and never left."
Wanting to start his own guide company, Grubb founded ROW Adventures with his brother, who had recently moved to Spokane. At the time there were no rafting companies in town. "Here was this area that was sort of a whitewater epicenter with so many rivers around it, and no competition around – so that made it easy to be the pioneers." Today, ROW is routinely recognized as the top tour operator in the world.
Asked what, in his more than thirty-five-year tenure as owner of ROW, has changed the most, Grubb says that, aside from gear improvements, it's a clientele desirous of softer adventure. "People in general seem not as willing to put up with cold and being miserable," laughs Grubb. "We used to start our season in early May – sometimes even late April – and we'd be out on days when it was snowing. Usually people would go on one of those trips and then they'd say 'next year I'm coming in June!' So our start date keeps getting later and later. We usually don't even bother starting until the weekend after Mother's Day."
From its peak in the late 1990s, the popularity of whitewater rafting has waned, as more people sample other river recreation options, whether whitewater kayaking, paddleboarding or surfing or just hiking or camping along a river.
Grubb has seen other operators around the world fail or shift to catering to a clientele demanding more creature comforts like four-star lodging with fresh linens and hot showers. He's proud that, at its core, his company has kept the "adventures" in "ROW Adventures." "At the end of the day 'adventure' is a personal experience word: anything that pushes people's limits, their comfort zone, could be an adventure. But we're unique in our market space in that we have so many trips in which people do still camp and work up a sweat," he says.
Grubb's across-the-map research in 1979 has paid off too. "We're super fortunate in this area to have so many water resources, both from a human consumption standpoint as well as a recreational standpoint. The Spokane River, in particular, is unique in all of the U.S., being a whitewater river as opposed to just a meandering flat-water [urban] river."
And the presence of a healthy river – a healthy whitewater river, no less – brings with it unique rewards. "There are some dynamics when you're on the river that you don't have when you're riding a bike or hiking," asserts Grubb. "You're only in control to a degree, so there are those ever-changing variables – high water, low water, in-between water, high snowpack, low snowpack, natural events, flood events – that make the river a very living thing."
"In a lot of sports there's this talk of 'conquering' something –
conquer the mountain, bag the peak," says Grubb. "I don't hear that vocabulary in river runners. Nobody says 'I conquered that rapid;' it's 'I ran that rapid,' or 'I paddled it.' There's more, to me, respect – pay the river respect or it will put you in your place," he says. "I can't explain why there is a particular passion around rivers, but certainly all my life I've had a passion for it." //