North Idaho's Priest Lake is known for its pristine waters and high-mountain peaks. It's a place that's frequented by many summer vacationers looking to escape the city grind. During the cooler late spring/early summer months, however, the low and mid-elevation mountain biking trails surrounding the lake are where it's at. Whether you're looking for a mostly flat, novice-friendly type of ride through the Hannah Flats or something a little more challenging like the Binarch Creek Trail, Priest Lake offers a wide of variety of mountain biking options, many of which are rideable in May.
The Woodrat Trail (#235) located on the west side of the lake is an intermediate/advanced option that provides a little bit of everything you'd expect in a well-rounded ride with plenty of climbs and descents to keep even more advanced riders satisfied. Covering two valleys and two ridges, Woodrat starts at about 2,500 feet and climbs to around 3,200 feet at its highest point, with a graded climb of about 25%.
Woodrat's accessibility is perhaps its greatest asset; the two trailheads are both located minutes from highway 57. While the trail itself is not a complete loop, the two trailheads are connected by the Lakeshore Road, allowing you to loop back to your starting point with three miles of mostly level, dirt-road riding.
Named after an old quartz mine located on the shores of Priest Lake, Woodrat has been an active trail for at least 50 years. In years past, Woodrat was often abused and widened by off-road vehicles, but recent efforts by the Priest Lake Ranger District to enforce new trail guidelines have helped to restore the trail to its historic singletrack condition.
Having grown up on the west side of Priest Lake, Woodrat is a trail I've ridden dozens of times since I first started mountain biking over 20 years ago, but I knew going in for an early spring ride this year that it was going to be a bit sketchy. I wasn't sure if my legs would have enough juice to get me through, plus the early-season trail conditions, including mud and downed trees, were sure to keep things interesting.
I hung in there until the first fork of the trail, a spur trail called Bulldog (#274) that spits you back out on the Lakeshore road. As my legs were screaming, I contemplated bailing out onto Bulldog, but decided I was going to hammer it out to the top, one way or another. My final "walk n'push" through the steep, muddy section to the first ridge was well worth the effort, as the tight, tree-lined trail broke out onto an expansive, open ridge with incredible views of the snow-topped Selkirks to the west.
After making it up and over the first ridge, I got to enjoy the first descent of the ride through a dense cedar forest with filtered views of the lake and mountains, before starting the climb back up to the second ridge. After another brief, albeit ego-deflating push over the second ridge, my final descent to the Lakeshore Road below took me through a smooth section of singletrack that allowed me to let off the brakes and flow into a fast, fun rhythm to close out the ride.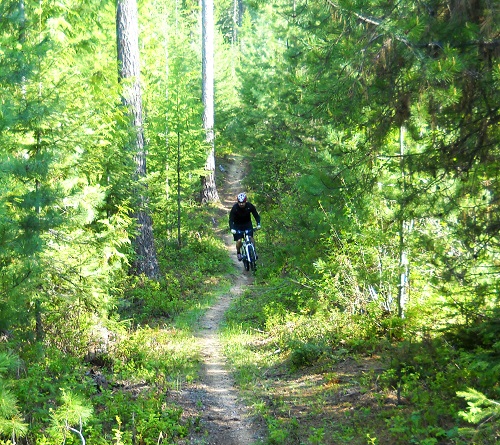 Expect some mud and downed trees across the trail early in the season, but by late May, trail conditions should improve with warmer weather and rider use and maintenance in preparation for the Woodrat 25er mountain bike race (June 6). (The Priest Lake Ranger District usually does not begin trail maintenance on most Priest Lake area trails until the summer months.) No matter the season, with Woodrat, you can expect easy access, flowy singletrack, great views and an adventurous, legitimate leg burner.
For more info on other Priest Lake area mountain bike trails that are often rideable in May and June, like Binarch Creek, Hannah Flats, Elkins Trail, Upper Priest Lake and the Upper Priest River trails, check out Mtbpriestlake.com, a website run by local riders looking to promote and protect the amazing, relatively unknown network of trails around the lake.
Getting There: To reach Woodrat Trail, travel north out of Priest River on Highway 57 until you reach Luby Bay Road (about 29 miles). Follow the signs to Hill's Resort – this will put you on the Lakeshore Road (#237). Continue on 237 past Hill's Resort until you see a sign for the trailhead on an old logging road that veers to the right (about a 1/4 mile past Hill's). You'll see the trailhead after driving about 100 yards up this road. The trail is well marked with signage all throughout. The trail ends, or begins, depending on your preference, back on the Lakeshore Road near Osprey Campground, roughly three miles from Hills Resort. //
Woodrat 25er MTB Race (June 6, 2015)
You have two choices if you sign up for the Woodrat 25er June 6: a 25-mile endurance course or a 12-mile division of intermediate to advanced riding. The course is a mix of double track and singletrack in the Panhandle National Forest by Priest Lake, Idaho. The singletrack includes sections of low chain ring climbs, some fast downhill, groves of huge cedar trees and lots of twists and turns. Racers will enjoy a BBQ lunch and finishers' party with music and a beer garden that kicks off at 11:30 a.m. All riders take home a trophy pint mug with the Priest Lake race logo. (Online registration ends May 31 at midnight.) Plan to make it a weekend with great camping options and lodging nearby at Hills Resort (Hillsresort.com). More info and race registration at Priestlakerace.com. //