Last July, my brother John, my son Geoff, and I attempted to conquer the Idaho Hot Springs Mountain Bike Route, a 517-mile loop of mostly Forest Service roads that take you through beautiful high country in central Idaho. It's a hard ride. We were mostly successful.
We left McCall early in the morning following the route clockwise to Warm Lake, 70 miles away with 5,000 feet of elevation gain. I was surprised that 30 miles were paved but also thankful there were 30 fewer miles of bouncing on washboard dirt and gravel. Our second day going to Stanley was longer, steeper, and rougher. Then our plans changed.
John's 28-tooth small chain ring was not small enough, making the long climbs very difficult. He decided to take the Lowman Cutoff and return to McCall where he would get his truck and meet up with us. So John headed west and Geoff and I continued south on the route toward Ketchum. Thirty miles later, I broke my rear derailleur.
It's amazing how generous people can be when you're in a remote area. I walked and coasted 6 miles to the highway. Within 10 minutes of reaching it, Geoff and I were in Steven Gorman's pickup truck headed back to Stanley. Steven offered up the derailleur from the bike he had in his truck but it wouldn't fit. Mark, the mechanic at the bike rental shop, had a broken bike with a derailleur that would work. The repair price was a bargain and I gave him a huge tip. Late in the afternoon and with 67 miles to go, Geoff and I started plowing through a hot, blasting headwind. After 15 miles of desiccation treatment, we decided to put our thumbs out again. An 80-year-old German-American woman named Juda (yoo-duh), whose life story is Spielberg-worthy movie material, insisted we fit everything in her small SUV. She said her children would be angry with her — again — for picking up hitchhikers — again — but we seemed nice.
Back on track the next day, Geoff and I left Ketchum for Featherville. There was a sign saying Forest Road 227 was closed. But we knew that was many miles ahead and that bikes could get through the washed-out section. We stopped by Frenchman's Bend Hot Springs where a young couple was reading a book together in the early morn. It's a good-sized pool so I got my feet wet without disturbing them much. After cresting Dollarhide Summit, the highest on the route at 8,192 feet, snakes occasionally darted across our path as we followed miles of dusty road. Down the road from the Preis Hot Spring we found the Smoky Bar Store. A 4-year-old girl opened the door for us. "Come on in, guys." Her mom served us cold drinks and reminded us the road ahead was closed.
At the washed-out section we had to make two trips over 1/3-mile of rocks with our gear and bikes. Then we continued to Featherville on an even dustier road. A sign at Cyndie's Featherville Café greeted us: "Welcome Insane Cyclists." But first things first. A beer at the saloon washed away the dust. Then we had dinner at the café where we added our names to the logbook listing the insane cyclists who preceded us.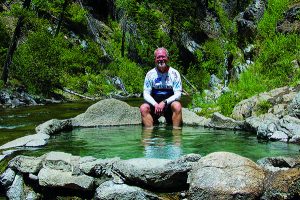 Near the end of the next day's ride we found another oasis in the middle of nowhere — George's Tavern. A couple of riders going in the opposite direction told us the third person of their group, Alex, was behind them somewhere. We found Alex just five minutes away sitting in the shade. He probably thought we were put up to pranking him when we told him his friends were just ahead at a tavern drinking beer. He waived us off in disbelief saying, "Get outta here." We laughed as we left.
The next morning we started the 4,000-foot ascent leading us to Idaho City 29 miles away. Midway on the descent we ran into John. He had sandwiches! Geoff and I put our gear in John's truck and for the last two and a half days we were on a supported ride, which changed everything. John would drive ahead, scout out the next stop, and we'd have a surefire plan for the day whereas before, we'd find out when we got there and adjust accordingly. Removing the not-knowing-what-lies-ahead part diminished the adventure. But lighter bikes made for easier riding. I was conflicted.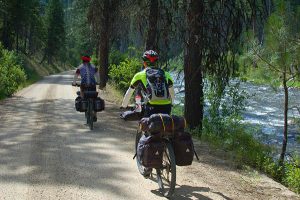 There are about 50 hot springs along the route. Stopping at them takes up time. To fully enjoy doing the entire loop, I recommend taking 10 to 12 days. We scheduled nine and that turned out to be a little aggressive, especially since we had a setback. Shortening each day's distance and setting up camp instead of aiming for the towns would've made the trip less physically demanding for us. And even more adventurous.
The Idaho Hot Springs Route is a great adventure. If you decide to use a support vehicle, there will be one definite detour — bypassing the washed-out section of 227. Another possible detour is the huge climb south of Idaho City. I thought parts of that road were too sketchy even for a four-wheel drive. But then I'm a city boy so what do I know? Regardless, go unsupported. It'll be more memorable and you'll have better stories to tell. //
Hank Greer is an avid photographer, runner, and cyclist, as well as an inconsistent Oxford comma dropper. He wrote about DIY bike gear in September.