Soaking up the fall colors in the Kettle Range. Photo: Aaron Theisen
There's nothing like an autumn hike to spark your senses. There is the dazzling colors of fall foliage; the contrast of warm sun on your shoulders and crisp air in your lungs; the rich scent of fallen leaves in a damp, dark forest; squirrel and chipmunk chattering and other sounds of summer's end; and, come late fall, views of distant, snow-dusted peaks. But arguably the best way to experience fall's magical spell over the vast forests of the Inland NW is on a scenic drive with stops along the way.

These scenic drives, interpretive trails, scenic viewpoints, and hikes surround the historic town of Republic in Northeast Washington. Plan a getaway to the Republic, Wash. area and immerse yourself in the enchantment of this fabulous, fleeting season.
You can certainly make a fall road trip through Ferry County into a day trip, but the 6-7-hour minimum roundtrip drive time and shorter days make staying a night or two in Republic the preferred option. Republic is an authentic mountain town with plenty of Old West charm, friendly locals, and unique lodging and dining options. For your basecamp, there are plenty of unique places to lay your head for the night, from comfy inn or motel rooms in town to more rustic rural options.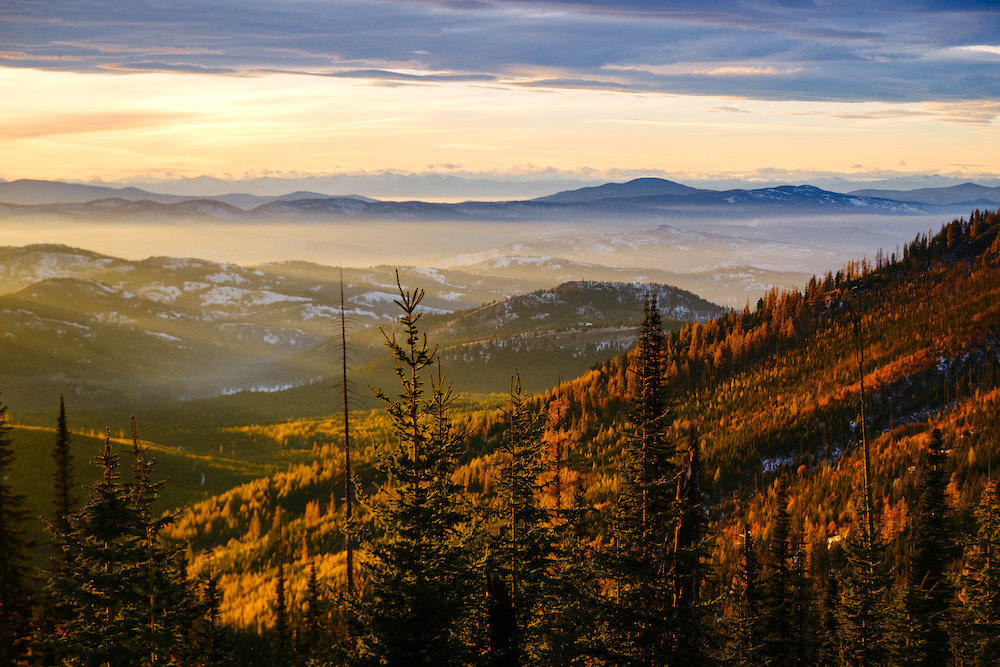 Larch trees ablaze in the mountains near Republic, Wash. Photo: Aaron Theisen
Play It Safe & Come Prepared
These fall drives cover a wide range of landscapes and elevations, from sage-and-pine-dotted ranchlands and cottonwood-lined river routes to hillsides covered in golden larch trees and sub-alpine forests speckled with crimson huckleberry bushes and high peaks that may already look like winter. Since fall can turn quickly to winter in this remote corner of Washington, come prepared for roads and trails that could see ice or snow despite the t-shirt weather down in the valleys. Or if winter comes early, pack a pair of trekking poles and snowshoes. Fall also means that hikers share our public lands with hunters, so always come prepared with hunters' orange or other brightly-colored gear to make sure you stand out as a human and not a wild animal.
These scenic road trips all start from Republic, but you can adjust one or more of them to fit in with your arrival route to maximize the scenery and roadside attractions on your way there.  
Plenty to Do Once the Snow Flies Too
Once fall turns to winter up in the high country and then down in the valley's, the adventures around the Republic area continue. From snowshoeing or backcountry skiing in the Kettle Range Mountains off of Sherman our Boulder passes to cross-country skiing or winter walking on the Ferry County Rail Trail, this place offers all of the fun of a true winter wonderland. Check out our article covering a wide range of winter outdoor activities in the area here.
Changing colors often mean changing weather in the Kettles. Photo: Holly Weiler
Sherman Pass Scenic Byway
The entire Sherman Pass Scenic Byway stretches between Republic and Kettle Falls, but you'll be starting your journey in Republic and returning the way you came, unless you choose to make it a loop (see the Sherman Pass and Boulder Pass loop drive below) or hit many of these stops on your way from Spokane to Republic. Otherwise, from Republic, start the drive by heading east on Highway 20, gradually climbing up the west slope of the densely-forested Kettle Range Mountains.
White Mountain Fire Overlook Trail
After 16 miles, your first stop, before reaching Sherman Pass, is at the White Mountain scenic overlook and interpretive trail on your left. The short, paved trail explores a section of rejuvenated forest that was part of the 1988 White Mountain Fire that burned many of the trees in its 20,000-acre footprint. Interpretive signs detail the history of fire on the landscape as well as the forest's natural recovery process that is well underway.
Sherman Pass and the Sherman Peak and Columbia Mountain Trails
The next stop heading east is at Sherman Pass, which at 5,575 feet is the highest maintained mountain pass in Washington State. Much of the forest surrounding the pass, including Sherman Peak to the south and Columbia Mountain to the north, is roadless wild country only accessible by trail. The Kettle Crest National Scenic Trail passes through here, and if you're prepared for a longer hike, and the fall weather allows for it, choose from two highly scenic trails: the nearly 6-mile Sherman Peak Trail loop around Sherman Peak (1,800 feet of elevation gain) and the 5.4-mile Columbia Mountain hike to the top of the mountain to a restored fire lookout (3,348 feet of elevation gain).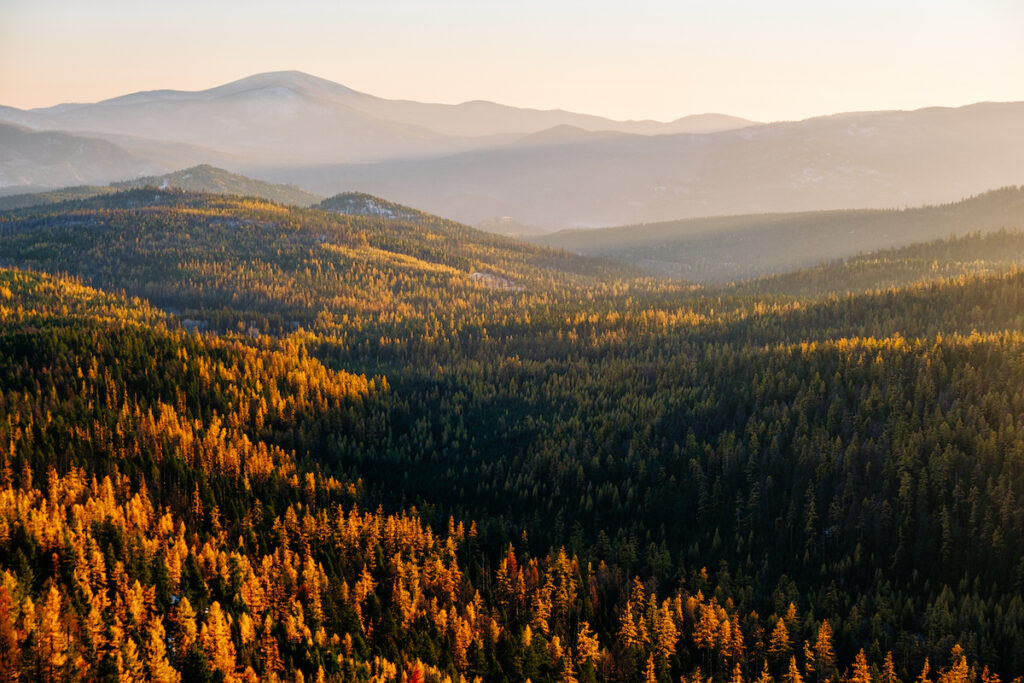 NE WA larch. Photo: Aaron Theisen
Sherman Overlook Scenic Trail
About a mile east of Sherman Pass on Highway 20, the Sherman Overlook offers awesome views of the high peaks along the Kettle Crest. There's also a short, paved path that takes around 10 minutes to walk with interpretive signs along the way with information about the surrounding forest.
Growden Heritage Site
Twenty-nine miles from Republic, you'll reach the Civilian Conservation Core (CCC) site that housed CCC workers from around the nation who were building roads, trails, and other facilities in the 1930s. Stretch your legs and learn about the lives and labors of those who called these woods home during the Great Depression, a difficult period in American history that brough the nation together.
Log Flume Interpretive Site & Canyon Creek Trail
Four miles further east down Highway 20 from the Growden Heritage Site, the Log Flume Interpretive Trail offers a half-mile paved trail with signage that tells the story of logging in the area during the 1920s. Check out an old log flume and once-upon-a-time railroad line. The Log Flume parking area also provides access to the 1-mile paved Canyon Creek Trail (trail #93). This scenic trail connects the Interpretive site to the nearby Canyon Creek Campground.
This is our last stop on the Sherman Pass Scenic Byway. Continue exploring on your own or return to Republic for an evening out on the town and a good night's rest.
Hiking with hunters' orange near Boulder Pass/Deer Creek Summit. Photo: Holly Weiler
Sherman Pass and Boulder Pass Scenic Loop Drive
A great way to explore the region's diverse landscapes and fall colors is to drive over the two mountain passes east of Republic. The 90+ mile drive includes much of the Sherman Pass Scenic Byway along Highway 20 (detailed above) and Boulder Pass (Boulder Creek Road). Both passes feature stops along the way that include interpretive sites with short trails and educational signs, viewpoints, and longer walks on forest trails.
Sherman Pass Scenic Byway
Start in Republic and head east for 40 miles on highway 20 through the Kettle Range Mountains in the Colville National Forest. The route climbs up and over Sherman Pass and back down the east side of the mountains to the Columbia River at the junction with Highway 395. For hikes, viewpoints, and interpretive trail suggestions along the way, see our detailed suggestions for the Sherman Pass Scenic Byway Loop Drive included elsewhere in this article. Watch for wildlife and enjoy the lightly traveled roads through some of the wildest and most scenic stretches of the 1.1 million-acre Colville National Forest.
Kettle River to Deer Creek Summit
Once you reach the junction of Highway 20 and highway 395 at Barney's Junction on the Columbia River, head north on Highway 395 with breakout views of the Kettle River and surrounding mountains as you drive approximately 18 miles north toward the Canadian border. A mile or so before the small community of Orient, turn left (west) onto the paved Boulder Creek Road. Drive up into the Kettle Range Mountains for around 14 miles, enjoying spectacular view of golden larch trees if you timed your drive right, to the top of the mountain pass at Deer Creek Summit.
At Deer Creek Summit, there's plenty of parking and a campground, as well as hiking options on both sides of the highway. Choose from an out-and-back hike of the length of your choosing on the Kettle Crest Trail to the south or one of a couple short loop hike options on the north side of the highway on old forest roads used as Nordic ski trails come winter.
Curlew, Washington and the Ferry County Rail Trail
Back on Boulder Creek Road, continue west for 11 miles to the small community of Curlew on the Kettle River. While there is no gas available in Curlew, there is a small grocery store and dining and drinking options, and it's worth a stop to walk through town to check out the historic buildings and the one-lane bridge over the river and to stock up on provisions.
The 25-mile non-motorized Ferry County Rail Trail that passes through Curlew was once an active rail line. Today it has become an awesome hiking or biking trail through some beautiful country. There are several places to start your outing, but we recommend making sure you get to experience the stretch along Curlew Lake starting from the Kiwanis Trailhead, a 10-mile drive from Curlew south on Highway 21.
The compacted, crushed rock surface is perfect for a stroll and includes a 770-foot trestle over the north end of Curlew Lake as well as scenic lake views and some excellent wetland bird watching on the south end of the lake. From the Kiwanis trailhead you can make it an out-and-back hike of any length. It's approximately 5.5 miles from the north end to the south end of Curlew Lake, making the full out-and-back lakeside hike 11-miles long. Learn more about the Ferry County Rail Trail and the amazing community effort that has made it a reality. From the trailhead, continue south on Highway 21 to the junction with Highway 20, then head west back to Republic where you started your adventure.
Scenic Alternate Drive Back from Republic
If you reached Republic via Sherman Pass from the east coming from the Spokane area or from the west through Okanogan County, a gorgeous alternate route back to Spokane or central or western Washington heads south from town on Highway 21 through the Colville Indian Reservation. The route travels 55 miles to the Keller Ferry, a free vehicle ferry that crosses the Columbia River/Lake Roosevelt to the south shore, continuing on around 15 miles to Highway 2 near the town of Wilbur. From there, head east to Spokane or west toward Seattle.
While the highly-scenic drive through forest and grassland along the San Poil River is a sightseer's adventure in its own right, there are a few foot-trail pitstops worthy of a short wander if you are so inclined.
Swan Lake Trail, Colville National Forest
This 3-mile hike around this small, beautiful lake that sits at 3,600 feet in elevation on the Colville National Forest south of Republic is excellent for hikers of all abilities. There is very little elevation gain, yet opportunities to view fall colors and wildlife, including a resident pair of lunes, abound. There's also a campground and boat launch at the lake. From Republic, head south on Highway 21 around 6 miles and turn right onto National Forest road #53 for 7.3 miles, then take a slight left at Old Scatter Creek Road for 0.1 mile.
Thirteen Mile Trail, Colville National Forest
Thirteen miles south of Republic on Highway 21, this wild, arid canyon sports some beautiful groves of old-growth ponderosa pine and scenic rock formations. It's also a great place to watch for a wide range of wildlife, from mule deer, moose, and black bear in the higher reaches of the canyon to various species of birds and the occasional rattlesnake in the lower reaches. The trail climbs up and up for miles, becoming less maintained the farther you go, making it best as an out-and-back hike of 2-8 miles roundtrip.
Explore the Historic Town of Republic, Washington
In between Republic-area scenic drives and hikes, wander the streets of this historic town and check out the unique shops, eateries, bars, and other businesses. Grab a to-go or picnic lunch and relax at Patterson Park. If you're lucky, your trip will line up with live music, trivia, or a Silent Book Club Sunday gathering at Republic Brewing Company, which serves craft beer, handmade soda, and wine. Find lodging info and more trip ideas at the Republic Regional Visitors and Convention Bureau website.
Early winter on the Kettle Crest. Photo by Holly Weiler
Once autumn turns to winter, there are plenty of snowshoe, Nordic ski, fat biking, and backcountry ski or snowmobile adventures to be had around Republic and Ferry County. Check out our story about many of those winter outdoor outings here.
(Sponsored Content)